Using WordPress for Non-Profit, Charity and Fundraising Organizations, is a reasonable decision to get an average and expert online presence. With the help of WordPress non-profit, charity, donation and fundraising organizations can set up a remarkable and professional website without much effort.
And, if you don't want to spend so much money for designing a website, then it's not so big deal because there are plenty number of WordPress themes for Non-Profit, Charity and Fundraising Organizations are available for you.
But, to make a full functional and professional looking website powered by WordPress, there are several unique and effective premium WordPress themes available which are specially designed to cater all needs of a Non-Profit, Charity and Fundraising Organizations website.
Along with many integrated features these themes also have sponsor section and the button for donating funds.
So, in this article, I'm presenting some of these WordPress themes for Non-Profit, Charity and Fundraising Organizations to build a perfect website and these themes are best and perfect for such organizations in 2019 based on many characteristics including features, clients' satisfaction, getting more review, more sell and many more.
Let's take a look to those top and best WordPress themes for Non-Profit, Charity and Fundraising Organizations, here.
ALONE

ALONE is a multi-purpose Non-Profit, Charity WordPress theme. It is one of the powerful and stunning theme which has more than 20 amazingly unique demos.
So, ALONE is suitable for you to gather all of your idea to a website for a Non-Profit organization including NGO, Church, Political Campaign and many more.
This theme is light weighted so fastest page speed is guaranteed as well as high speed. It is completely SEO friendly so by using ALONE theme your created website can possibly reach higher page ranking on Search Engines including Google.
It is also fully responsive so the site will look great and crisp sharp on any device & screen. ALONE is fully enriched with a lot of efficient features and have integrated plugins like WooCommerce even includes a simplified AJAX popup for making donations not only feasible, but accessible from the beginning. You will be able to change the templates and can craft your own layouts with Visual Composer premium plugin which is incorporated with ALONE. So, Try ALONE now for your project.
For more info about ALONE just follow the below URL.
DOWNLOAD
Goza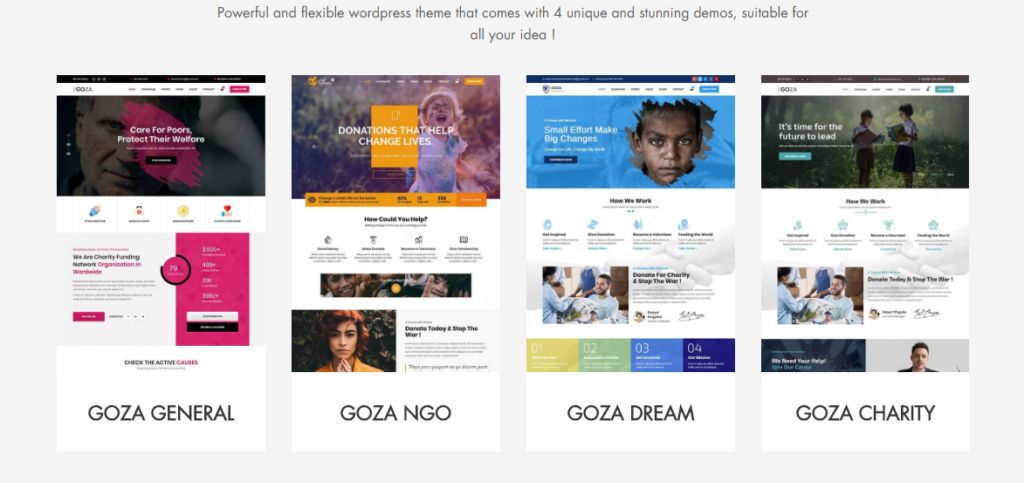 Goza is an excellent, modern and responsive WordPress theme for non-profit organizations, charities and fundraisers. It is a versatile and all-around page canvas which you will easily put into play. With the fantastic selection of three homes and other ready-made pages and sections, Goza makes sure that you get online like a champ from the get-go. Of course, thanks to the drag and drop page builder integration, you can also make any corrections and improvements to the web design you want.
Additional amenities of the impressive Goza are Slider Revolution, smooth scrolling, events manager, nine headers and three additional blog styles. Goza also treats all its users with free support and updates for an always smooth operation. Spread the word out for a cause and reach people who are willing to help from all around the globe.
For more info about Goza just follow the below URL.
DOWNLOAD
Hope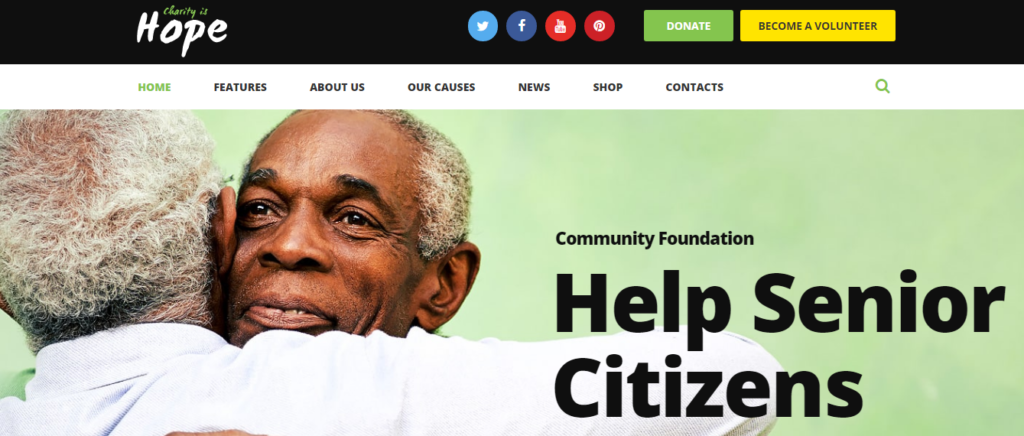 Hope is an advanced, beautiful and very much structured Charity WordPress theme for non-profit organization with RTL.
This excellent theme is the best decision for any contemporary charity organization, NGO office, fundraising agency, free school, gifts, establishment firm, gathering pledges, free instruction, youngster care and kid assurance, natural insurance, biology business, religion or legislative social program site. Expectation incorporates all the essential highlights that your non-profit site may require.
It goes with a ground-breaking integrated plugin for your raising support campaigns, manage donations and charitable fundraisings.
Hope is fully compatible with premium plugins like above mentioned WordPress themes have. It is Multilanguage supported theme and HTML code integrated into the theme which meets the best SEO approach so that your website may get higher rank in search engines.
What else to say? Well, look great and your site will work great by using Hope WordPress theme and within a very short time you will be able to build your desired site for your non-profit organization & charity project.
For pricing detail and more information about Hope, please follow the given URL.
DOWNLOAD
Lifeline2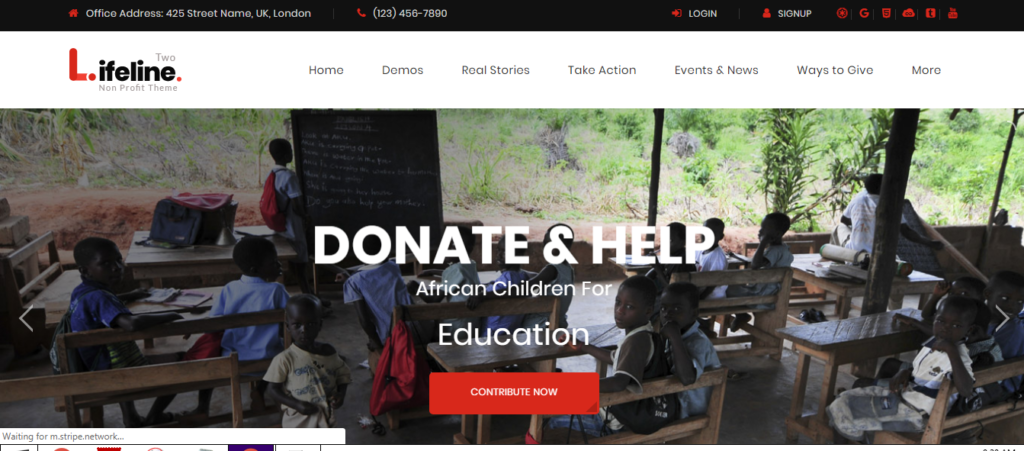 This is a premium charity WordPress theme that can be used by NGO or other non-profit organization for their websites.
It comes with all the important functionality and features you might need for this type of projects. But most importantly the donation system of Lifeline2 is enormous as well as very sophisticated and it offers 14+ free payment gateways to get donation through MasterCard, Visa Card, Paypal or bank transfer.
It's very easy to install and within a very short time you will be able to set up your website on your domain. Lifeline2 consists 7 full functional demos with well documentation and guideline to help you build your fundraising website with easy steps.
One of the thing you need to consider about Lifeline2 that, it is one of the best-selling non-profit WordPress theme from its creation time.
So, it is clearly understandable, obviously Lifeline2 put some marks on the field of charity and non-profit organizations that's for why, developers choose this theme as their primary choice for such kind of website. Isn't it a good point to get Lifeline2 for your project to build a non-profit or fundraising website
See more details about Lifeline2, using this URL.
DOWNLOAD
Charity Hub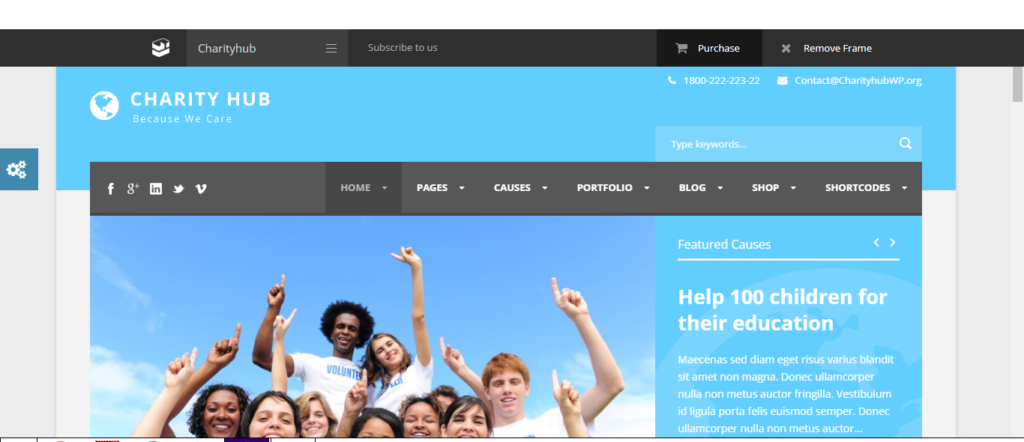 Charity Hub is specially designed for charity, NGO, non-profit organization, donation, church or fundraising website. It is a clean and responsive WordPress theme.
Charity Hub comes with many awesome features which could be so helpful to users of the website to understand how the charity and donation things work at all and without a lot effort developer of that site can customize and enable such features for the users.
Features of Charity Hub including importing demo page button, mega menu, boxed/full style, scalable container and much more.
It has a built in PayPal donation system, so system will automatically collect amount of money that sent to PayPal and convert to percentage bar for each cause without any human interaction. Compatible with cross browser and several fully functional plugins embedded with it.
This theme has been sold more than 4000 time from its beginning journey and have a cool customer support for any time when they require.
So, what are you waiting for? Purchase Charity Hub now for building your non-profit or charity based website.
For more details about Charity Hub, Follow the URL given here.
DOWNLOAD
Final words, thanks for visiting our site and reading this article entitled as "Top 5 WordPress Themes for Non-Profit, Charity and Fundraising Organizations 2019".
Well, there are plenty of other WordPress Themes for Non-Profit, Charity and Fundraising Organizations you can find from other various sources, but in this article, I just mentioned only a few (5 – I mean) number of themes which might be entirely good to start a Non-Profit, Charity and similar kind of website. Based on some characteristics I choose them for this article like- the sell ratio of these themes over a very short period, the pricing and obviously these premium themes are quite affordable for most of us, also similar type of operation mode and features and most of all they are easy to use, no coding skills are required to maintain these WordPress Themes at all.
Hope you like it and for more informative article about different sort of WordPress Themes stay with us and thanks once again for reading it. Have a nice day!
Please follow and like us: