This articles is for those developer or designer . Whom want to decorate his/her site admin panel. Whom wants a great looks of admin panel. These themes are world most renowned theme. Top most downloaded theme . All have good reputation in market place. These theme are using Boostrap, Html5,Css3 and jquery framework. These theme support all the gadget and device.
Template can be used for ecommerce , crm , cms , school, payroll admin panel for different online software. For fast development you must need this. Whatever business you have you can use these theme. Huge amount of admin theme , you can choose from it your desire one.
Coreui Admin Template
CoreUI is a boostrap based angular ,vue , react js framework template. Fully responsive and transparent theme. More than nine hundred icons. This theme is highly adaptive with most of the device. Build with latest technology .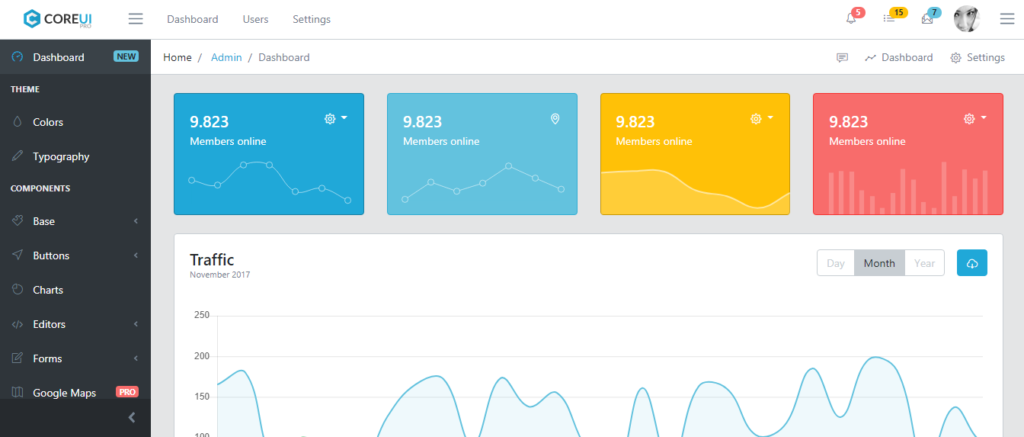 DOWNLOAD
Material Admin Template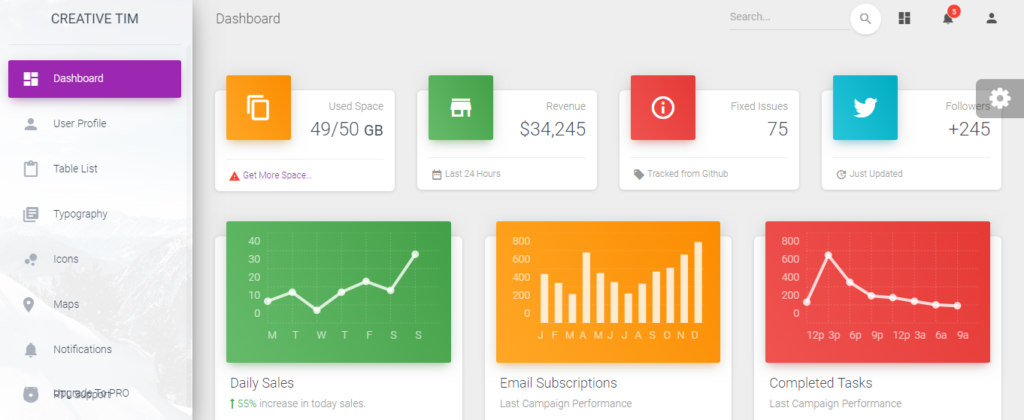 Material Admin panel used boostrap 4 framework. Multi-color theme . Theme can changeable in multiple color. Sidebar image can changeable. Easy to use theme ,makes it user friendly. Proper documented. Material effects, animations, ripples and transitions makes it more wonderful. Well designed graph.Seven page has the functionality that the admin panel most common need.
DOWNLOAD
Light theme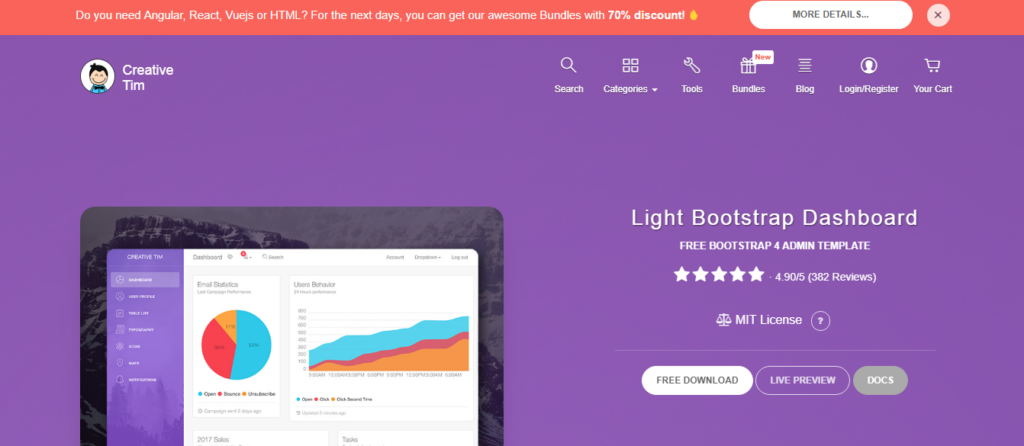 This theme almost same as Material Admin template.
DOWNLOAD
Dashio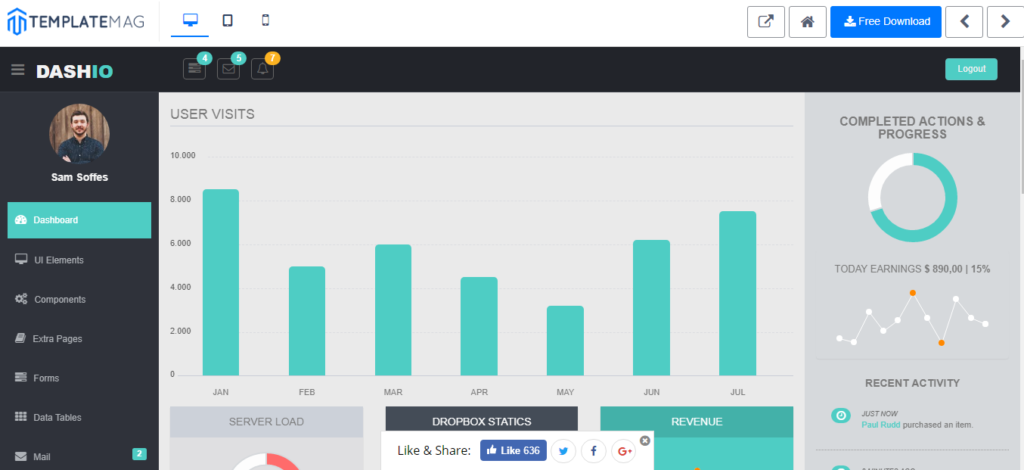 Thirty five well designed pages . All the function are available there. Amazing graph are available there. There are several UI elements present here. Built in font awesome icon makes the site more attractive.
This well crafted theme need for a great online experience. It is suitable for almost all web applicators, for example, admin dashboard, project management system and application backend.
DOWNLOAD
Purple theme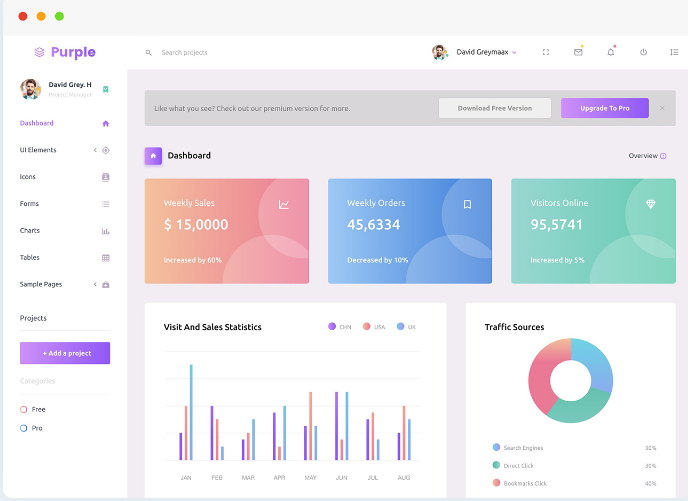 Free boostrap admin panel it's strikingly beautiful design. This template has well written code . This template has good visualization that makes it simple. It is an excellent choice for building management panels, e-commerce systems and CMS or CRM.
DOWNLOAD
Xtreme React Admin Lite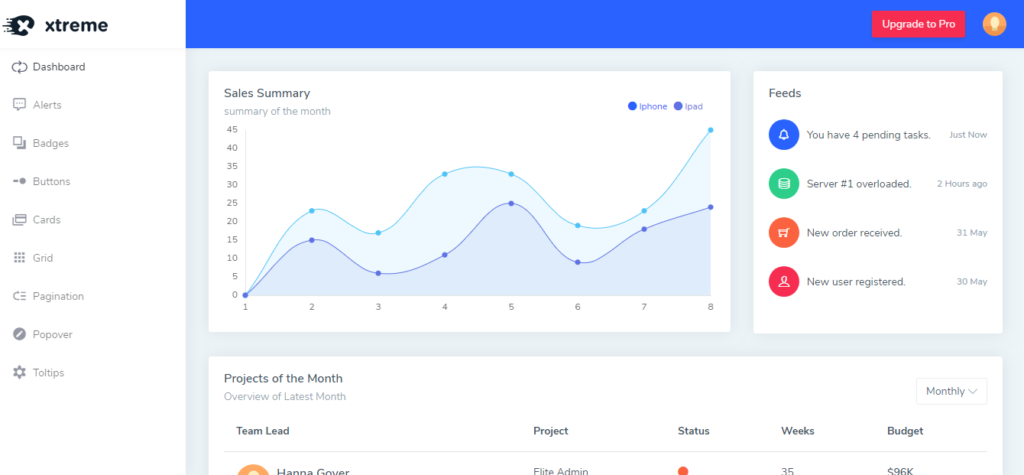 Xtreme react is a theme boostrap 4 theme. If you looking well decorated theme then definitely you have to choose it. Material design makes it fabulous .
DOWNLOAD
BUBBLY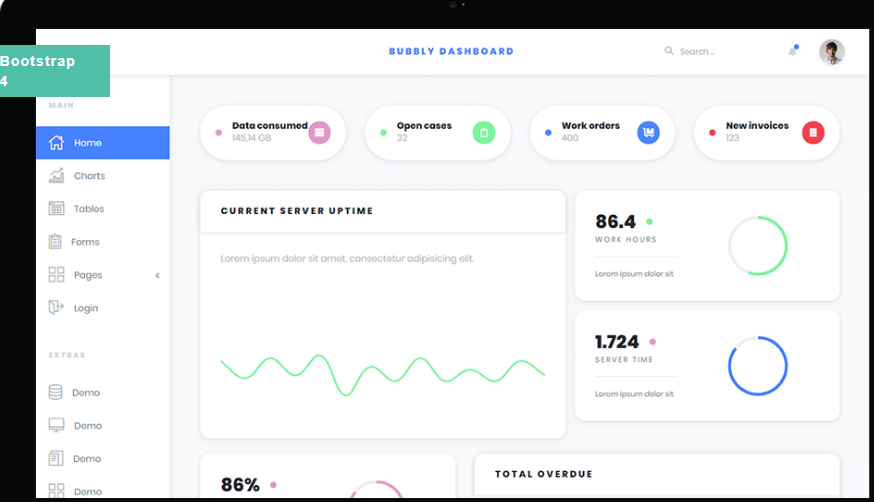 Bubbly is the most up-to-date member of the Bootstrap admin template circle of relatives. This loose bootstrap admin template carries 5 responsive pages and color variants.
DOWNLOAD
Stellar Admin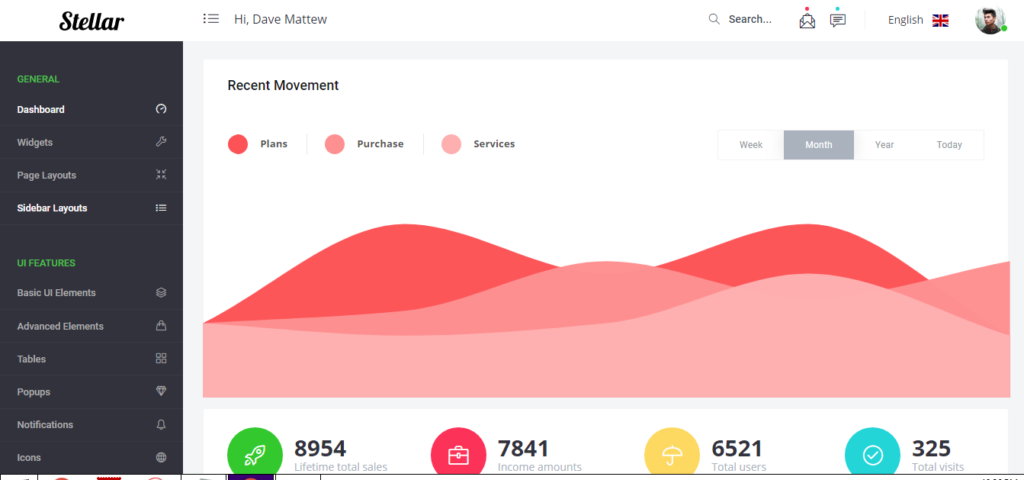 Mind blowing Boostrap 4 framework template use for simple and complex design. Graphics design is to good.
DOWNLOAD
Material Dashboard Angular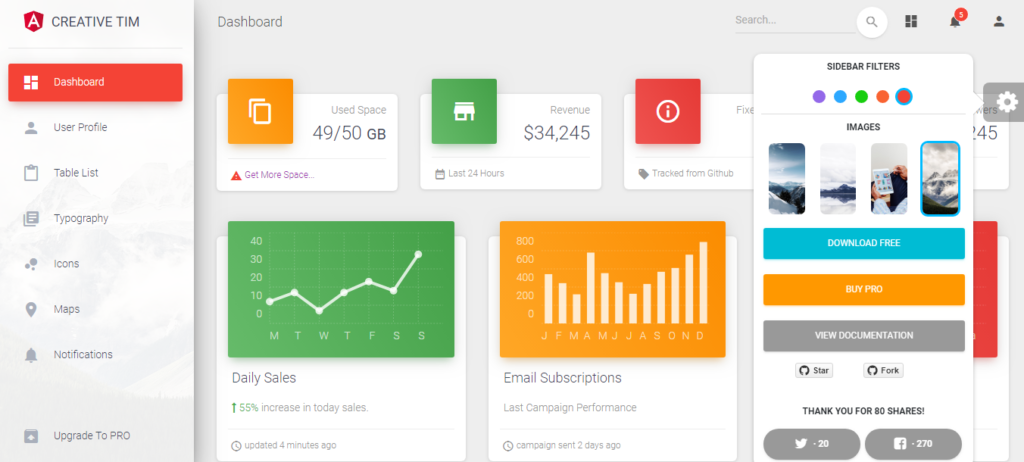 Over 200 component comes up with this theme. Design load to fast. User friendly design makes it accessible by all the users.
DOWNLOAD
Black Dashboard React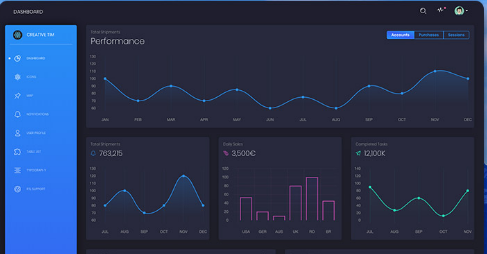 Boostrap admin panel makes your site more wonderful and fantastic looking. It's minimal design gives you maximum output. Full black view makes it lucrative.
DOWNLOAD
Paper dashboard react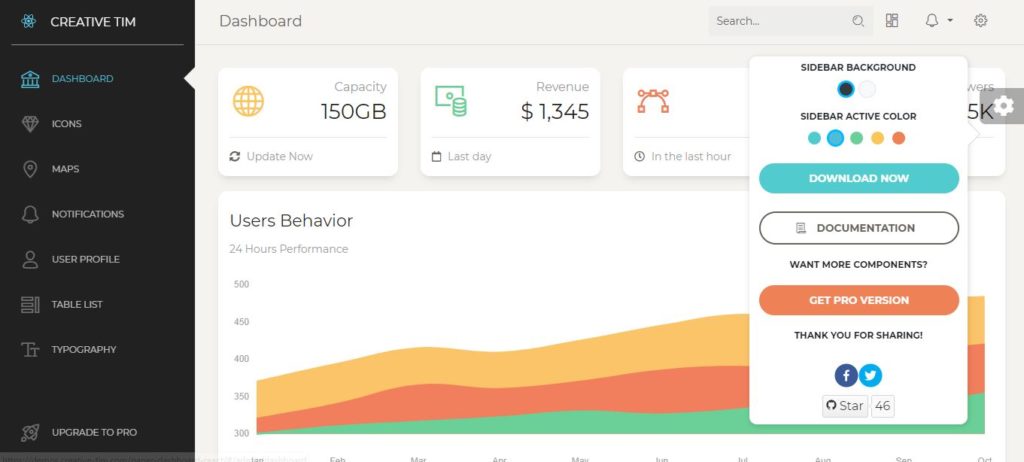 It's a Bootstrap admin panel which combines soft color and spacious cards and graphics. It is a powerful tool, but it is light and easy to use. For an easy start of project this is an essential.
DOWNLOAD
Laravel Admin Dashboard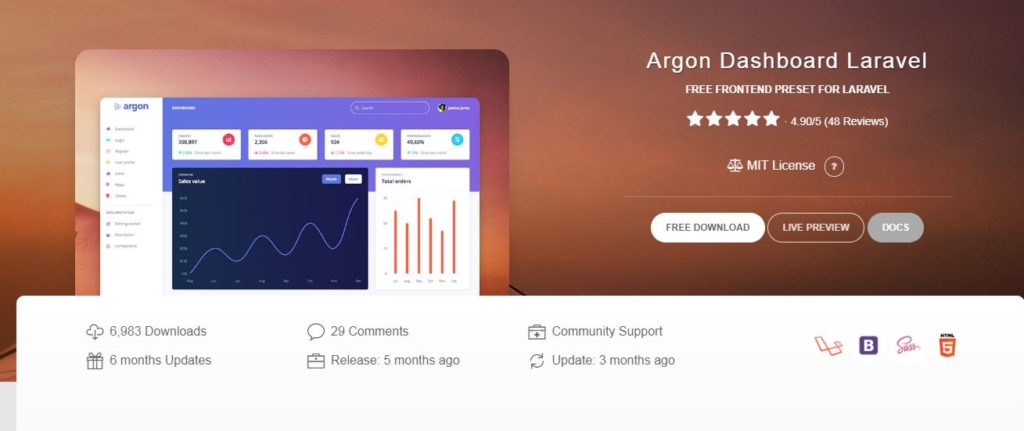 This theme especially develop for laravel based design. 100 individual components combine in this theme. School management ,university management, ERP dashboard are suits with this theme.
DOWNLOAD
Stisla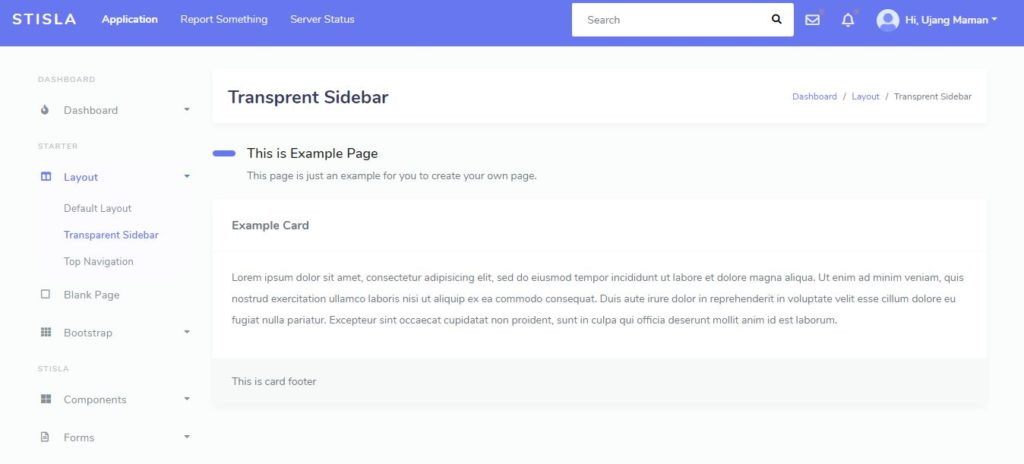 Whatever business software you are developing or designing stisla is best for theme. If you choose free template. Specially cms,crm,erp and banking software.
DOWNLOAD
Robust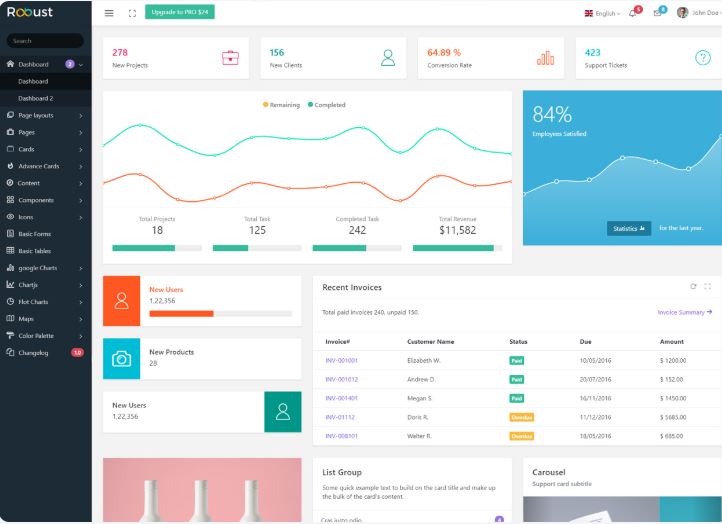 Robust is a free boostrap template for those whom don't want do any financial investment. They can lanuch business by this theme. It's inclue animation effect and many js framework. So you can coustomize by your own.
DOWNLOAD
Admin LTE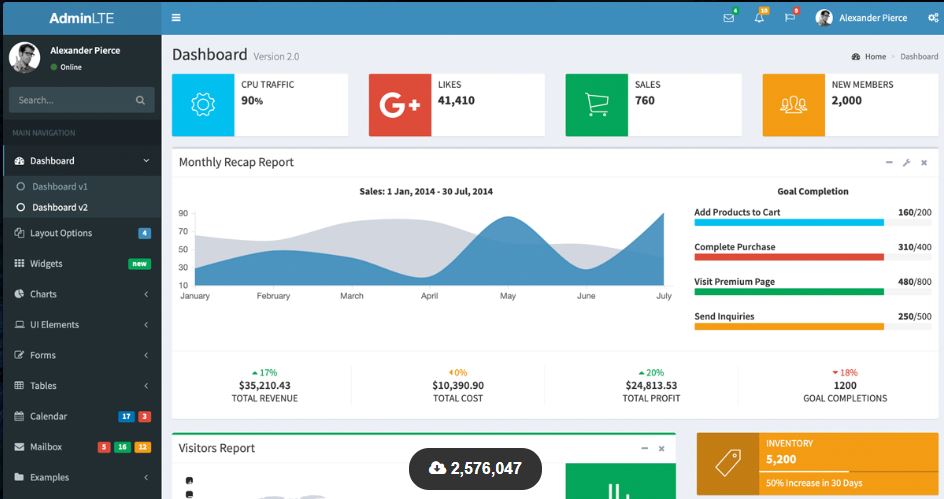 Admin LTE is most famous admin template.There are no need to pay for it. it's development are well knowed in the world. So there no need be doubt at all.
DOWNLOAD
SimDash Admin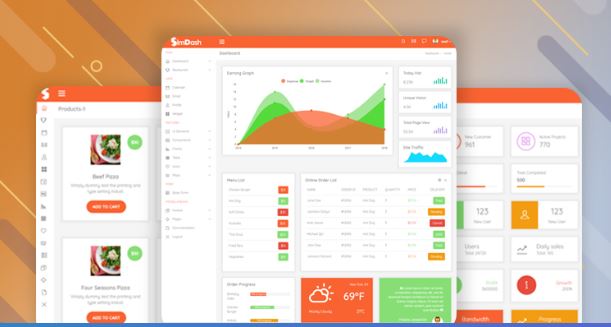 Those who are seeking for new multi color template that tottaly not require any financial invest they can choose Simdash without worry.Using Vue.js and boostrap framework. Specially for restaurant business.Llibrary of components that comes with SimDash is another good reason to use this template. Thanks to these components, you can easily add a range of buttons, card styles, forms, switches, and tabs to your admin dashboard.
In the pro version you get chart,maps and other features.
DOWNLOAD
Focus Admin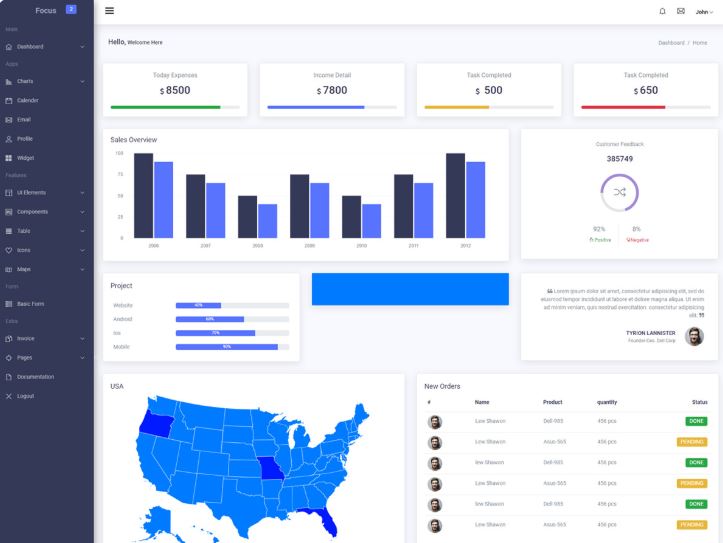 Focus admin is a lightweight, polished, resourceful , sophisticated, and reliable and responsive HTML5 ,css3 admin template. The layout is spacious, lot of in space the theme that user need.There's a choice between several huge jQuery charting libraries that will make data analysis very easy. You can easily highlight your task list, notice board according to your demand.
DOWNLOAD
Matrix admin theme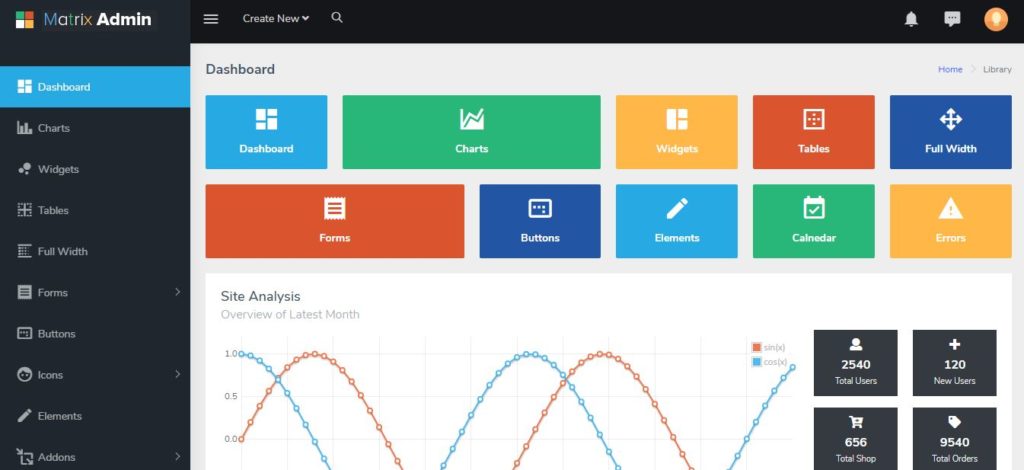 Neat and clean template for the user who like to spcious looking template.
DOWNLOAD
Monster Admin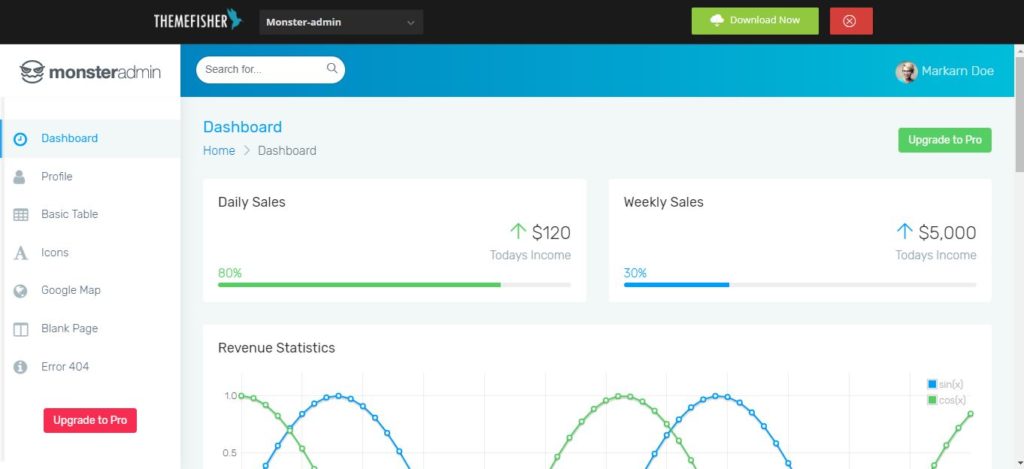 Monster Admin has all the necessary amplification of latest tools for a CMS, CRM or SAAS based project.lightweight design and sophisticated dashboard templates.Helps to Visualize the report more naturelly.Supports all type of hand-held devices such as smart mobile and tablets etc.
DOWNLOAD
Metrica – Admin & Dashboard Template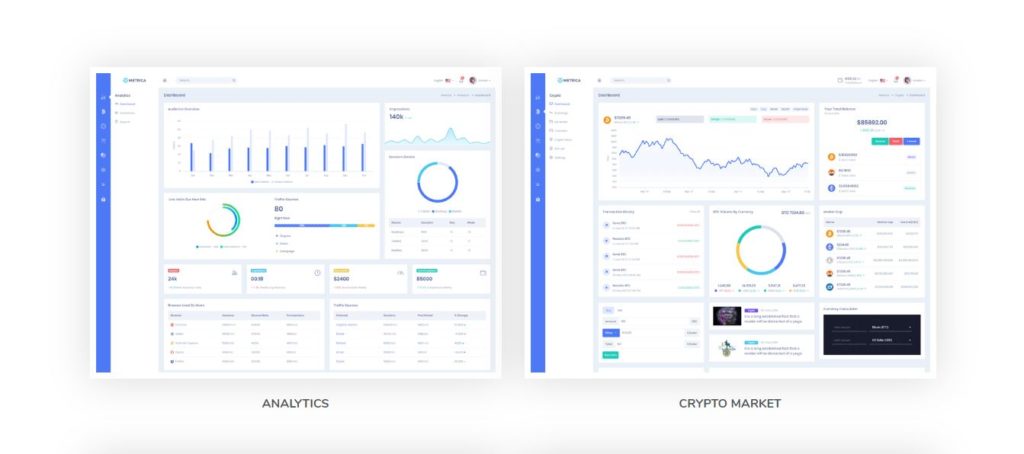 Metrica is a Bootstrap 4 admin dashboard and multipurpose application admin ui. Many of well designed layouts and components pages allows you to create custom admin panel or dashboard application. It's UI fully responsive.Flexible code enable you to easily customize it.
DOWNLOAD
Reality Admin
960 grid system which means that you can have almost endless layouts based on your own needs. This theme is versatile enough to be used for admin dashboard and front end application.
DOWNLOAD
Elite admin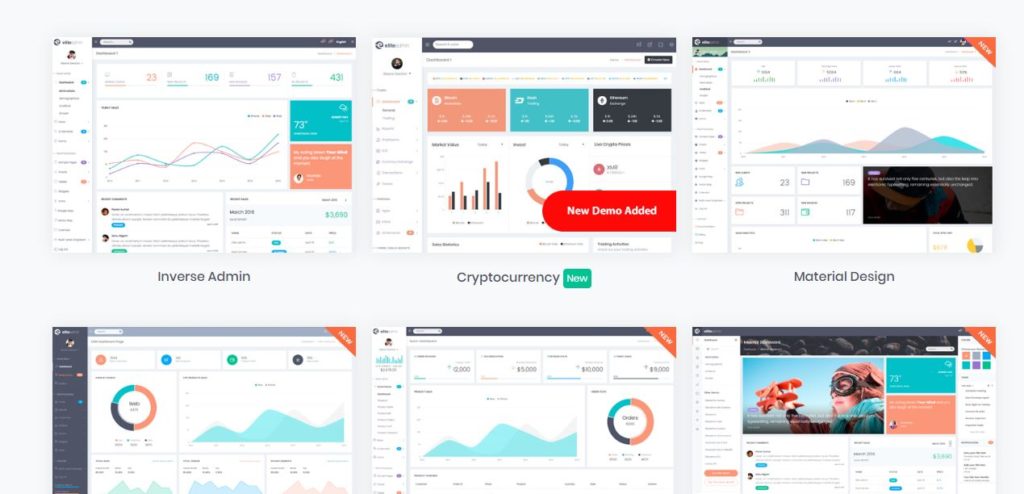 More than 2000 + page and 1000 + component makes this admin theme most powerful. 3000 icons are in this site. Bunch of demos are include here. 13+ dashboard design. Contact, chat, mail, graph ,tables and many more are here in this admin panel. Dedicate support are available for this theme.
DOWNLOAD
Staradmin Template
Staradmin is an elegant theme design. Framework  using boostrap 4. It is an extraordinary match to build admin panels, e-trade structures, project control systems, CMS or CRM. None other template looks like this . It's a unique one.  This theme is well commented that helps you to easily operate the template.For jump into a new project this theme is an  ideal one.
DOWNLOAD
Please follow and like us: