Directory
A directory is an essential part of your business to manage things perfectly. You have to manage your all searches for consumers.  Sometimes you need to add categories and then associate the added businesses to these categories, that's where the directory comes in to help you. There are amazing PHP Scripts which provide many amazing features according to the necessities of your business.
WhizBiz – Business Directory CMS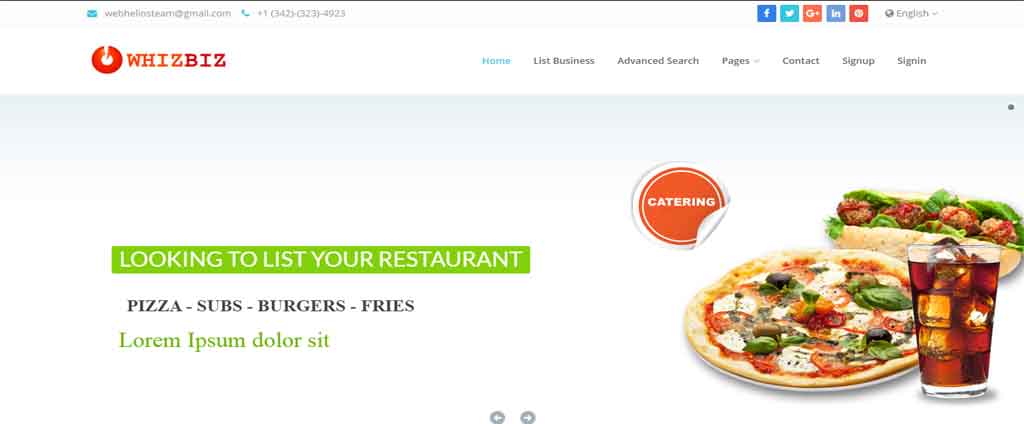 WhizBiz is the most advanced directory script which helps users to manage a blog/news/article section to show offer to buyers. It is developed by using CodeIgniter framework. It offers complete business listing with map preview. You can also choose between layer slider, parallax slider and google maps. It helps you to save money using layer slide with source. It has Ajax loading and searching on every page which reduces the loading time. it has many features like Highly customizable, business directory CMS for almost any business, create categories according to your business need, locate your business in google map, view and manage all your users effortlessly etc.
Directoryapp 2019 – Business Directory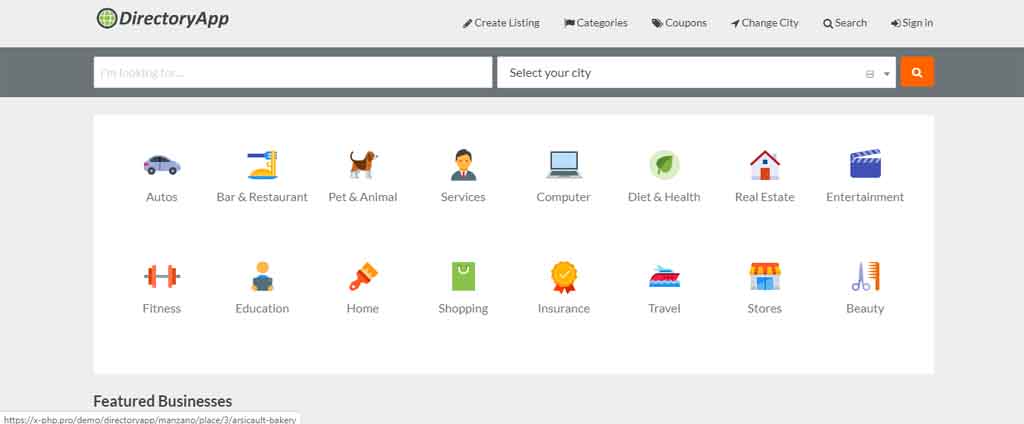 It is a geolocation business directory which is developed in PHP. This script helps you to build high quality like websites for example, yellow pages. It offers local businesses classifieds, city guides and much more. It is being developed and updated continuously to make your experience smooth and perfect. It has amazing features like geolocation support, google maps, payment gateways, templating system, rating system, login with Facebook, Twitter and email account, user reviews and comments, fast page load times, no frameworks, all native PHP code, fast support, custom fields per category, search by custom field, create static pages, built in contact pages and many more.
City Guide Directory Portal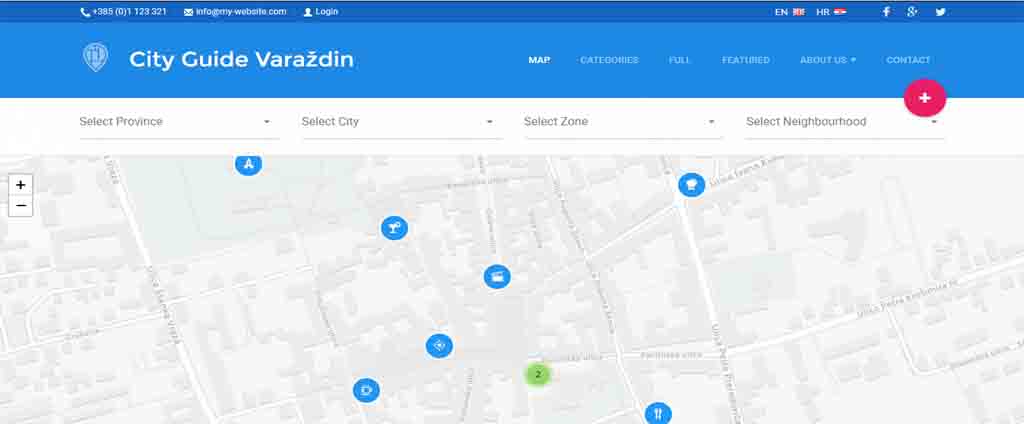 Map Kiosk City Guide Directory portal is a complete web portal solution. It is developed by using CodeIgniter framework. You can build the most perfect City/Country guide portal solution with industry innovative features, especially designed for easy customization and simple to use. You can find the shortest way to desired location. It has native multilanguage and extremely easy to translate feature. It makes the management very simple and effortless. Visitors can share nice locations with their friends or write Facebook comments. You can scan with mobile phone on info kiosk, desktop PC, or some paper and get all details about location. If you want paper version or some basic detail, PDF export is the simplest way to send someone or you can just take out print of the details. It has many amazing features.
Directory Platform – Listings & Classifieds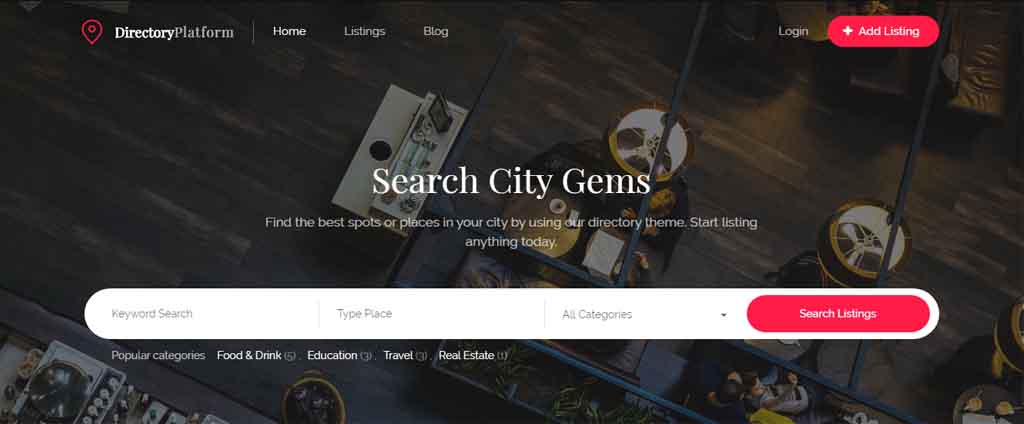 It is a listings and classified Symfony 3 Application. It is an advance directory & classified solution that helps variety of directory websites and portals with monetization options. It has a custom admin panel which includes amazing platform. You can also easily modify super admin section. The most important thing to remember is that it is not a WordPress theme rather it is a complete Symfony application. It requires different but more simple Installation process than WordPress themes. It has incredible features like listing options, search listings on map, listing headers, premium quality design, inquire listing author, monetization options, payment gateways, custom admin area, notifications, save search queries and many more.
Links Directory & Top list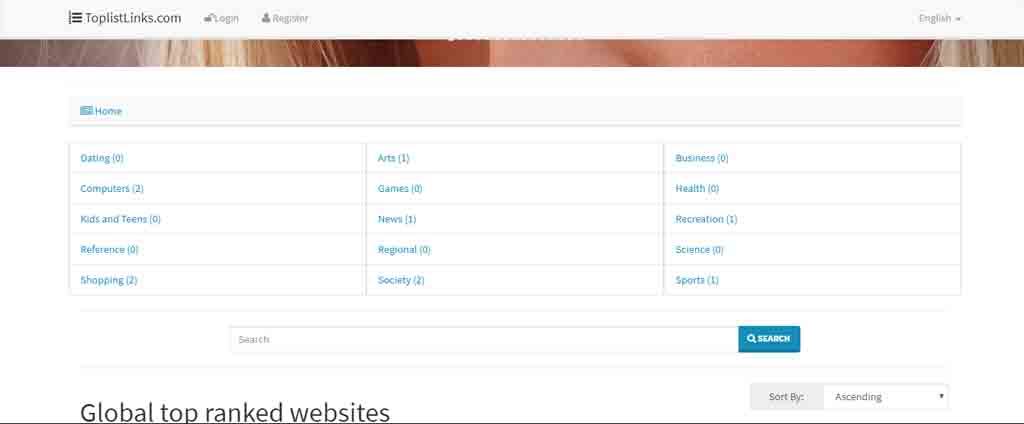 It is a multi-language directory PHP script. You can browse the top list of websites on the web ranked by vote. It has many unique features  that are essential as Add this sharing, turn off slider option, Multi-language, better sorting, delete votes, import data, search function, sorting support, sub categories, option only logged in user can vote, hits in, SEO optimized, unique designed, works on any platform, uses SQLite, admin panel to manage links, automatic site thumbnail generation, responsive Bootstrap theme, categories, gain backlines to you website through voting system, link detail & vote page, captcha vote protections, 8+ different color themes etc.
Viavi – Directory Listing Script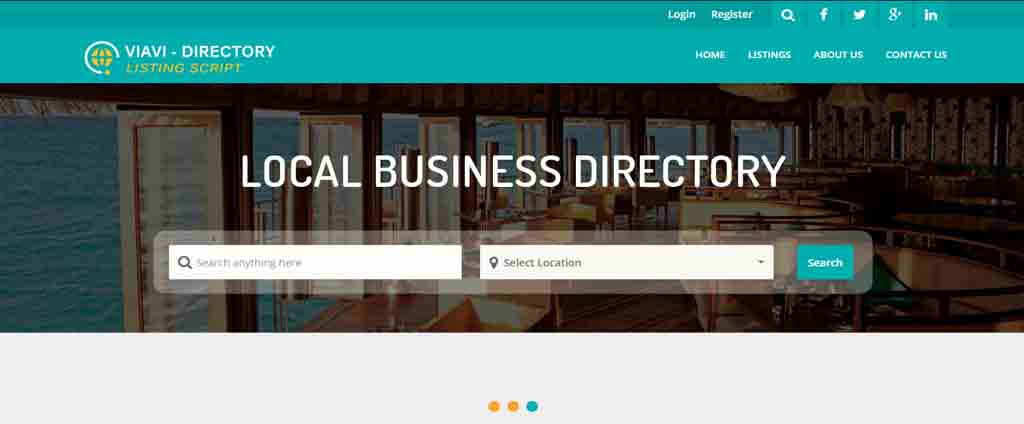 It is an ultimate script for directory listing in order to provide complete solution for all kinds of searches for customers. It has numerous functions which make it flexible and dynamic. It is developed by using Laravel framework. Moreover, it is easy to customize which makes it more desirable for buyers. You can try this powerful Script to create your own directory script. It contains many features like 100% responsive design, easy installation, powerful admin panel, listing pricing plan, Paypal and Stripe Payment gateway, barcode for single listing, dashboard statistics, create unlimited categories, front end listing submission, create unlimited listings, location based search, SEO friendly URL, custom codes for header, well document and much more.
CarSpace – Car Listing Directory CMS with Subscription System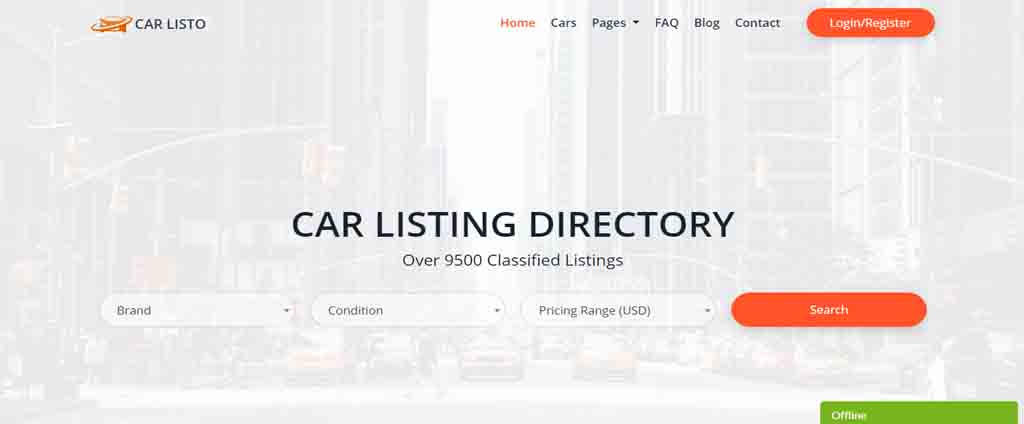 It is a subscription based classified website which is designed for cars. It is developed by using Laravel framework. It has two panels (admin panel and seller panel). you can create plans with the help of admin panel and the seller will but those packages to post ads. Sellers can choose different plans to post different number of ads. The plans also have an expiration date. If you are going to start a classified website for cars then this is the perfect website for you to launce your business. Its key features are easy installation, Bootstrap based fully responsive design, 100% dynamic management system, Paypal and Stripe are integrated, cross browser support, seller signup, easy language change option, unlimited cards adding system, modern design, simple but powerful admin panel, dashboard statistics and much more.
Business Directory Store Finder – Local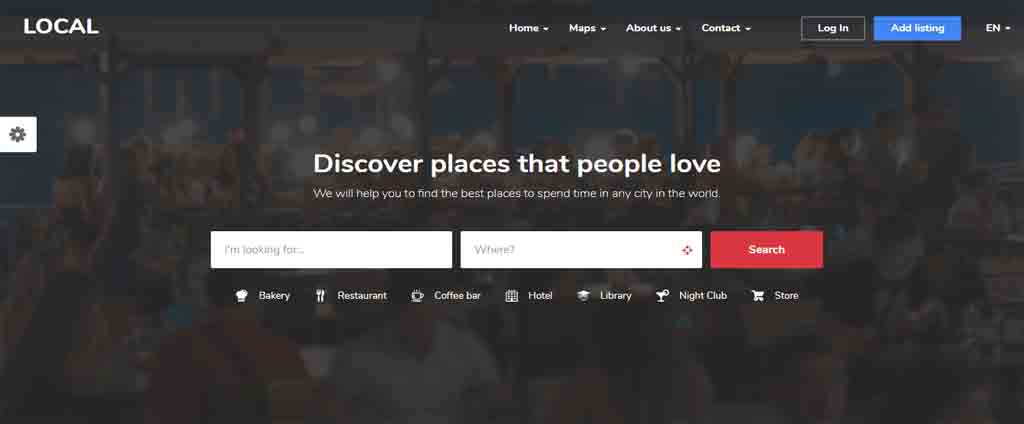 It is a perfect business directory & classified listings solution. Local is developed by using CodeIgniter framework. It is simple and flexible business directory as well as classified ads portal solution. It has easy customization and simple to use. It has unique features like countries SVG geo maps for easy location are based searching, front end links to wireframe visual widget and search forms editing, dependent fields logic on submission, search form, results listing and listing preview, JSON API ready to connect with mobile apps and other services etc.
Advanced Directory Indexing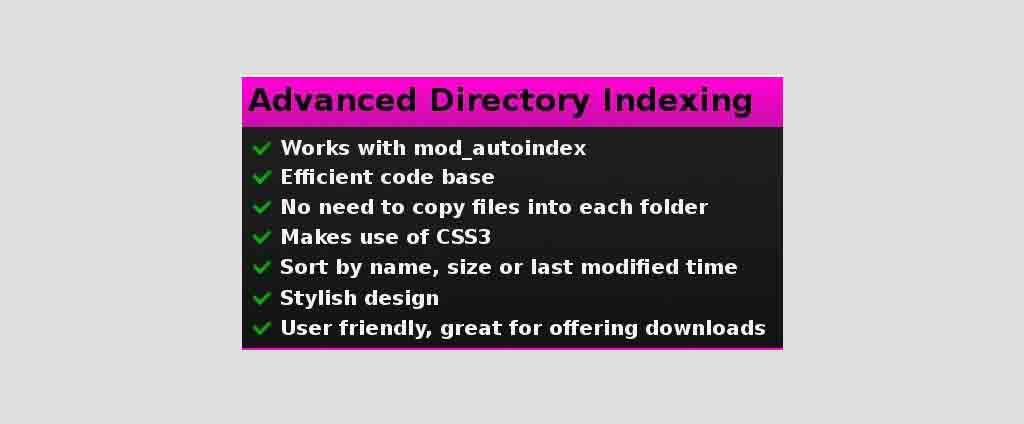 It is the perfect script which can be used to put various files and make the navigation process easier. It is user-friendly script that has appealing interface. It has neat and efficient code. It also works with mod-auto_index. You don't need to copy files into each folder separately so it saves your precious time. it has a stylish look and design. Its key features are like light weight, uses CSS3, automatically create directory listings and many more.
Liquid Listings PHP Business Directory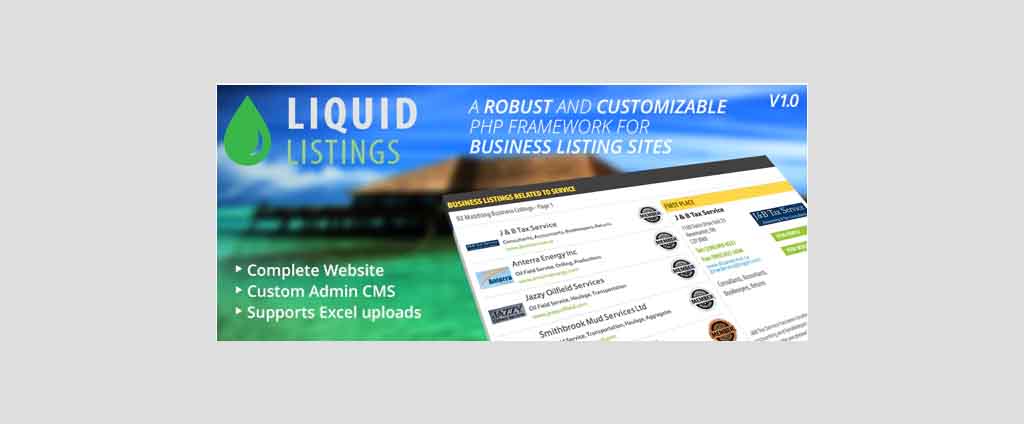 it is a robust and easy to customize PHP framework script which can be used for any business directory. It supports excel uploads. It also has a custom admin CMS. It includes a complete site template with PHP files, JS scripts and CSS files. If you need to implement listings on your website them this PHP application is perfect for you. You can add it to any existing website or use it for a new website. It has many features as easy installation and setup, admin panel – search, add, and delete listings, supports photos and videos, supports membership levels, supports blacklisting, track viewed profiles, track searched keywords, new manage blog posts in admin, uses structured schema data tags, geolocation included etc.
Urbainx – Modern Directory Listing Script Theme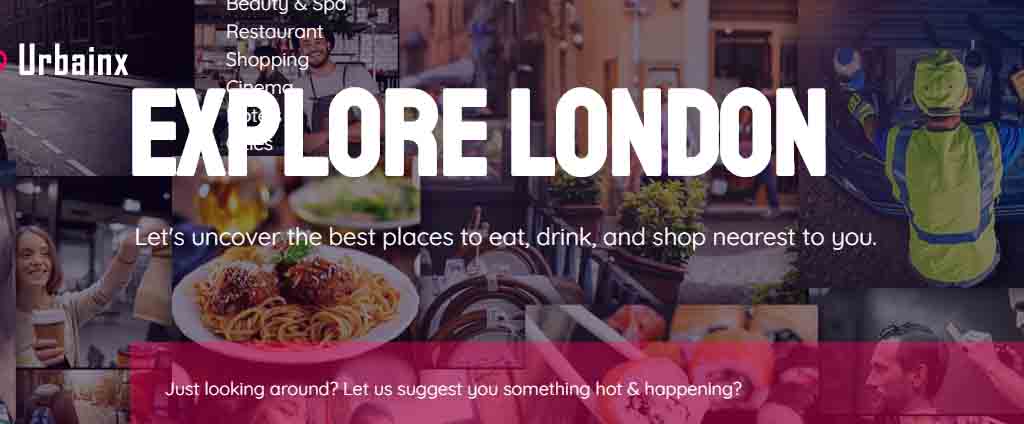 it is a modern directory listing script theme. With the help of this, you can publish all the listings you want to display on the website. it is developed by using Laravel framework. This theme is tested to work best with IE10+, Google Chrome, Safari, latest versions of Mozila Firefox, Android and iOS mobile browsers. It has amazing features like Powerful CMS, Categories, Powerful admin panel, clean coding, direct access, statistics of important data, SEO meta data setup, Images, Documentation file included, Tools, easy to use and customize, Bootstrap based design, manage services etc.
CitiesDirectory Web Application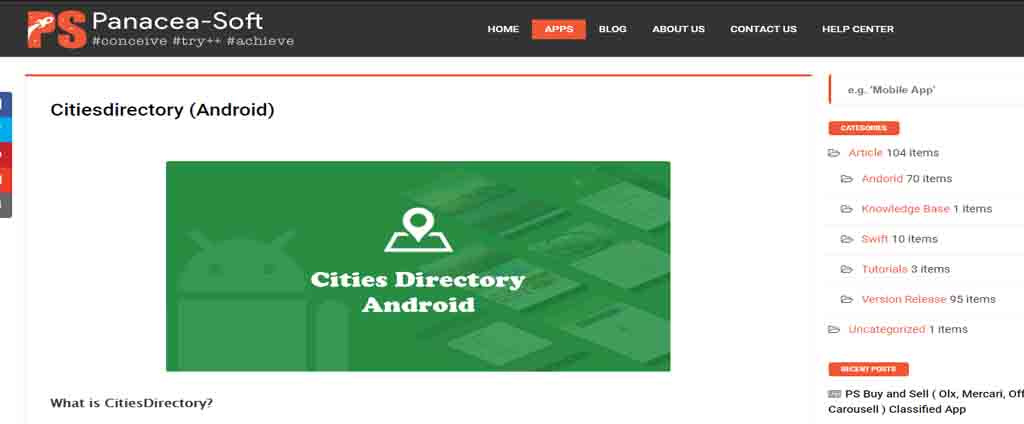 Cities Directory is a full application with back-end which supports iOS as well as Android. It is developed by using CodeIgniter framework. It also has an iOS and Android app which is available with same backend. You can build the complete solution for web and mobile apps by using single backend. It has fresh and modern web design. It is responsive solution for all screens. Its unique features are SEO, Good UX, interactions with users, less than 5 minutes to launch, default theme colors, backend management, business logic embedded, analytics, complete solution for all and many more.
PHP Business Listings Classified Directory Script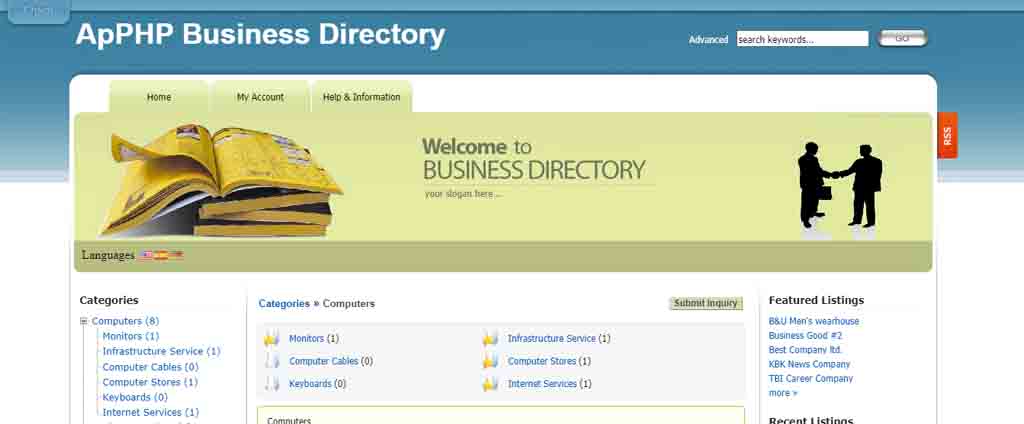 It is an advanced version but simple and powerful business directory solution. It allows you to add categories and then associate businesses to these categories. You can also add profiles which include contact info, description, website link, email contact, categories, map links etc. ApPHP business directory is developed in OOP and enables you to build business directory website in a few minutes. you can easily add or edit the content. It provides you all the features that are necessary to setup your own e-commerce directory website. it has many features as manage listings, categories, payment statistics, advertise plans, RSS news feed, embedded CSS templates, payment modules, news module, gallery module and etc.
Php Script – Business Directory & Advertisement Listing Portal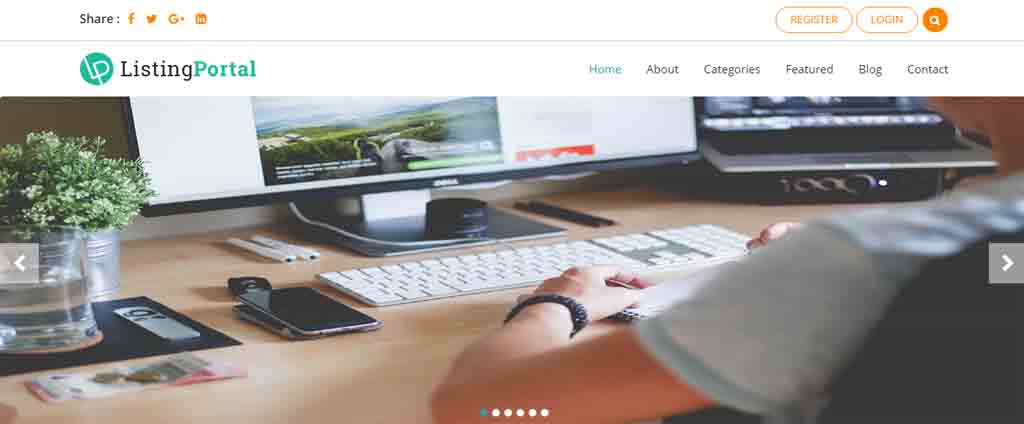 It is a powerful listing website and developed by using CodeIgniter framework. Admin can easily manage and upload advertisements. It is a multi-vendor Web application. It has dynamic email templates with live preview. Its main features are SEO friendly, elegant layout, secured framework CodeIgniter, strong admin panel, unlimited colors, best responsive design, gallery, retina ready, social sites sharing, follow us sharing, follow us facility, dynamic blog categories, contact form, blogs comment, reply option and many more.
FindAll – Business Directory Theme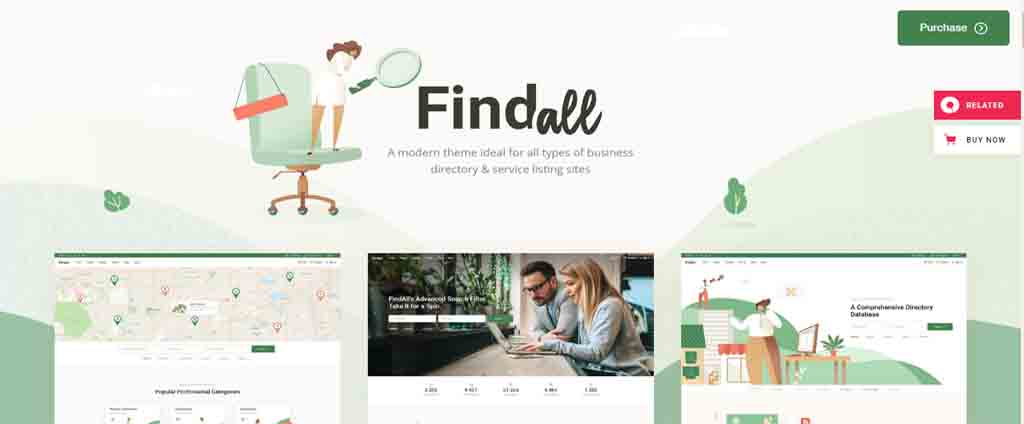 It is a latest business directory theme which is ideal for all types of business and service listing websites. It is equipped with all the necessary tools that a modern business directory website would ever need. You get many powerful listing elements that include an advanced search filter. This theme has many features as easy to use, powerful admin panel, import demo site with one-click, responsive and retina ready, large collection of home and inner pages, author list short code, category carousel short code, popular categories tabs short code, user login, portfolio list short code, easy color change etc.
Listify – Directory WordPress Theme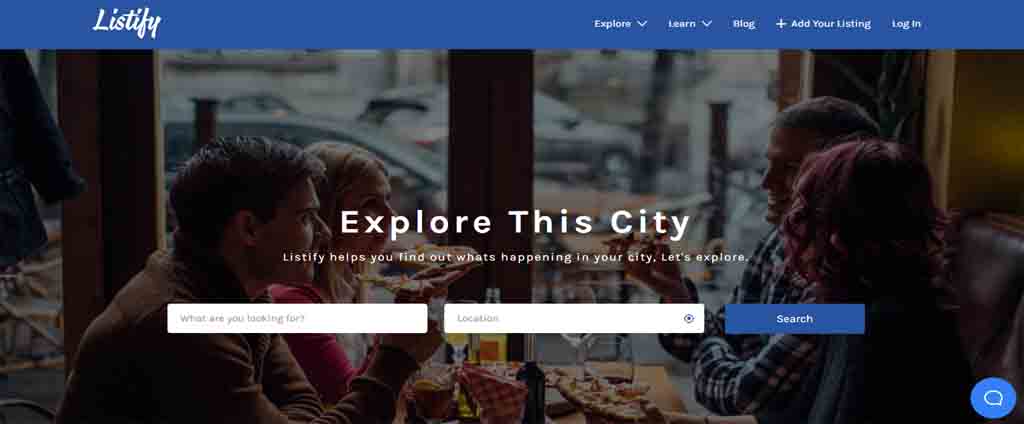 This is the perfect directory theme you'll ever need to buy. It is also compatible with IE10, IE11, Firefox, Safari, Opera, Chrome and Edge. Listify is one of the best themes that you'll need to generate revenue. Its startup takes less than 5 minutes. it has all the features that you'll need like Style Kits, Drag & Drop, locate me, Demo Import, Performance, claim a listing, submit listing, subscription, advertisements, view listings, make reservations, appointment booking, paid site access etc.
ListingPro – WordPress Directory Theme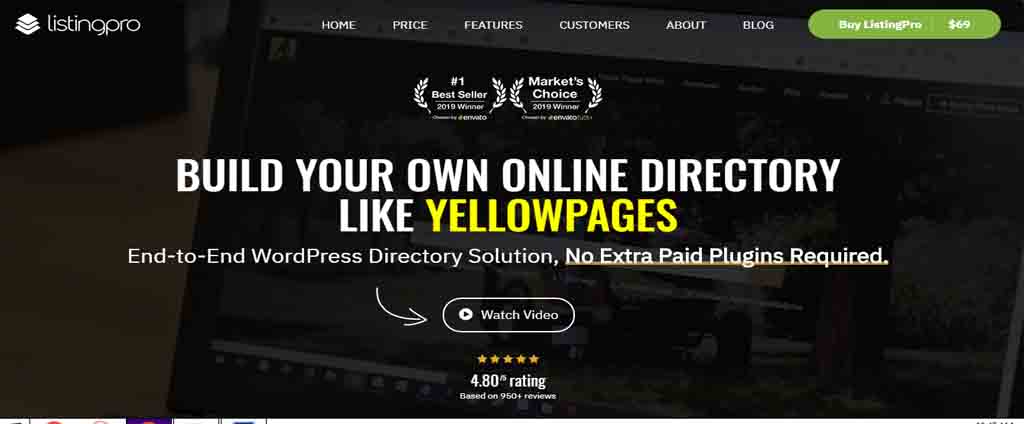 This is one of the best-selling WP directory themes in the world. it has top features like super easy setup. You can get up and running with the most advanced directory in just a few clicks. It has auto pilot submit. You can enter a business name in title, select the right business form drop-down to fill-in the primary contact details using Google Maps API. Its core features are smart search, advanced filter, pricing plans, ad campaigns, rating & reviews, claim & verify listing, checkout, events management, deals & coupons, menu management, inbox etc.
Directory WordPress Theme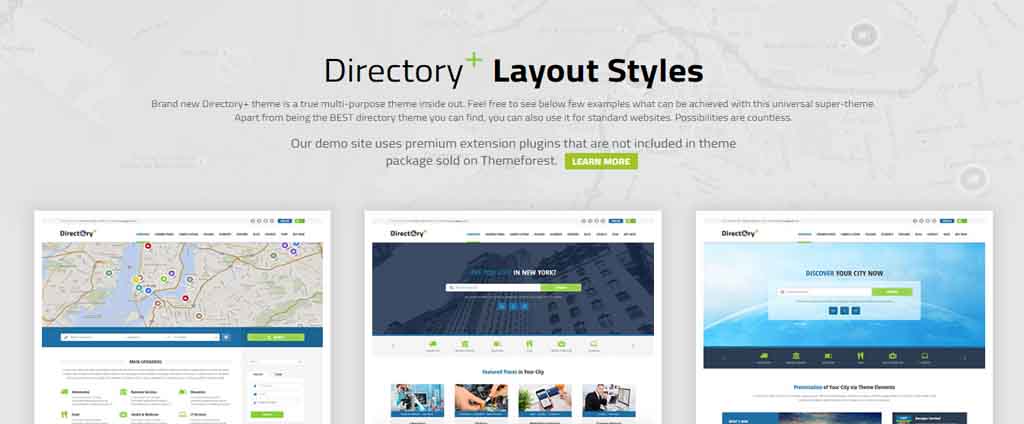 It is an absolutely unique theme concept. It allows you to easily set up an online directory portal listing. It helps you to categorized the items of any type as companies, websites, shops and so on. It has been made perfect after a lot of tests and several changes. It is continuously updated with new features, that's how it gets better. This theme has many features as responsive design, page builder, 30+ elements, premium admin panel, SEO tools, megamenu, sidebar manager, typography, WooCommerce designed, directory items, featured items listing etc.
UrbanGo – Directory and Listing Theme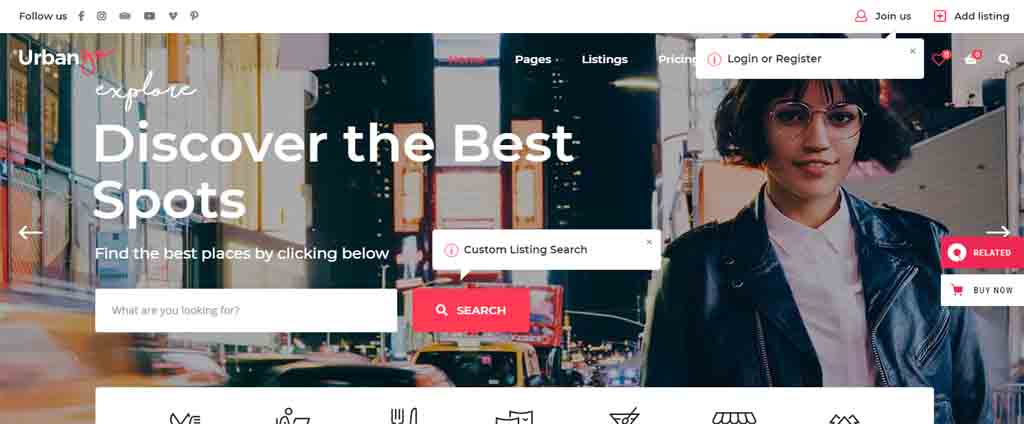 UrbanGo is an incredible directory and listing WordPress theme which allows you to build an amazing website without prior knowledge of coding. This theme has amazing feature that a user can create his own listings, reports, claim items, wish lists, and much more. You can pin the location on a map. You can also customize google maps according to your style preferences. It enables you to build a remarkable directory and listing website. this theme has amazing features like easy to use, responsive design, retina ready and many more.
Bello – Directory & Listing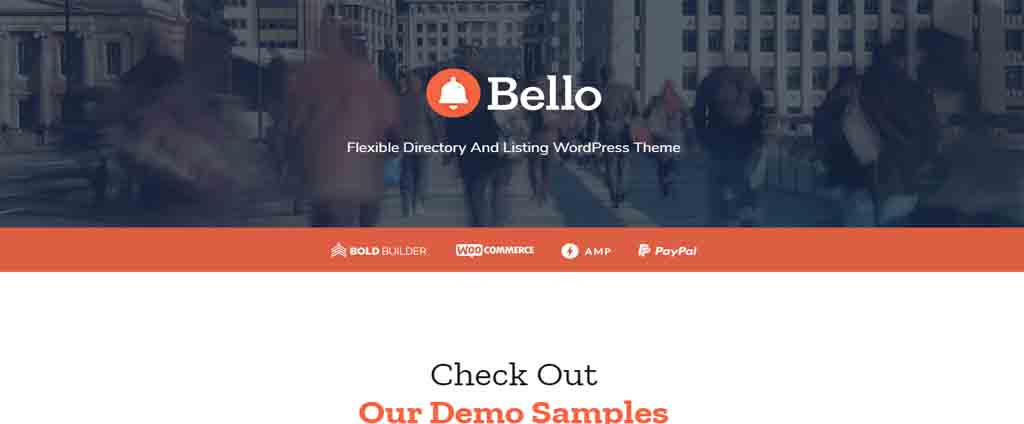 Bello is a perfect WordPress theme which is especially designed for directory & listing businesses. This theme is fully responsive, easy to customize and retina ready. It responds to various screen sizes perfectly whether your device is a large desktop of a modern smartphone. Bello has amazing features as local or global search, location search, WooCommerce, listing attributes, SEO friendly, listing layouts, promote booking, user claims, banner placement, AMP, features listings, reviews & ratings, bold builder, fully responsive, RTL supported etc.
Javo Directory WordPress Theme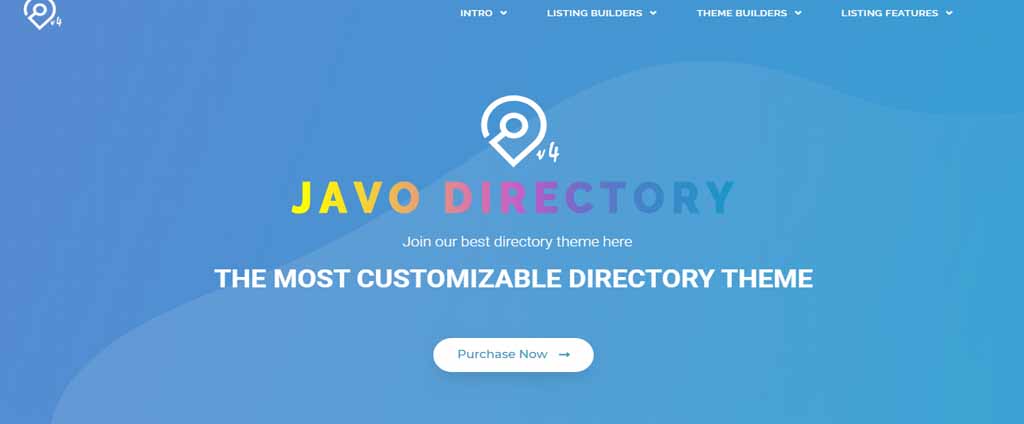 Javo Directory is the most customizable and advanced directory theme. Javo is compatible with Elementor Page builder. You can build your website by real time page builder. Most of the themes are fixed templates. However, it has no fixed templates. You can reorder, add, remove each feature. It has amazing features as pre-designed templates, V3 popular pages, import data demo, basic addons included, listing detail page, map & list style, post detail, header footer, search form, block & card module, compare old & new version, smart Ajax search, social stream, advanced filters etc.
ListGo – Directory WordPress Theme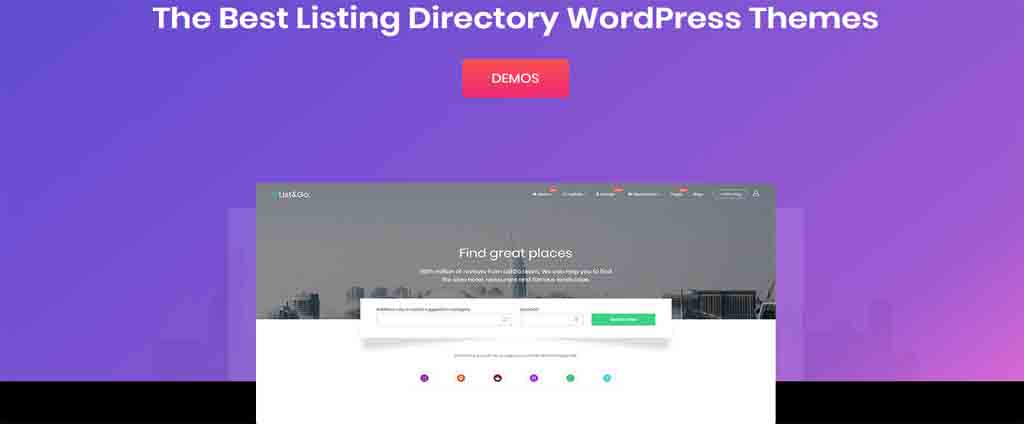 List&Go is an amazing directory and listing WordPress theme. It also includes help desk, support forum and view change log. It also has recurring payment method. Facebook Messenger has been integrated. You can enable or disable this feature in a specified add listing plan. The owner of listing can embed his or her own Facebook Messenger. It also includes toggle contact form, Time Kit Booking system, Facebook Fan page. It also has a feature "promote listing".
FindMe – Directory Listing Theme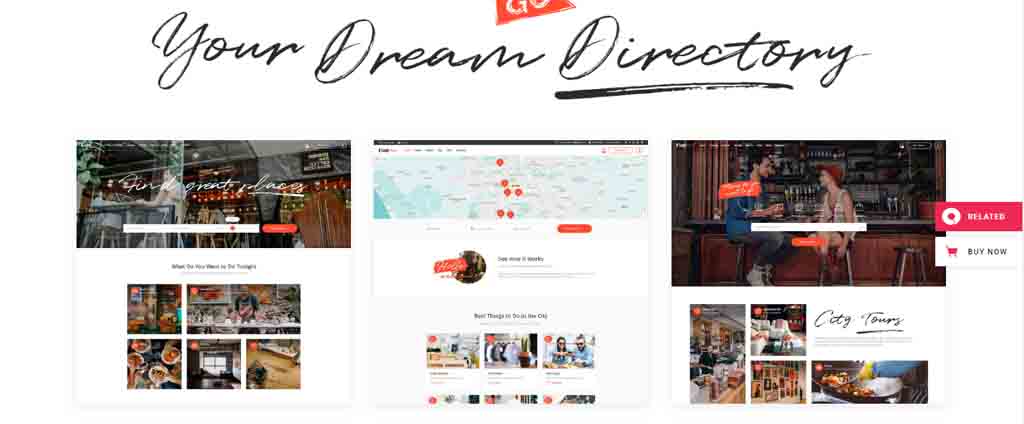 It is a modern theme which contains beautiful listing templates and several amazing helpful features. With the help of this theme, you can create wish lists, add reviews and create online reservations. You can also highlight on a map. You can easily customize Google Maps to your website according to you own preference. This theme is also compatible with WP job manager plugin. It also has the user login facility that lets users to create a nee account or login via Facebook or Google. Theme has many features as easy to use, powerful admin panel, import demo, inner page, WP job manager plugin etc.
Please follow and like us: