It's been 2 years since I've been blogging, and in these 3 years I've learned a lot about Google adsense and blogging. There are many of us who do not have that good income from Google adsense, despite having traffic or visitors to his blog or website. Simply put, Adsense CPC and AD Click are much less and thus result in lower income. So, in this article I would like to tell you about the official mode of adsense that if you use your Google Adsense income will increase by 40% to 60%.
How to Increase Adsense Income?
I'm not saying that. I have been using this tricks for the last 3 months. And my adsense revenue has increased by 60%. After seeing the result I am sharing with you the medium of this Adsense revenue increase. Applying this medium will increase the click on your adsense ads and increase the CPC on those clicks. As a result, your AdSense income will be much higher.
Must Read – What is Google Adsense? How to earn from AdSense?
So, let's not waste time, move on how to increase the CPC, Click and Income of Google Adsense Ads.
How To Increase Adsense Income Through Official medium?
I used to earn more than $ 300 last month using Google adsense, using all the tricks.
Increase Google adsense income:
Remember that in order to maximize AdSense revenue you must first focus on a few simple things. For example, whether ad placement is using auto ads, how many ads are shown in an article, and the type of ads you are using.
Ad placement – Remember, always use 3 or 4 on the ad page / article. Be sure to display an ads in the first paragraph. If you use targeted and user-focused ads, clicks on ads will be higher and ads with higher CPCs will be shown in your articles. As a result, your advertising revenue will increase.
Use of Auto Ads – Google Adsense has a function called Auto Ads that will activate ads on your blog and article itself in certain places. So you must use auto ads such as Display / Text, In Article ads, anchor ads and vignette ads. They are very profitable.
Number of Ads – As I said before, there is no need to show more ads in articles. Use only 2 to 3 ad units (display / text) ads. Moreover, if auto ads activate, the user and the reader will be shown high CPC ads to understand the benefits and opportunities.
Types of Ads – Keep in mind, if you use 1 to 5 ads or ad units, you will use 2 display / text ad units and the other 2 link ads. Place ads by placing ads on and between articles. You will see that your ads will get more clicks and get more CPCs in the clcks.
Paying attention to these common adsense ads and ad placement will increase your AdSense income by 5%.
Remember, auto ads will use ads and use 1 to 3 ad units. Ad units use 2 display image ads and 2 link ads.
If you use a small number of ads, your article will display one and a half targeted ads. As a result, the ads will get more clicks and you will get more CPCs (cost per click) on those ads.
Simply put, income from your Google AdSense will be much higher.
Hey, using the simple rules above, AdSense's revenue can be increased from 20% to 5%, which is fine. However, the official means or rules of increasing adsense income are what I mean but I still tell you.
Increase Adsense Revenue Through Optimization (increase adsense income)
Google Adsense has a new feature called Optimization> Ad balance. By going to Ad balance option, you can reduce the amount of adsense ads shown on your blog only show the high paying more ads.  That means, with ad balance you can only show ads on articles or blogs that are earning the most revenue.
As a result, ads with unnecessary and low CPCs will not appear on your blog. In this, the user or visitor will not have any difficulty read your article and the ads shown will be high CPC ads. And, by which you can earn the most money.
Step 1.
First of all you need to go to google adsense website and have to login with your email id / password.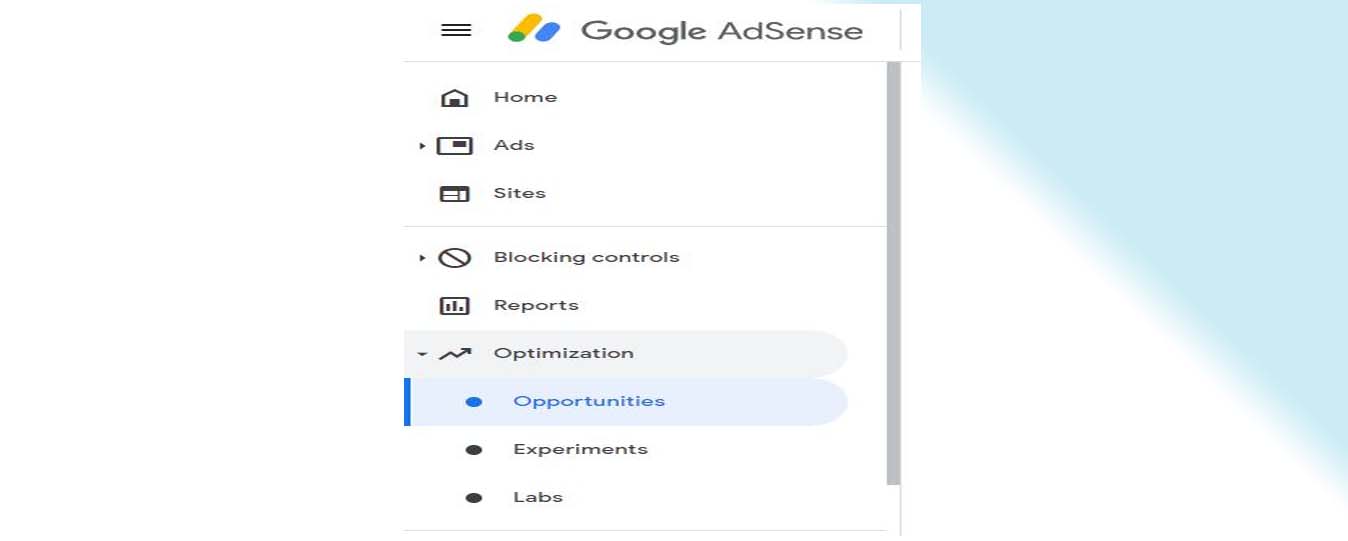 Then to the left of the Adsense account dashboard you will see an option "Optimizations".
Increase Adsense Income
After clicking on optimizations you will see another option below called "Experiments".
Step 2.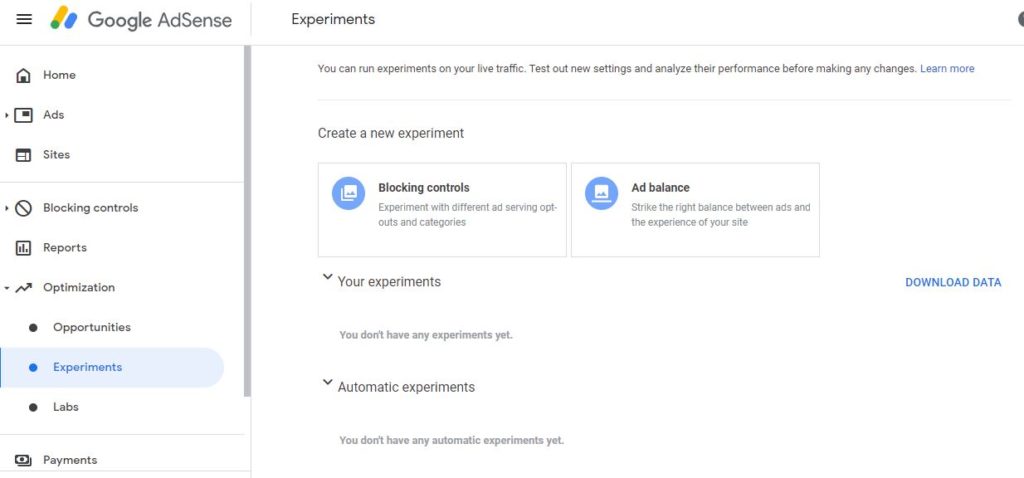 Now you will see two more options. From the "Blocking controls" and "Ad balance" you have to click on the "Ad balance" option.
You can see the picture above for a better understanding.
Step 3.
Now after going to Ad balance option you will see some of the options as shown in the picture below.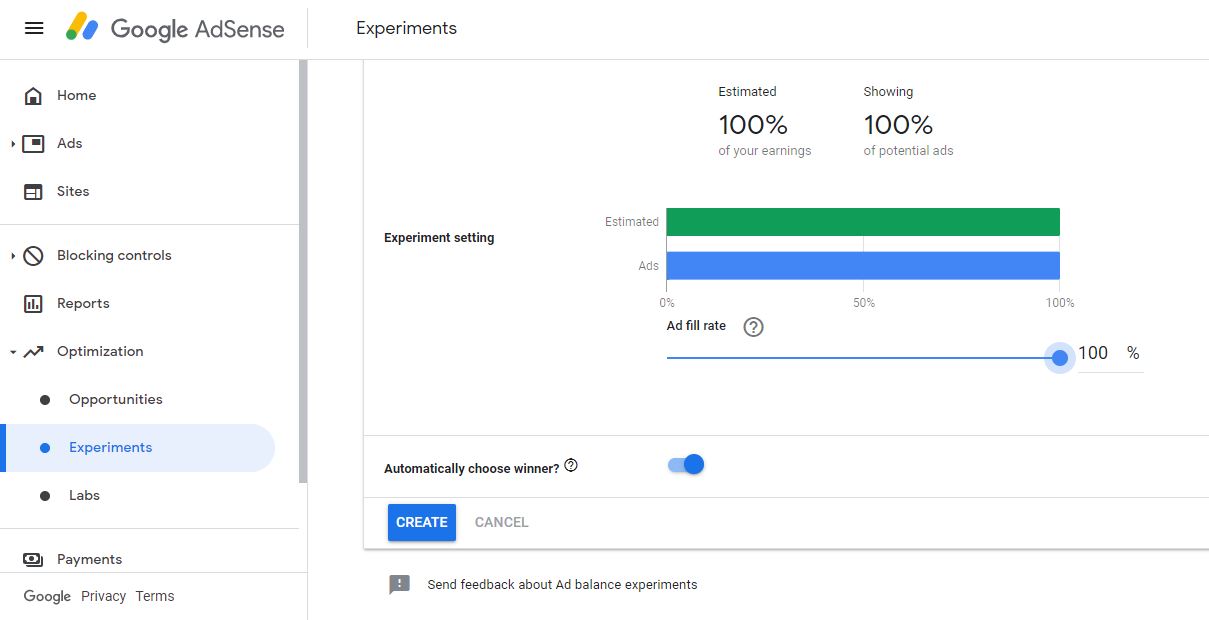 Now you will see two options.
Current setting
Experiment settings.
The only thing you have to do here. Set the ad fill rate from 70% to 80% from the Experiment settings and click on the "Create" option below.
Step 4.
After clicking on the Create option you can see the status of Ad Balance Experiment. Running is written, meaning this experiment I set up is  running.
This will set your AdSense ad fill rate to 70 to 80% of what you decide. That is, only 70% to 80% of high paying ads will be displayed on your blog.
As a result, your blog or article will only show the highest CPCs and the highest paid ads. As a result, your AdSense income will be greatly enhanced, as has been the case with me.
You can experiment with setting different fill rates between 70% and 75%. In which case your AdSense earnings will be the highest you can set.
Our last words,
Remember, there are some simple and easy ways we can use Google Adsense to increase the revenue or revenue of Google adsense. I myself have increased my income using these rules .
No matter if your blog or website has a less traffic or visitors a half. Through the ad balance process of Experiments, you can earn even better traffic.
Please follow and like us: