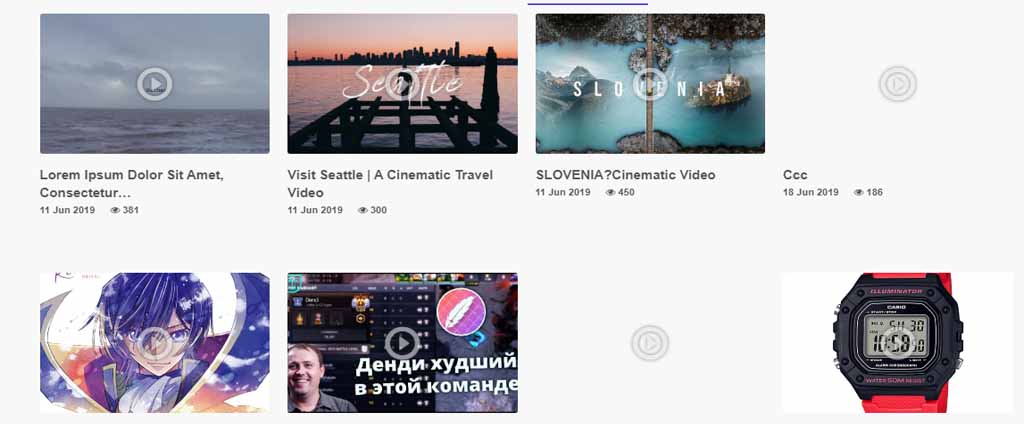 Video learning site
as the world is moving towards modernization with the invent of Internet, it impacted every aspect of life. Learning management system is no exception. If you are looking for LMS scripts or templates instead of old ways of learning, then you don't need to worry about such a system because today, there these scripts are increasing in number faster than ever. A perfect LMS system provides you various features that help you to manage everything effortlessly.
Pixar – Photo & Video Stock Sharing Script
It is a perfect script for Photo and video stock sharing. Its design is responsive, clean and user-friendly. It helps you to manage everything with a powerful admin panel. it has a multiple user system. all the users can have their own panel for the management of collections, images and accounts. It is SEO optimized, fast, simple to use and secured script. Its key features are category photos, social sharing, tags by photos, clean and responsive design, Paypal donate options and many more.
VTube v2 – Video Hosting & Sharing Script
It is a script that gives you the ability to upload and share videos. Users upload videos and administrator has the authority to accept or reject these videos. Anyone can watch these videos but you must have to log in for the sake of uploading or importing videos or to comment on videos. It has amazing features like share videos from Youtube, upload & Embed videos, report explicit videos, videos history, videos watch later, manage videos, manage reported videos etc.
PlayTube – Sharing Video Script Mobile Android Native Application
With the help of PlayTube users are able to view and interact with lasted videos as well as like and comment. It has become easier to use the application and have more fun. It is easy, secured and updated regularly. Its register page gives the ability to register a new account. Its material design is completely customizable. It takes a few seconds to add a banner in your app and show advertisements during navigation. It also has the amazing feature of language support. It gives you many options like import videos, like & dislike, user channels, watch later, playlists, search page, handling image etc.
PlayTube iOS – Sharing Video Script Mobile iOS Native Application
With the help of Playtube a user can view and interact with videos and able to like and comment simultaneously. You can easily use this application to get more entertained. It is a secured and simple to use application which is updated regularly. You can start editing your application with a beautiful style. It gives you the ability to register a new account as well as login option from mobile. It can be easily customized according to your needs and much more.
Avidi Media v# – Premium Media sharing Script (Photo, Video, Audio & Gifs)
It is a powerful and simple to use media sharing script which has a modern design. With the help of this script, you can customize your website by using built in plugins and layouts, upload photos, videos, music and animated gifs. This script supports most of the popular video services that help you to easily share videos from Vimeo, Facebook, Youtube etc. it gives users the ability to enable autoplay feature which is used to play gifs and videos on page scroll. The images in gallery has their own system of comment, sharing and voting. You can also add additional description to each image that you had uploaded.
PlayTube – The Ultimate PHP Video CMS & Video Sharing Platform
It is perfect video sharing script which helps you to start your own video sharing website. it provides you the ultimate video sharing platform. You can choose a few keywords to run the task and thousands of videos will be imported from Youtube and Dailymotion to your website. it can handle more than 1B videos easily with high performance and speed. It makes the management process very easy with the help of a powerful admin panel. it has amazing features as upload videos, like & dislike, user channels and many more.
Duky – Movies & Music Platform
If you want to create a website similar to Netflix, Hulu, Soundcloud, Cbc, Spotify then Duky script gives you the ability to develop music and movie application simultaneously. Your website can become that place where everyone visits to discover new movies, television shows, video games and music albums etc. its key features are subtitle support, video and music php script, ultimate video support and many more.
HDPHP How to do (Wikihow Script) – Sharing Site
It is a script that can be used for viral articles sharing. It is easy to install and customize. Users are able to sign up with google account or any email. With the help of this script users can write and like articles. It enables users to add steps with images for the article, tips, resources, youtube video, warnings and much more. This script enables you to build your viral article site in a few minutes. you can fill your website with articles easily with the help of built in tools. It has many features like SEO friendly, article like, super easy to install and customization, articles next – prev buttons, allows logging in & sign up etc.
PixelPhoto – The Ultimate Image Sharing & Photo Social Network Platform
It is the ultimate PHP Photo sharing platform. It is one of the best ways to start your own photo sharing website. you can build your own Instagram clone script with amazing features, capability and high performance. It comes with tow modes light and dark, you can change them with one click. Users can take direct videos / Pictures using webcam, with the ability to use face filters. Users are also able to upload in import unlimited images, videos, gifs and links. It gives you the ability to login using biggest social network websites. It has many more amazing features.
Mouse Media Script
It is a perfect media share script that provides you quick and easy way to create a viral media website. with the help of this awesome media script you can build your viral media website in a few minutes. it has amazing and flexible popular media page, home page, categories pages, search, original sign in, sign up, forgot password, social networks authentication, adverts in sidebar and in media etc. you can see media full page and share posts on Facebook, Google, Twitter etc. user profile has many functions like see your posts, see your upvotes, overview your profile and much more.
Teachme – Responsive learning Management System, Education, University site template
Teachme is learning management system website template which is fully responsive and have a creative design. It is ideal for education, university school, online learning sites, online courses, paid membership, video blogs, business and technology websites. It helps you to build powerful learning sites with an awesome course page example. It comes with 6 different custom header styles which help you to build unlimited headers with its awesome elements. You can also build beautiful login form and register form with our custom Bootstrap framework form elements and much more.
Learn – Courses and Educational Site Template
It is an HTML5 Responsive website template which is suitable for workshop, courses, lessons and learning websites. It has powerful contact and subscription form. Its main features are valid and clean HTML5/CSS3 code. Revolution slider version, quick contact form version, video version etc. it also has a beautiful event calendar which is a new feature. It has many more amazing features.
Vedant – A complete Learning Management System
Vedant is fully responsive LMS system. this template is ideal for university, school, online learning websites, online courses, video blogs, paid membership sites, blogs, business and technology sites etc. it helps you to build sites with the help of awesome course page examples. Its amazing features are login and register, 3 homepage variations, google fonts, portfolio variations etc.
CoursePlus – Modern Learning Management Application
It is a beautifully designed user interface for modern elearning application site template. It is suitable for LMS, training center, courses hub, college, academy, university and for all other type educational purposes. It has a unique and modern menu which is developed with the latest technologies. Its main features are 6+ course page, advance course lesson page, unique and modern design and many more.
Tubex – HTML Portfolio for Vlogger and Youtuber
Tubex is a fully responsive HTML5 template which has a free PSD for the youtube content creator community. It is also designed for freelance video/visual content creators because it has a multipage template for Vlogging. The blog page is the necessity of a youtuber where he engages with his readers or viewers. You can easily change the design and colors because the CSS files are very well indexed. Its stunning look on tablet or mobile devices will give you the amazing feeling that you need.
VideoPro – Video WordPress Theme
It is one of the most powerful WordPress themes for video-based websites. You can build any kind of video website with the help of this greatest video theme on market. VideoPro has many unique features that allows you to create video websites of your own choice. It is easily customizable. Whether you are looking for a website about game or movies, VideoPro is just made for you.
NewsTube – Magazine Blog & Video
It is a clean and fully responsive theme for magazine, blog and video websites. It has many amazing features like retina ready. This theme comes with a flexible layouts and extensive options that allows you to customize your website effortlessly exactly the way you desire. It supports videos from various popular websites like youtube, Vimeo, and dailymotion etc. with the help of this theme, you can submit video, create video channels, or import Youtube videos and channels to your website and much more.
goWatch – Video Community & Sharing theme
This theme is designed by a well-known premium themes creator TouchSize, a leading wordpress developer that prefer quality and beauty. This theme provides an elegant template which is perfect to create professional websites. It has built in menu, contact form with custom fields, 12 column layouts, custom posts like gallery video, portfolio, slider and more which makes it very simple to categorize the content in an efficient way. goWatch is a premium theme which brings your website to an unprecedented level.
Vividly – Video Blog WordPress Theme
It is the ultimate, beautiful & creative WordPress theme designed for Vlog, movie and video website. it has the most powerful visual page builder that helps you to build your video website with Elementor without any prior coding skills. You can create a beautiful video blog today. It also has advanced video filtering that enables you to filter video at ease. It has pre-made demos, now its your choice to select for a perfect one. The theme has retina ready feature therefor, it looks great in any type of browser and device.
eTube – HTML5 Video Blog / Magazine / Entertainment Site Template
it is a highly customizable, simple, clean and professional template. It has all the essential pages that a video website may require. It is not a complex thing now. You can easily change your text, colors and image to get your desired website. it has everything that your website needs. This template contains the regular updates and maintenance feature. You'll also get notification while updating the template. This template has a modern design so that you could get high traffic by providing the best user experience. It is also faster than any other template so that you'll get amazing experience on it. It is very SEO friendly template which has proper meta tags and other on page SEO works, so you don't need to worry about rank the website.
Mytube – Video Blog and Magazine Ghost Theme
Mytube is fully responsive and automated video Blog. You need to just put the video in your post and all the information, thumbnails will appear automatically. It is a ghost theme designed for vloggers, youtubers, affiliate marketers and passionate bloggers. It is also suitable for news-magazine websites. This template offers many amazing features like responsive design, optimized for mobile/tablet and other devices, based on twitter bootstrap, homepage slider, Google Adsense or others ads ready, widgets, font awesome icon, SEO friendly code, 24/7 support etc.
Please follow and like us: