Those whom want to develop an application that is built on asp.net mvc, for them Bootstrap framework is best for design application admin panel. That is more fun to work the asp.net Bootstrap admin panel.
There are so many reason Bootstrap is best for asp.net mvc.
Powerful and easy to use.
Light version and less code complexity.
Cleaner code architecture.
 These collection of theme suits admin theme development and design trends. If you searching php based admin template Bootstrap template then you can check out this collection. In case you want to see a variety of Free bootstrap admin templates then you must go for Bootstrap admin template free download.
Dashboard theme is very essential because it helps the admin to do his task smoothly. Commonly, a dashboard has so many KPI (Key Performance Indicator). That represent what happens in your business.
Top management of a company easily can observe the business state which purpose the application built for.
Let's explore the hidden treasure of asp.net mvc dashboard template. In These templates some are free and some are paid.
MATERIALIZE – MATERIAL ADMIN TEMPLATE
Materialize template built with using materialize CSS framework. This template compatible with most of the browser IE9, IE10, IE11, Firefox, Safari, Chrome, and Opera. This template has widget and ui elements. This theme works in major browsers seamlessly. Intuitive design. Materialize template useful for web application. Example: custom admin template,CRM,HRMS,Ecommerce ,corporate business and all type of CMS. You will also get applications like To DO, Chat, Email, Calendar and Contact.Only two minutes required to integrate this template with asp.net mvc. There will be no hassle at all to install this template.
HOMER – RESPONSIVE ADMIN THEME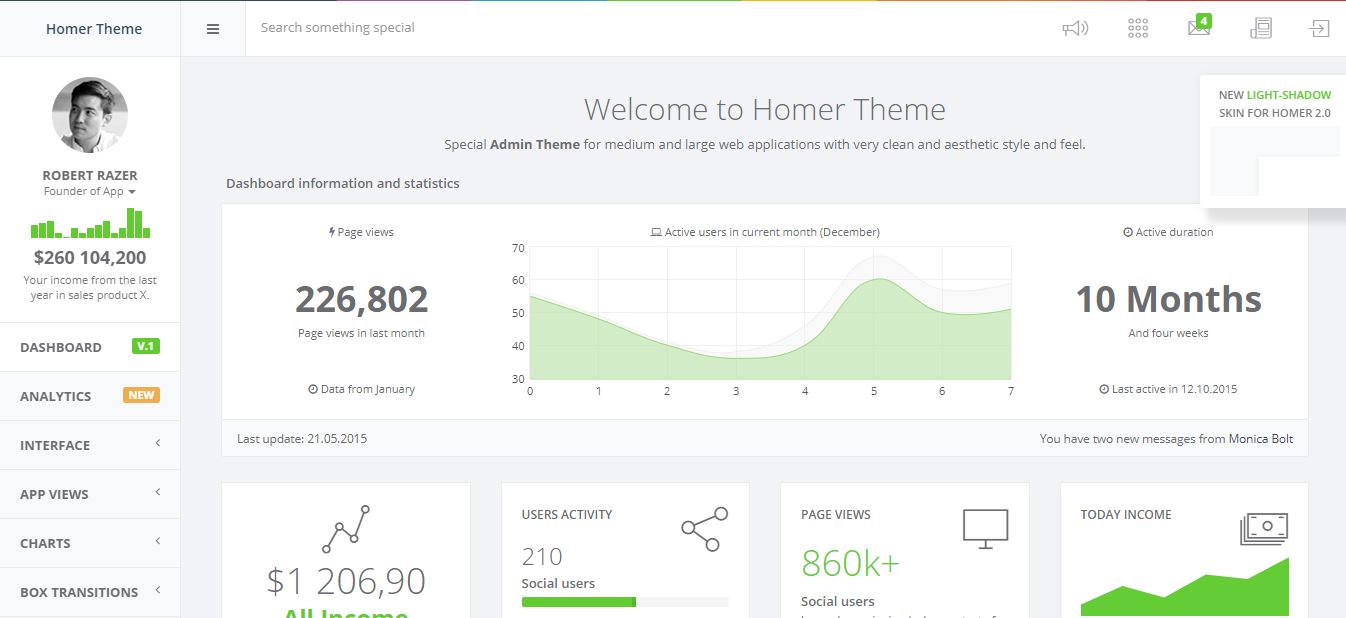 Flat design concept come up with homer admin theme. Flat template built up with bootstrap. Design coding use html5,css3,less,angular js. There are too many reusable component latest jquery. It can be use for all type of ASP.net mvc supported code. Razor supported template. Premium and free template available.
Angel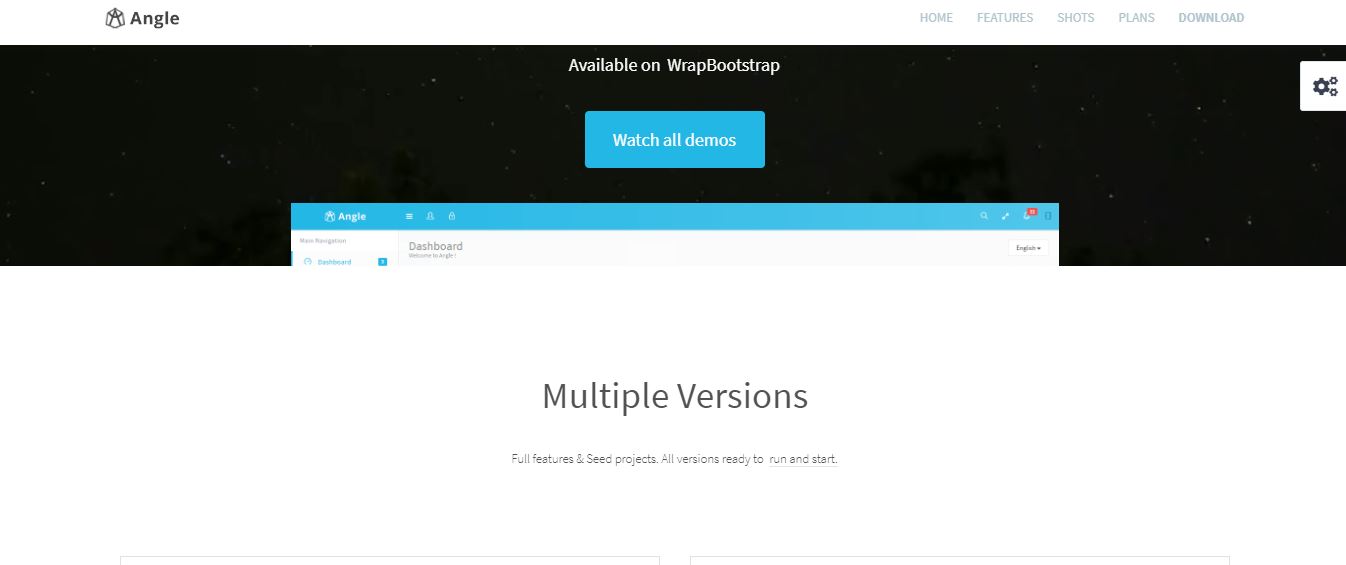 Angel boostrap admin template based on multipurpose using multiple frameworks. Angular 9, Vue.js,react.js,next.js,meteor.js,boostrap are the main coding framework using. This template supports ASP.NET Core 3, VS2019 – ASP.NET Core 3,VS2019 – ASP.NET MVC 5,Ruby on Rails 6 and Laravel 7.Angel template work with ecommerce, single page application admin dashboard. CRM, Garments base application, Industry based application, payroll system and cms etc go through with its design.
ASP.NET Core 3.1 MVC Bootstrap 4 Admin Template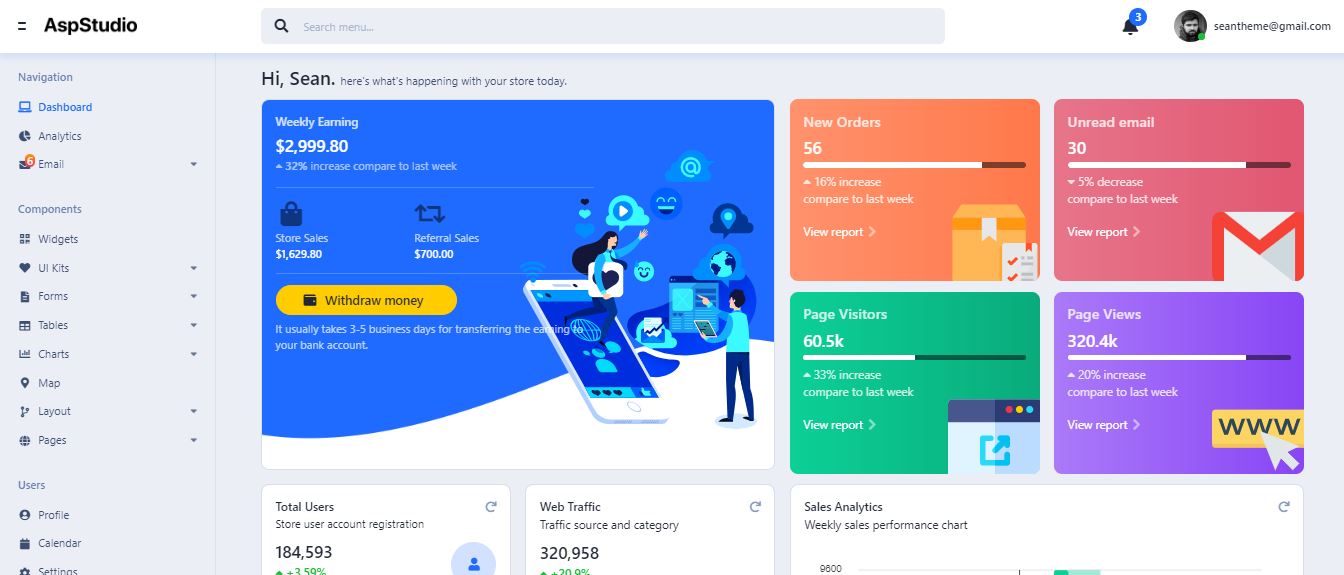 This theme newly releases for specially asp.net core 3.1. This template is on light blue color. By Bootstrap 4.5.0, Html 5, SCSS and JS coding this template designed. Beautiful pixel and perfect design responsive design. Thirty plus unique pages and style plugins. This template support ASP.NET Core 3.1 MVC. It's a premium template.
INSPINIA – Responsive Admin Theme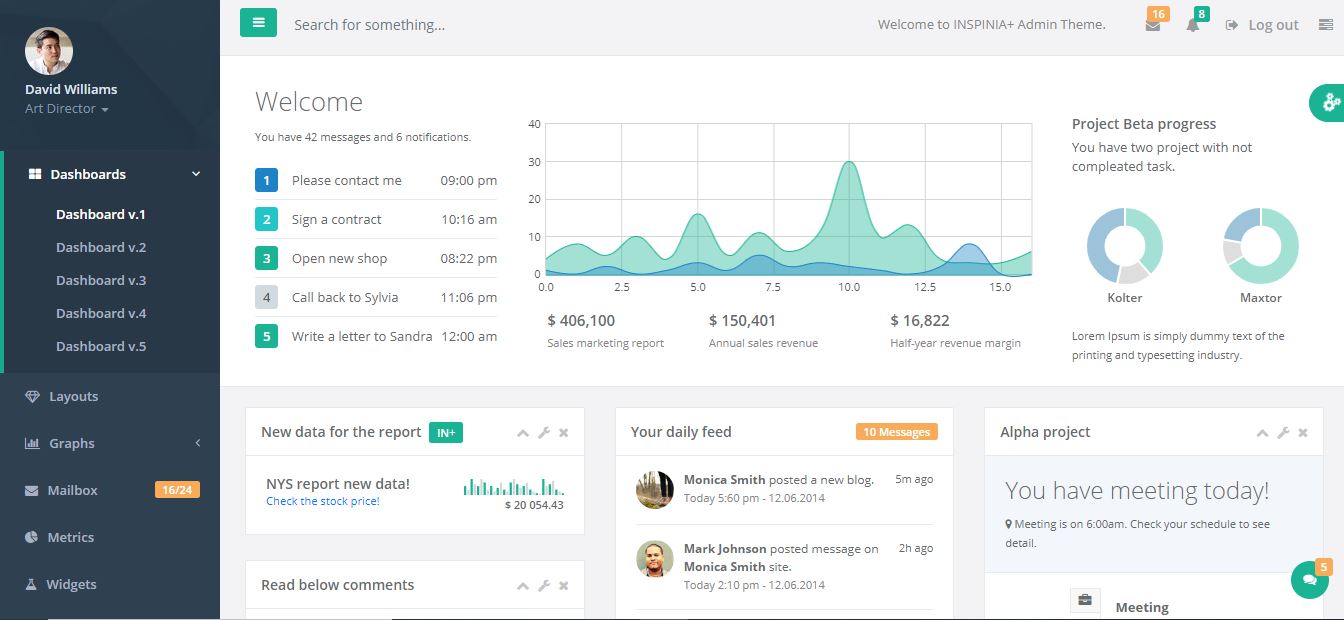 INSPINIA name that introduce a new era. Flat design concept use on this them. Fully responsive with four dashboards. Six chart library and three skins. HTML5 Full Version, .NET Core 3.0 Full Version (VS 2019), Ruby on Rails (6.0) Full Version (Sprocket assets pipeline). LESS and SCSS integrate CSS design. Google map and invoice feature available. Calendar, Gallery, File upload and many more.
Skote – ASP.NET MVC5 Admin & Dashboard Template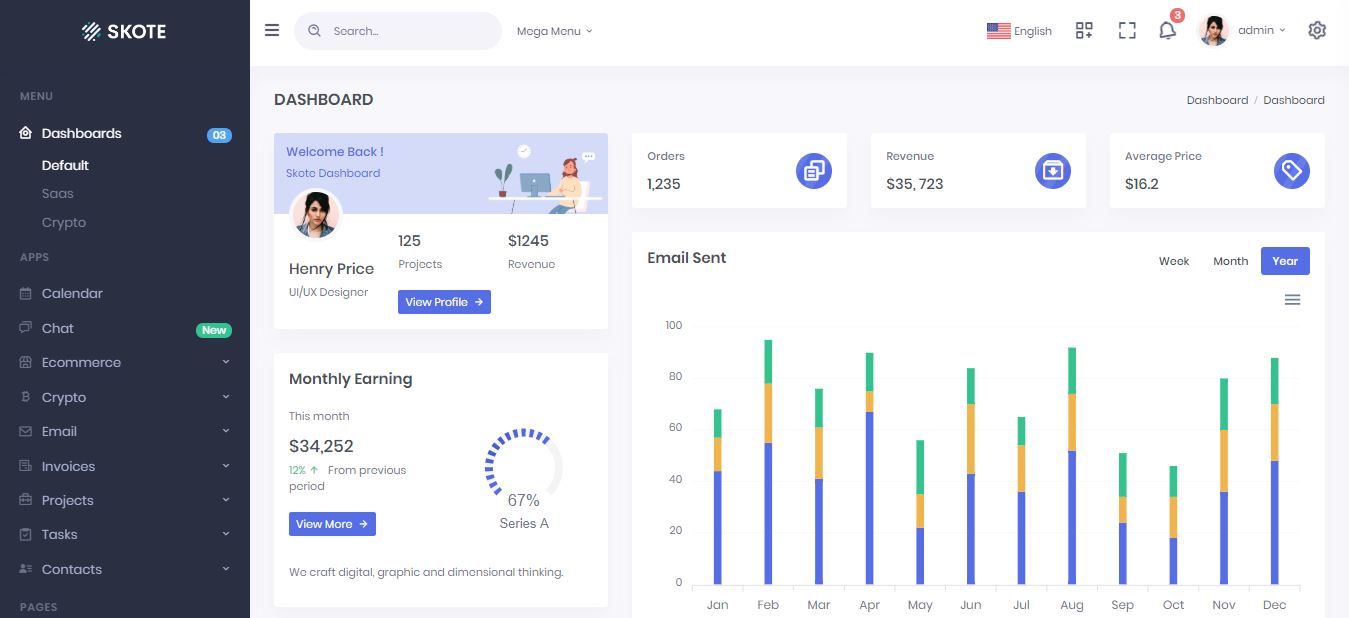 Eight different type of layouts and you can move any design you want in a lighting fast speed. RTL and LTR along with new version. Life time free updates included with the template package. Fully responsive and very neat and clear design. Developer can easily customize it for its structure base coding. This one is professional and flexible template that supports all type of business.
Annex – MVC5 Admin & Dashboard Template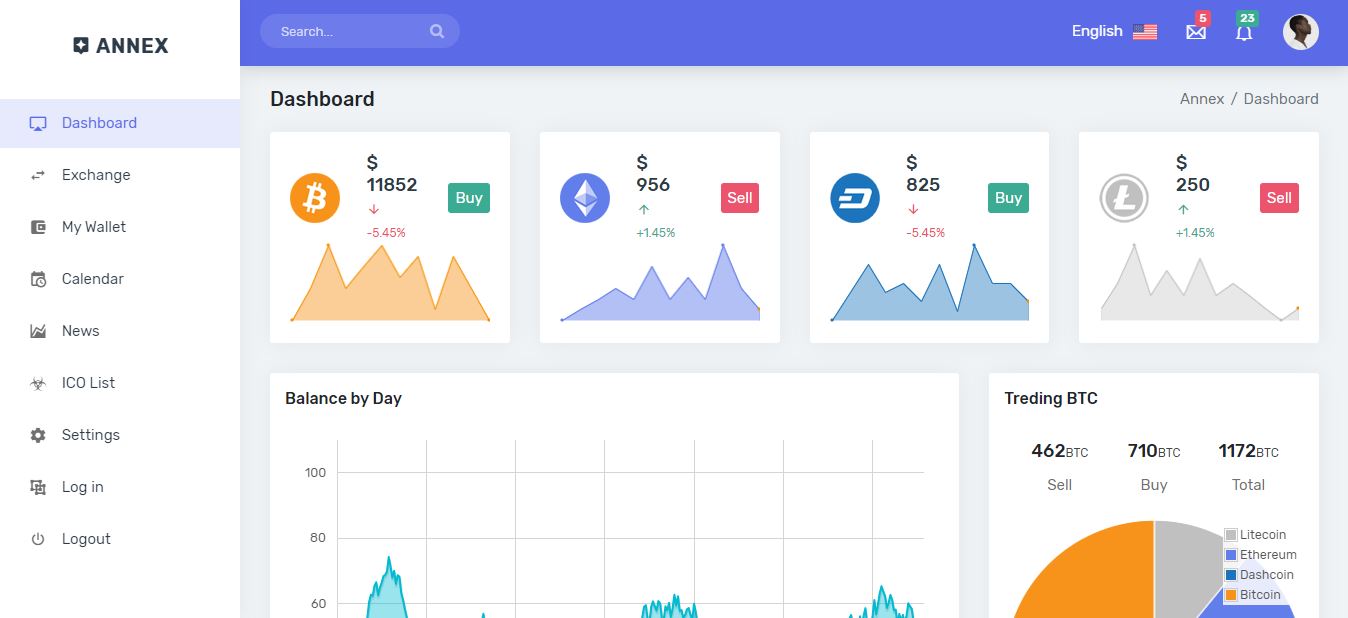 Annex mvc5 is a bootstrap 4.3.1 base template. Faster and easier to customize the application. By understanding the code, you can easily do that. It's a package of Flot chart, Morris chart, Chartjs, Peity and Knob Charts. Developer can easily update or integrate the framework.
Veltrix

Veltrix is template that built with bootstrap, html5, css3, sass, vue.js. Not only responsive the design of the site can never be compromise. Exclusively design asp.net mvc5. Veltrix maintained best quality template. This template is professional and lucrative look that never been deny.
SMARTADMIN – ASP.NET CORE RESPONSIVE WEBAPP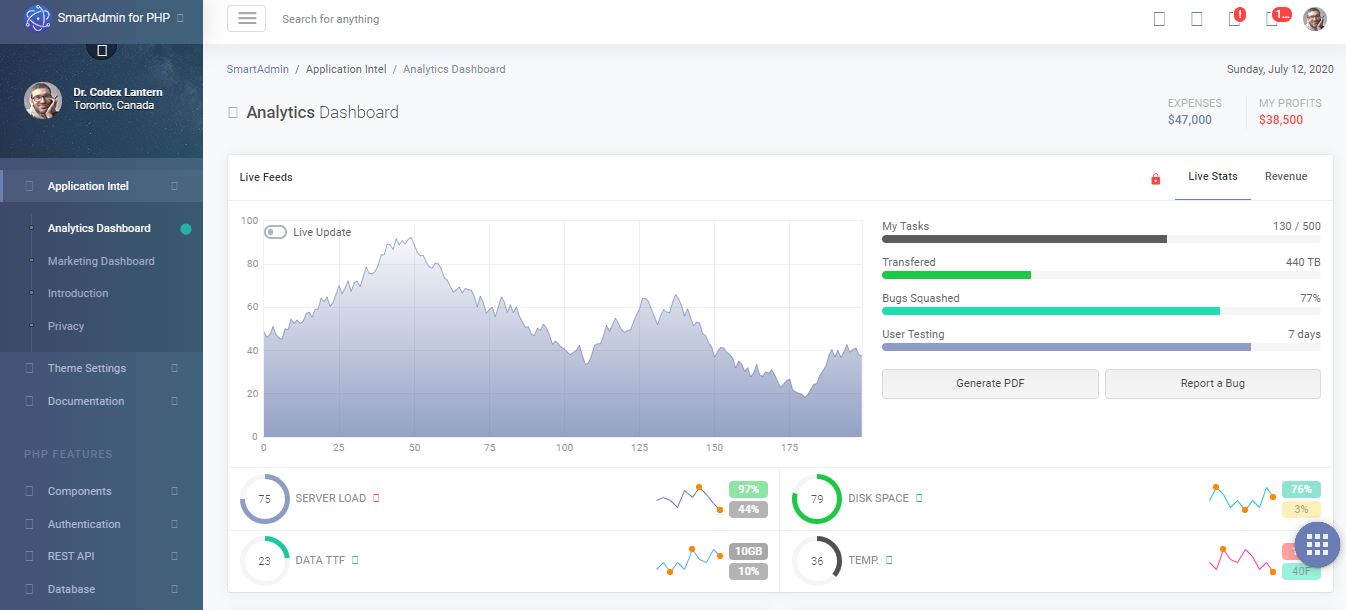 If you need simple template with multiple variation then you are right choice should be Smartadmin.RubyOnRails , ReactJS, AJAX, PHP 5.3, Angular 5 and ASP.NET Core supportive template. You buy it one time but you can use it multiple time. You don't need to know to much coding for that.This temeplate has vast collection of assorted components that you must like. This template cover almost all device that you want too. LESS,SESS and visual studio 2013 for net developers.
NEUBOARD – WEBAPP ADMIN THEME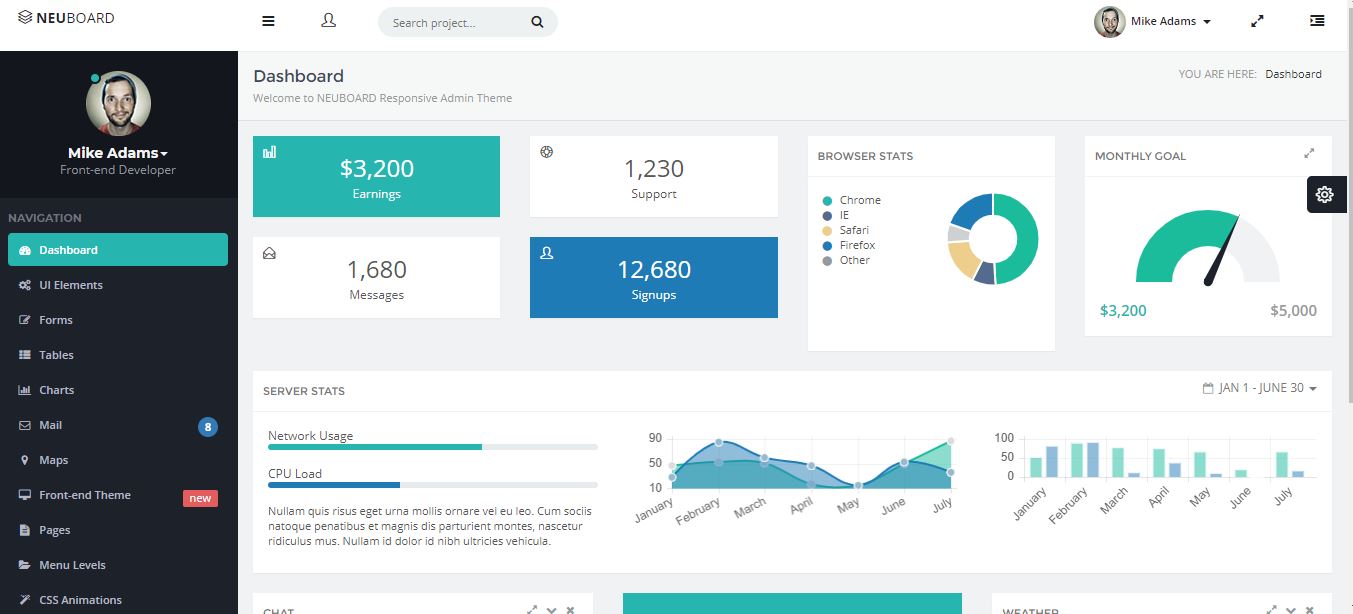 This template specially designed for elegant look. It's easy customize for its document ion .Asp.net mvc 5,Ruby rails and angular.js framework adjust with template. Multiple template color makes it more flexible with your desire color. All in one theme that has portfolio and landing page template with it. Lot's of chat and animation included with it. Slider, progress bar and many more. Application starter files to quickly get to run a any project.
Complete admin template: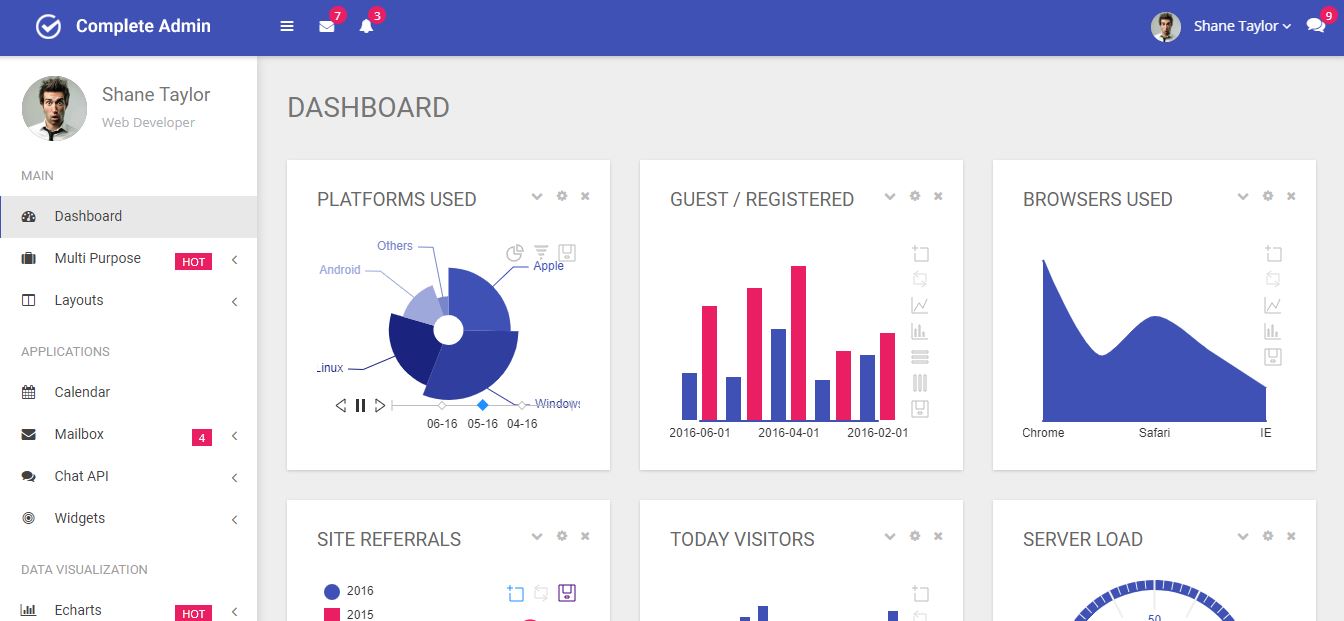 With a Purple graph this template has awesome look. ASP .net mvc 6 core version. it is a great starting point with all the varying elements and components. It has two menu style built in, you can choose whatever you like by small changes on code. It has huge free component plugins you can reuse how much you want. It is tune with all type of popular browser. To gain more attractive look you can try it in your own way of coding.430+ page it has built in. Never need to compromise your desire. This template full fill your desire without your need.
 Argon (Free)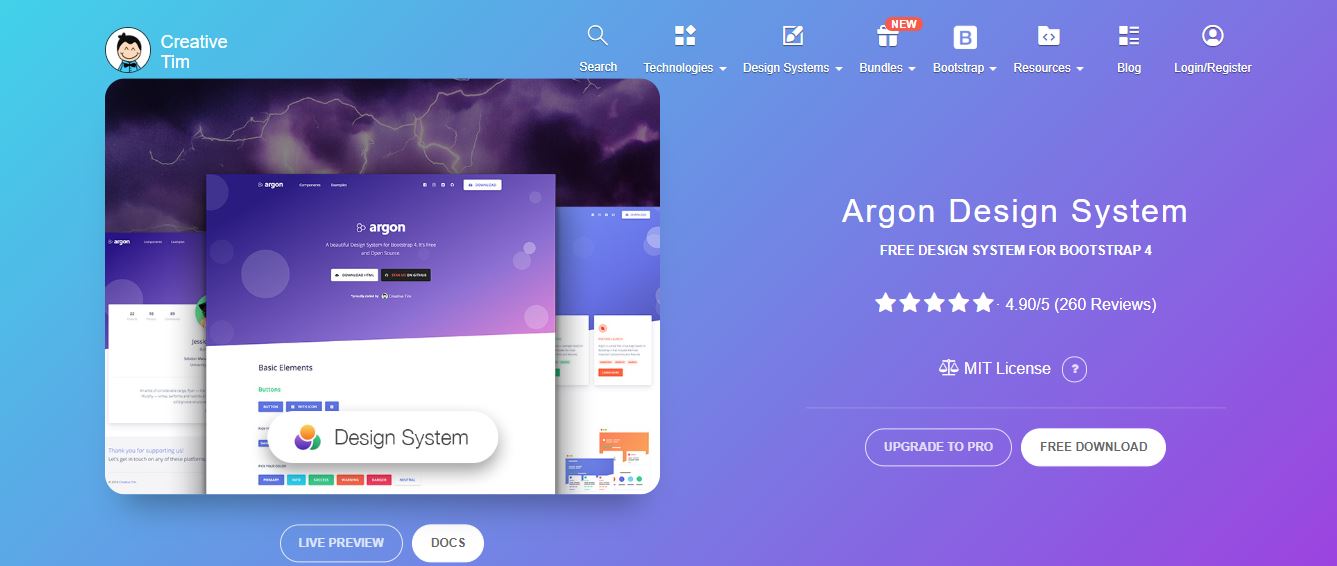 Powerful and reliable admin template. Argon is free so don't need to worry about. Now a days there is no need to develop a application from ground anymore. There is not only premium also free template available in the online you just need to download and use it. Varying with more than 100+ components business will get going to quickly. It is light weight and easy to install. Asp.net mvc framework supported boostrap template.
Please follow and like us: