Bridge Theme Review
Bridge is one of the best premium WordPress themes out there. Never go wrong with the Bridge WordPress theme, for it comes with loads of innovations that make it one of the top-ranking templates on Envato with. Nevertheless, it might take some time for newbies to play with so many options, customization, integrated plugins, and multiple theme templates.
Price

 

$59 for a regular license

What I loved about this theme:

 

· It comes with premium characteristics, such as having over 24 readies to use unique layouts.

· Free plugins, full screen backgrounds, etc.

Things to improve on:

 

The cons of the Bridge theme, however, is that it may be too complicated for someone who has zero knowledge of building websites

Features:

 

With over 480+ Demo Templates to choose from easily customizable with a One-Click creation
You will never go wrong with the modern feature and creative designs.
800+ fonts and 24+ layouts concepts
This theme is fully Compatible With WooCommerce
Build with WPBakery or Elementor .programming skills to customize your website design further, with its built in page builder
Start building these websites With Bridge: 

o   Blogs & Magazines

o   App & SaaS Landing Page Websites

o   eCommerce & Business Websites

o   Portfolio Websites

o   Agency & Business Websites

·  Choose from a variety of Header Styles. Customizing has never been this easy by using various header designs, including image and video backgrounds, sliders, and much more, as Bridge offers unlimited header style combinations.

There is also an Auto-Update Theme As the Bridge template uses Envato Toolkit to automatically make updating the theme easier with a click of a button. The Bridge theme is also fully compatible with the latest WordPress 5 and Gutenberg editor.

 

 

 

Support:

 

Other than that, the performance, pricing, and customer support of bridge makes it one of the best themes out there. Full uses video tutorial available. 5 out 5 support status

Overall: 4/5

 

After using the bridge template, I can say that it is highly customization, provides quality performance, and budget friendly. However, I have experienced some difficulties on Bridge theme since it has a complicated design and tutorial for me, it's not user- friendly.

4.78 average based on 6051 ratings
This theme come up with great powerful plugins: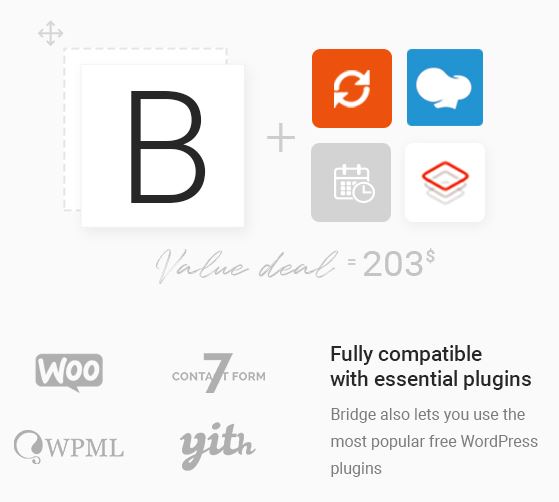 Theme suitable business:
Bridge Original
Casino
Airline
Craft Beer Bar
Film Director
Tech Support
Kindergarten
Tailor
Sushi Bar
Jewelry Store
Web Hosting
University III
Tattoo Studio
vCard
Wristwatch Shop
Gift Shop
Language School
Floristry
Bicycle Shop
Asian Cuisine
Jazz Club
Animal Shelter
Chocolate
Business
Agency
Estate
Light
Urban
Fashion
Cafe
One Page
Modern
University
Winery
Restaurant
Construct
Portfolio Masonry
Vintage
Creative Business
Catalog
Portfolio
Minimalist
Dark Parallax
Split Screen
Avenue
Portfolio Pinterest
Health
Brewery
Corporate
Office
Paper
Simple Photography
Furniture
Flat
Wireframe
Denim
Mist
Architecture
Small Brand
Creative
Parallax
Minimal
Simple Blog
Pinterest Blog
Studio
Contemporary Art
Chocolaterie
Branding
Collection
Creative Vintage
Coming Soon Simple
Coming Soon Creative
Lawyer
Health Blog
Photography Split Screen
Agency One Page
Fashion Shop
Company
Wellness
Case Study
Design Studio
Digital Agency
Organic
Jazz
Wedding
Jeans
Innovation
Travel Blog
Passepartout
Graphic Studio
Cupcake
Sunglasses Shop
Kids
Animals
Photo Studio
Urban Fashion
Marine
Interior Design
Bar & Grill
Skin Care
Rustic
Cargo
Creative Photography
Construction
Campaign
Dim Sum
Flat Company
Photography Portfolio
Charity
Handmade
Telecom
Black-And-White
Pets
Designer Personal
Modern Business
Contemporary Company
Communication
Blog Slider
Fashion Photography
Urban Shop
CV
Standard
Split Screen
Left Menu Initially Hidden
Left Menu With Background Image
Left Menu
Blog with Slider
Masonry Gallery
Short Slider
Angled Sections
Grid
Elegant Slider
Full Screen Sections
Shop Grid
Shop Wide
One Page Site
Dark Border
Portfolio with Left Menu
Portfolio Pinterest Style
Shop with Left Menu
Photo Slider
Blog in Grid
Blog Pinterest Style
Video Slider
Blog Loop
App Showcase
Creative Agency
Construction Company
Modern Restaurant
Wedding Announcement
Online Agency
Rock Band
Craftsman
Corporation
Modern Photography
Illustrator Portfolio
Urban Store
Vibrant Portfolio
Photography Tiles
Freelance Designer
Clothing Store
Urban Studio
Masonry Shop
Fullscreen Shop
Photographer
Designer Portfolio
Tech Showcase
Metro Blog
Nature Blog
Modern Blog
Creative Blog
Minimal Blog
Fashion Blog
Lifestyle Blog
Chequered Blog
Headlines Blog
Tech Blog
Photography Parallax
Bauhaus
Illustrator
Maintenance Mode
Agency Minimal
Conference
3D Artist
Developer
Web Agency
UX/UI Design
Digital
Product Showcase
Sportswear
Interior Decoration
Boutique
Summer Shop
Furniture Shop
Leather Shop
Minimal Shop
Tiled Shop
Digital Startup
Skater
Bicycle Brand
Fashion Agency
Biker Club
Artist Portfolio
Hipster Agency
Barber
Photo Gallery
Skate Shop
Outdoors
Jazz Bar
Hosting
Architect Studio
Child Care
Startup
Resume
Law Firm
Organic Market
Watch Store
Travel Agency
Consulting
Yoga Studio
Spa Center
Modern Furniture
Church
Life Coach
Crossfit
Mosque
Pet Sanctuary
Car Dealership
Business Consultant
University II
Dentist
Transport
Football
Vacation Rental
UI Design Company
City Listing
Music Magazine
Restaurant and Bar
Business Report
Business Conference
Global Business
Financial Business
Construction Showcase
Attorney
Clean Energy
Startup Summit
App Launch
App Presentation
Winter Sports
Smoothie Bar
Yoga Center
Beer Showcase
Plumber
Hair Salon
Freelancer
Bakery
Running Club
Beauty Center
SEO Company
Babysitter
Wedding Planner
Florist
Designer Expo
Music Festival
Moving Company
Burger Place
Urban Dance
Vineyard
Technology
Pole Dance
Nightclub
Running
Orchestra
Factory
Writer
Museum
Art Gallery
Medical
Recording Studio
Mountain Biking
Agriculture
Coworking Space
Bar
Startup Company
Frozen Yogurt
Video Production
Musician
Ecology
Interactive Agency
Creative Studio
Pizza Parlor
Freelancer Portfolio
Environmental Organization
Kids Fashion
Fashion Store
Boxing Gym
Urban Wear
Alternative Band
Drone Studio
Digital Studio
Matcha
New Album Release
Fast Food
Pet Shop
Travel
Cryptocurrency
Pop Music Magazine
Smartphone Store
Water Plant
Spa & Wellness
Nail Salon
Educational Center
Trendy Blog
Creative Office
Backpacks
Mountain Climbing
Developer Portfolio
Jewelry
Designer Presentation
Beachwear Store
Exotic Travels
TV Set Showcase
Delivery
Photo App
Climbing Club
Organic Food Store
Fitness Tracker
Catering
Soap
Movie
Optician
Italian Restaurant
Temple
Wedding Invitation
Hi-Fi
Tea
Renewable Energy
Laboratory
Business Consulting
Fitness
Interior Decor
Pottery
Gardening
Human Resources
Wedding Invitation Card
Candidate
Wildlife
NGO
Explorer
Psychotherapy
Recipes
Nutritionist
Bike Rental
Dental Clinic
IT conference
3D Modeling
Horse Riding
Barbershop
Loan Company
Architectural Firm
Web Studio
Law Office
Software Development
Gym
Makeup Artist
Gaming
Photographer Portfolio
Golf
Laundry Service
Tiles
Handicraft
Bridge theme user guide:
https://www.youtube.com/channel/UC-h62vMXD5aZV5zAULD-SuA/videos
Why should you choose Bridge? It is merely one of the best WordPress themes out there. The design and quality is something that you will look forward to once you select Bridge. This might be a bit too overwhelming for beginners, given the volume of options, customization, integrated plugins, and choices of templates. Aside from this, you will never go out of the budget with this theme, specially if you are a freelancer, web designers, or online business. 
What the customers think: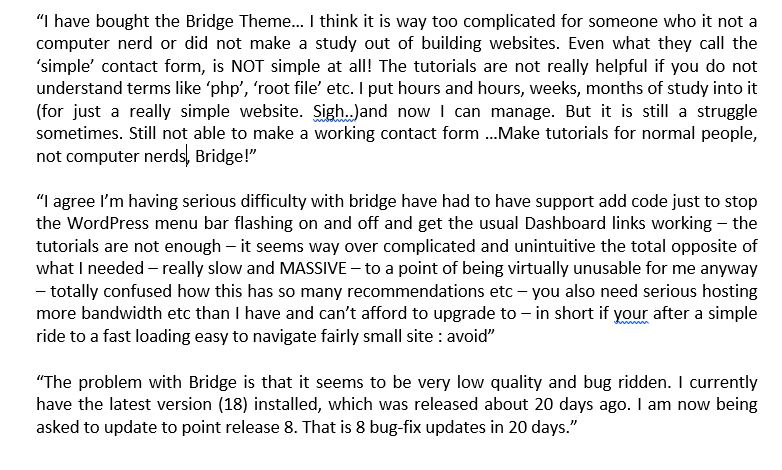 Best to buy it from here:
BUY
Please follow and like us: