Every one in this world face the situation where he buys or sells. Classified advertising is a form of advertising which is common in newspapers, magazines and online. Modernization affected all aspects of life whether it is a collective business or an individual, advertising is not an exception. Moreover, the advertising industry is greatly affected by this invention of internet. it has changed the typical ways of advertising. Nowadays, classified ads scripts play an important role in classified advertising. These classified ads scripts help you to create job portals etc.
Classified Ads CMS PHP Script – Quickad Classified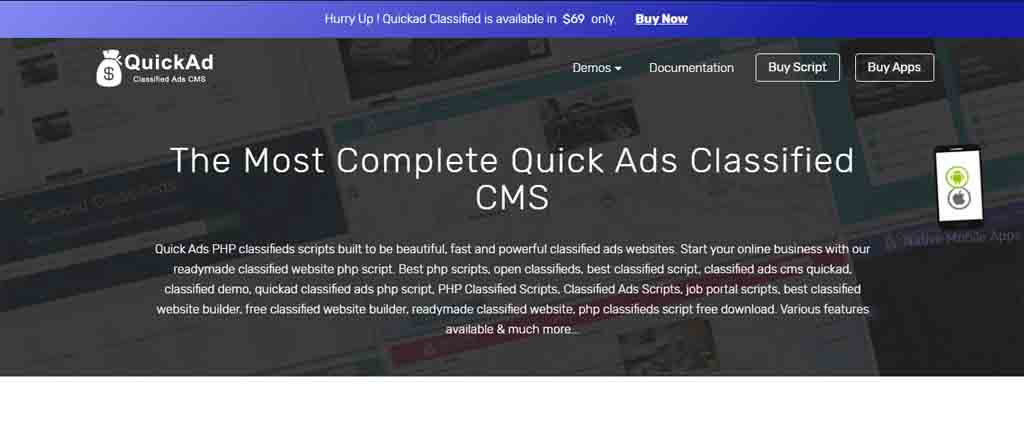 Quickad php classified script has a classic design and fully responsive material. It is beautiful and fast. You can customize it according to your own needs with simple steps. It has one of the best angular js admin dashboard templates for beautiful user interfaces. It is premium php script which will help you to convert your business idea into an actual profit-making business.
Classified ads Plus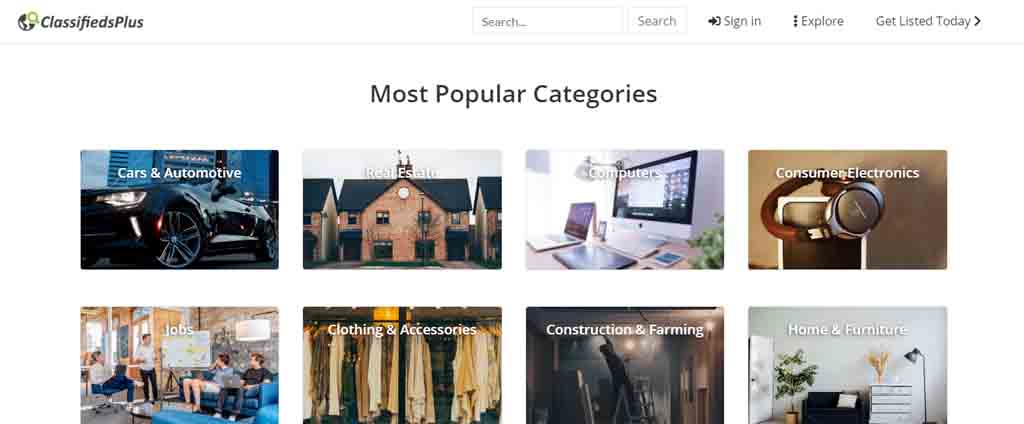 It is classified ads CMS with full features and responsive layout. It is lavish and eye-catching in style that looks very beautiful on both mobile and desktop. It is especially designed with a purpose of fast to load and simple to customize. You can handle hundreds of thousands of listing with amazing speed. It has many unique features and one of them is that it is extremely fast for page load times.
LaraClassified – classified ads web application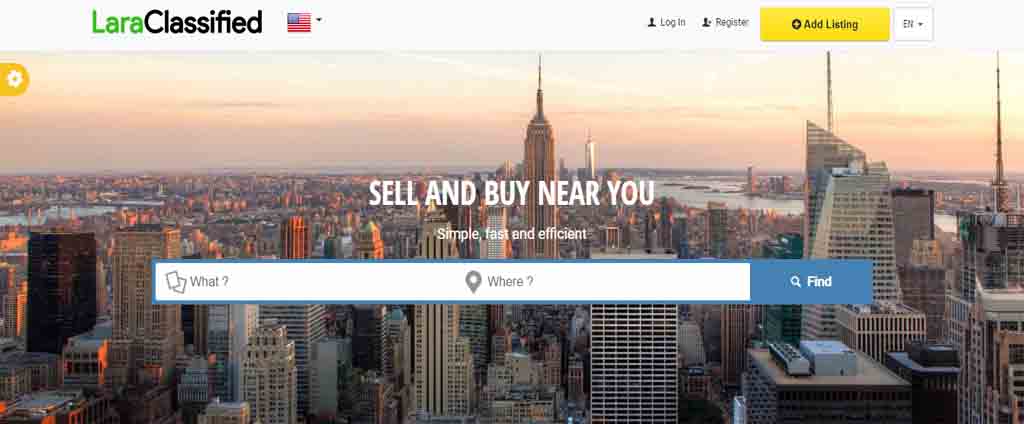 LaraClassified is a web application with the most powerful features in the market. It has fully responsive, clean and modern design. It is built on Laravel, Bootsrap, jQuery and VueJS. It has Custom field, by using this feature you can create your own classified ads, auto deals classified, real estate classified, directory listings or jobs portals websites. You can also customize your homepage.
Modesy – Marketplace & Classified ads scripts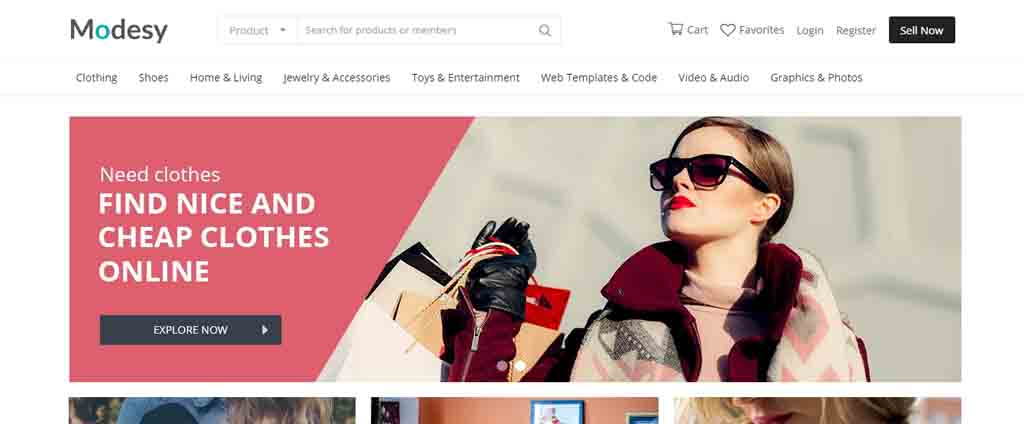 Modesy is a classified ads script which is designed to sell physical and digital products. It is also a perfect marketplace. It enables you to use both marketplace and classified ads simultaneously. This script can be used as a multi-vendor store or a place where you can sell your products. It has beautiful, responsive and user-friendly design. It gives you control over everything in your website with its perfect Admin panel. It has fully customizable and simple to use functionalities.
Premium classified Ads php Script – BuySale Classified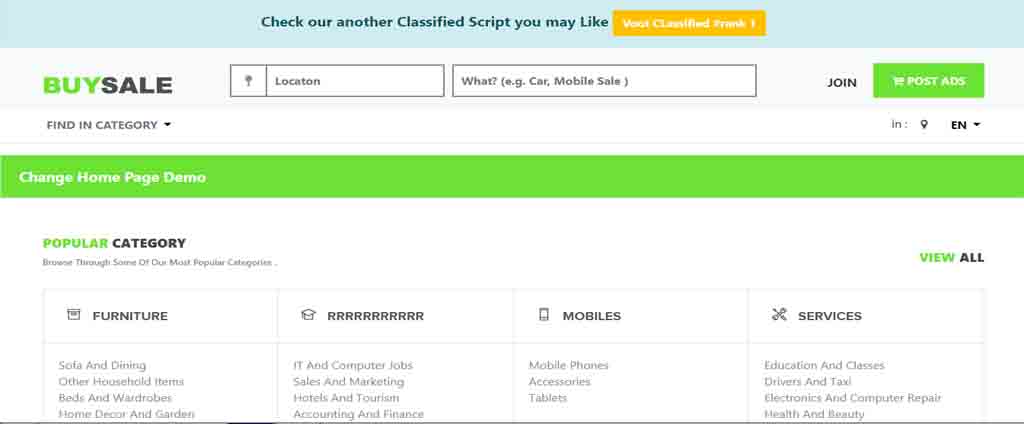 It is premium classified PHP Script. It has two homepage design and Seo friendly URL. Fresh new design, Google translation API, End-user chat support and advance search are its unique features. It has multiple payment methods i.e. Papal, Stripe, Paytm, Payumoney support.
Ashva – classified and directory listing script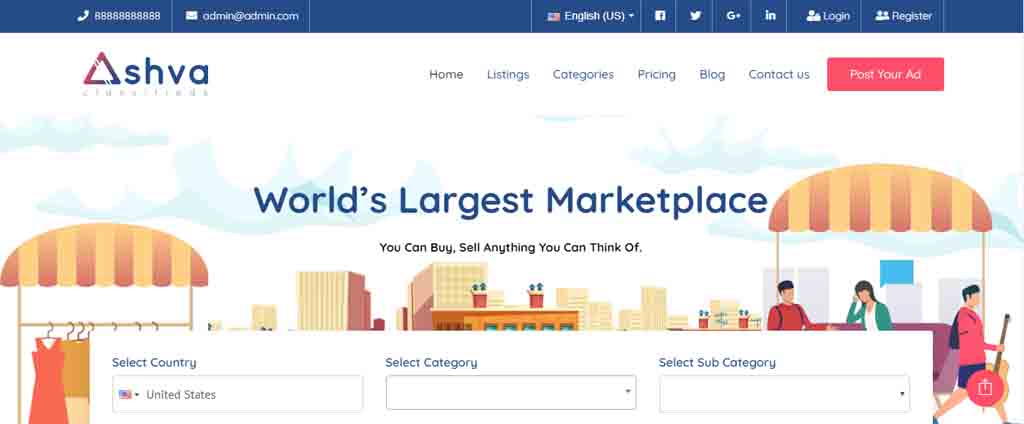 Ashva is powerful classified script which is modern and most comprehensive directory listing. It has fully responsive design. Its multiple functionalities make it one of the best PHP Scripts. It is developed using Laravel, Bootstrap, HTML5, MySql.
EasyAds Classified – PHP Script Classified Ads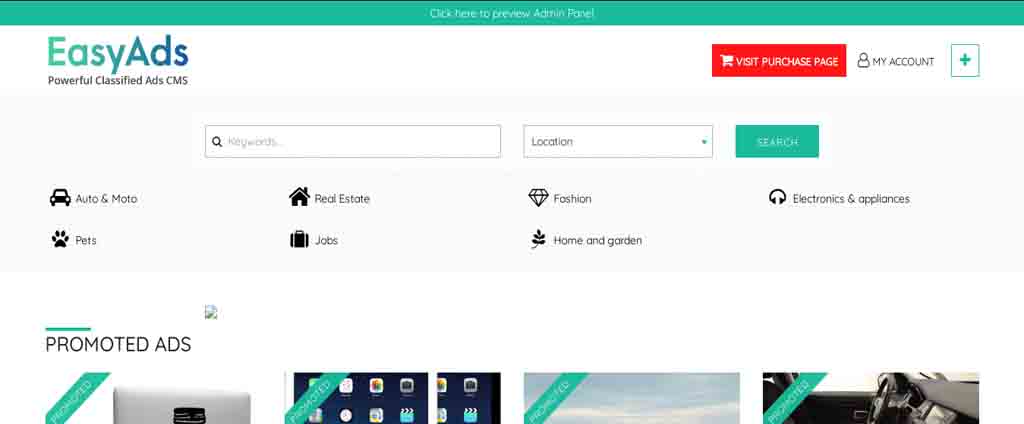 A script which can help you to build classified ads business by creating a marketplace with products. it gives the admin the option to make it totally free to post an ad or charge customers for premium packages. It increases your income with a fully featured admin panel to control all the aspects of your classified ads business. It has the functionality of multiple language and many more high quality features.
Classified Made Easy – PHP Script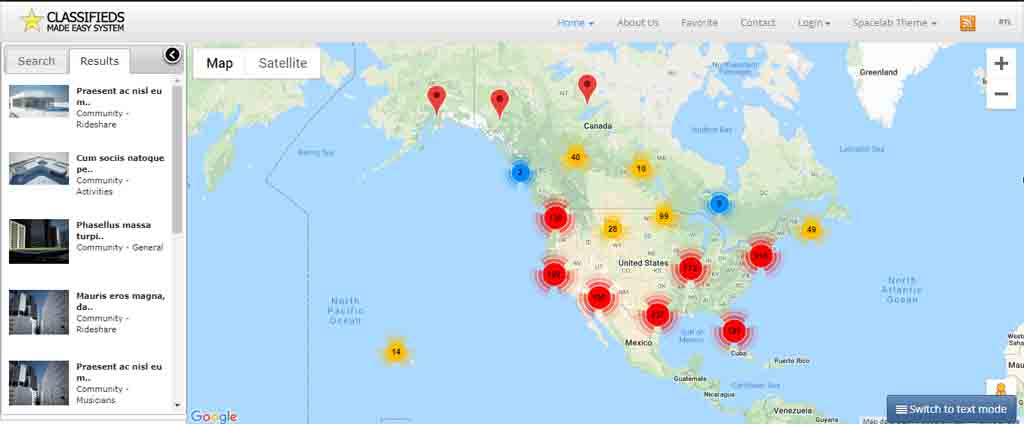 It is a light weight and one of the most top-rated PHP classified scripts. You can use it as a map/text based classified website. It also includes API from which you can take advantage of its inner functionalities.
Everest – PHP classified Ads Script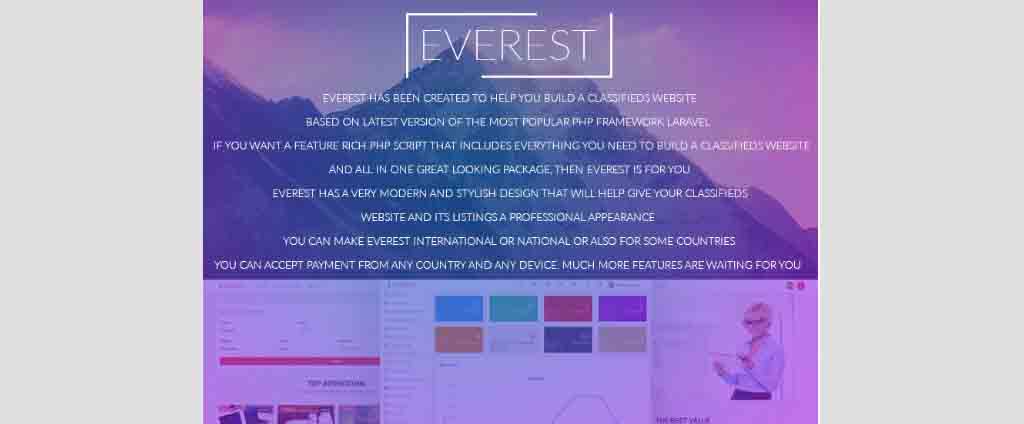 Everest is perfect script which is developed to help you build a classified website. It is developed by using the most popular PHP framework Laravel. If you want to build a classified website which includes full features, then the Everest is best for you. It has a very modern and lavish style design that give your website a professional appearance. You can use it for international, national or also for some countries. It also helps you to accept payment from any country and any device. There are various features which will help you to grow your business.
PHP Classified Ad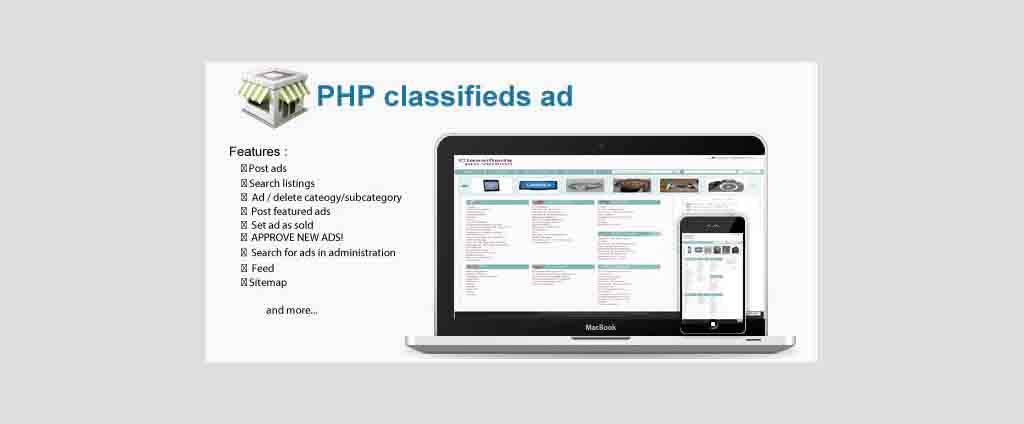 This script will enable you to create your own ads website in a few simple steps. It includes paypal payment method that allows users to post featured ads and pay for this. It has unique features like simple installation, easy to manage ads with admin panel, easy to manage users with admin panel set featured ad price and many more.
SfClassi Responsive PHP Classified Script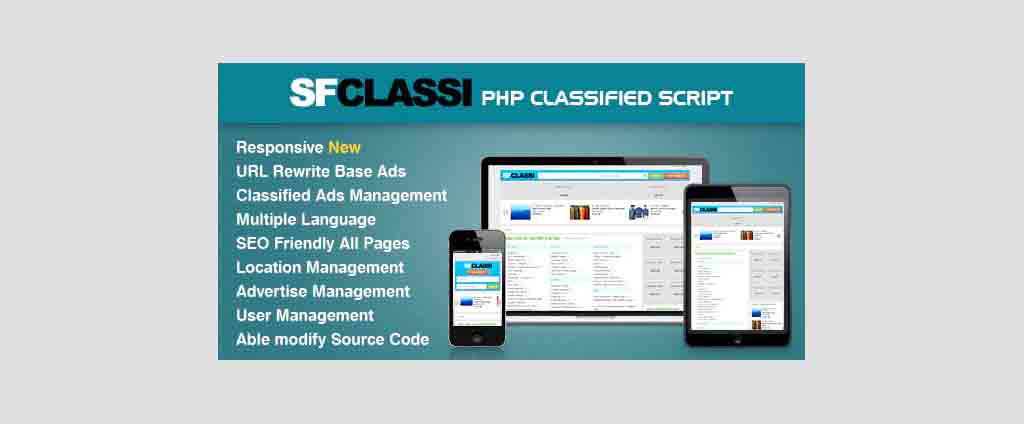 SfClassi is perfectly developed PHP classified script which helps you to build classified website in a few simple steps. it is a web software which is used for creating classifieds using web-based framework that is developed in Symfony MVC Framework. It is very simple to use and user-friendly software. You can generate huge revenues by using this simple but unique software. It is professionally developed by using PHP based Symfony framework with MySQL database.
Local Classified Ads Website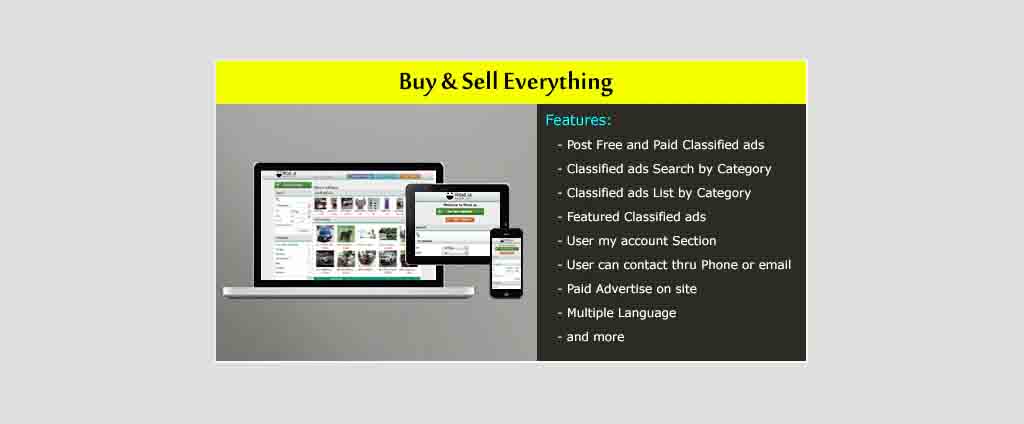 If you have the idea of building a classified ads website, that is easy to customize and monetize, in your mind and want to make a revenue generating reality business, then this is made for you. It includes all the features you need.
Post and Buy – Classified Ads Listings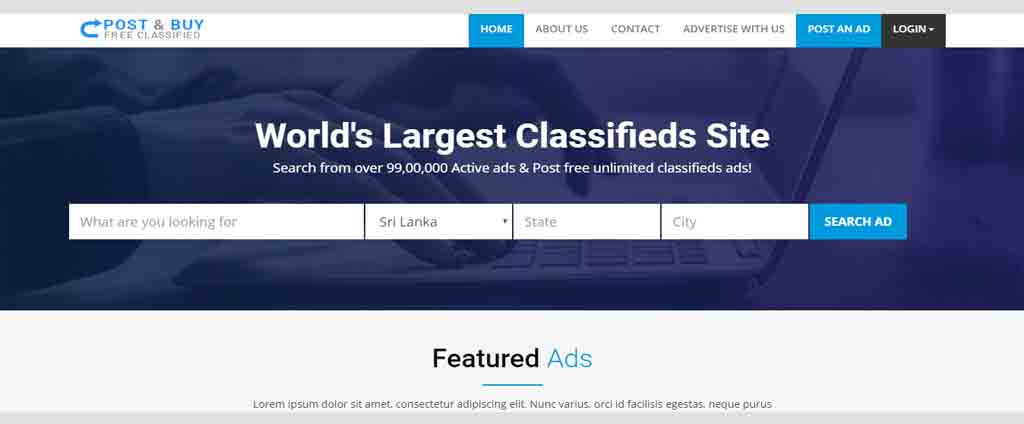 "Post and buy" is a free classified listings application which is developed by using Laravel framework. The purpose of this application is to provide users free classified portal where they can sell their products. it will help various companies to create their own classified websites in market. Moreover, it has a perfect admin panel which gives complete control to the admin to make changes to the database content.
Themeqx Advanced PHP Laravel classified ads CMS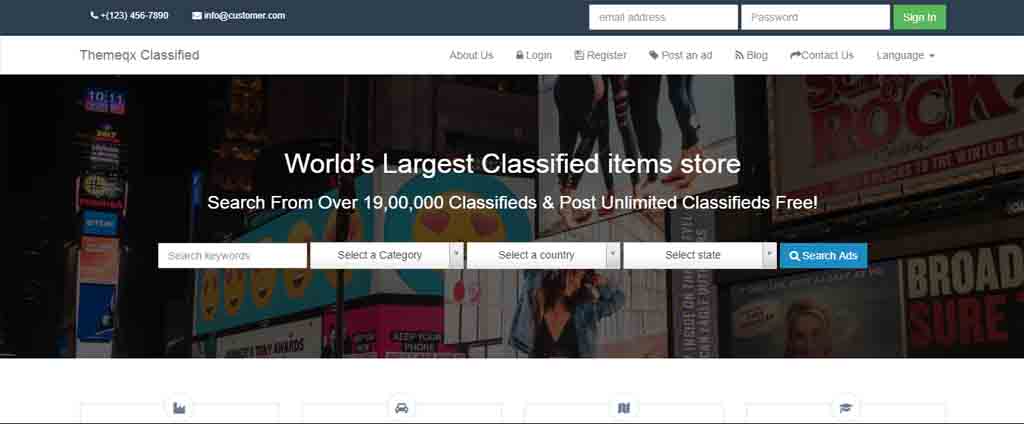 Themeqx classifieds provide ultimate system to build a perfect classified website. It is a powerful CMS with the most advanced features like a free blog with multi-lingual support. It is highly responsive and developed on Laravel PHP framework and bootstrap CSS.
Open source and paid classified ads software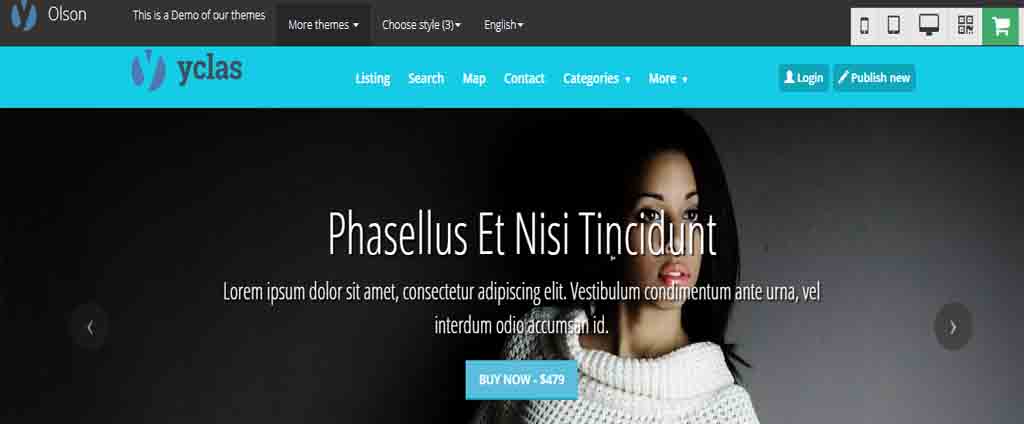 Classifieds ads software help you very much to complete your project. Whether the project is for personal or collective use, classifieds ads software plays an imperative role. If you are looking for some of the best classified ads software, then click below. The list includes paid and non-paid software.
Please follow and like us: