ERP
Enterprise Resource Planning or ERP software is a management system which is designed for a business. whether you are small company or a large organization, you'll need ERP management system to mange sales, purchasing, accounting, customer management system or human resource. There are many ERP softwares that have amazing features which your business deserves.
ERP – Business ERP Solution and Company Management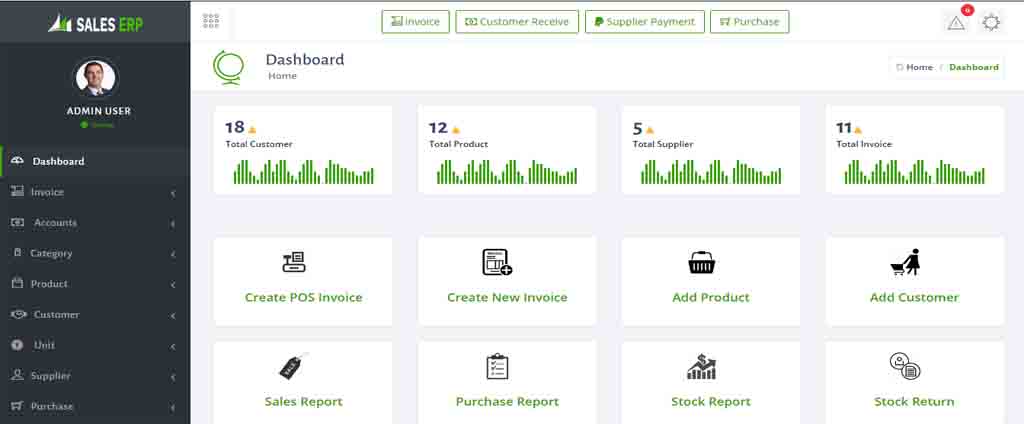 ERP is the latest and responsive business management system. it is developed by using PHP and CodeIgniter framework. It is especially designed for small business, company, thinking shop and any other type of business. It has perfect accounting management system, invoice, user and data analysis.  You can manage field wise accounts and payment & receipt option, daily sales closing system, monthly, yearly sales report. This system also has a backup & restore and data synchronizer option. Its main features are customer management module, one-click installation, supply & purchase module, easy invoicing system, inventory module, financial module, product management module, fresh and clean code etc.
Facteezo – Complete ERP Business Solution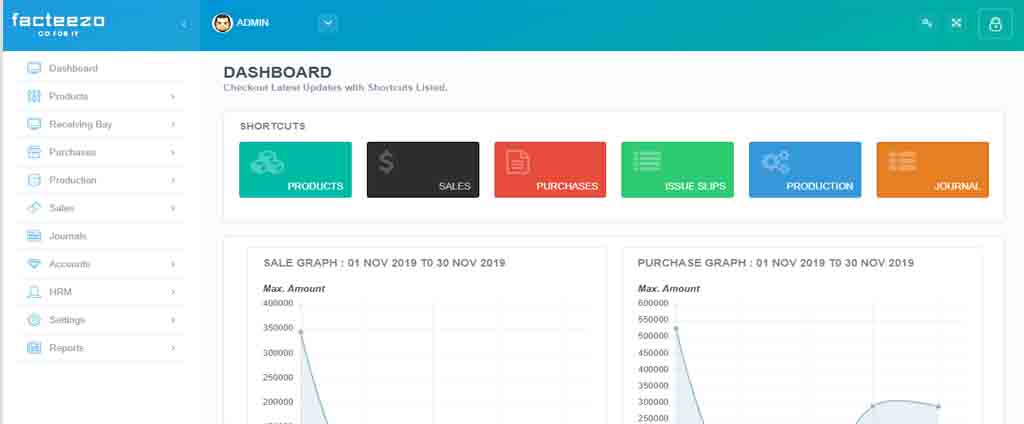 Facteezo is a complete and responsive Enterprise resource planning solution for company, shop and factory management system. it is developed in PHP/CodeIgniter framework. It is designed by experience professionals, keeping all the aspects of business in view according to your needs. It is the most effective and dynamic business solution that evolved as best opportunity for your business growth and changes. It offers accounts, manufacturing, stock, sales, purchase, income/expense, production/process and flexible reports. It can generate reports and statements like raw material, finished goods, warehouses & Section statements and many more.
ERP Software for Product / Shop / Company Management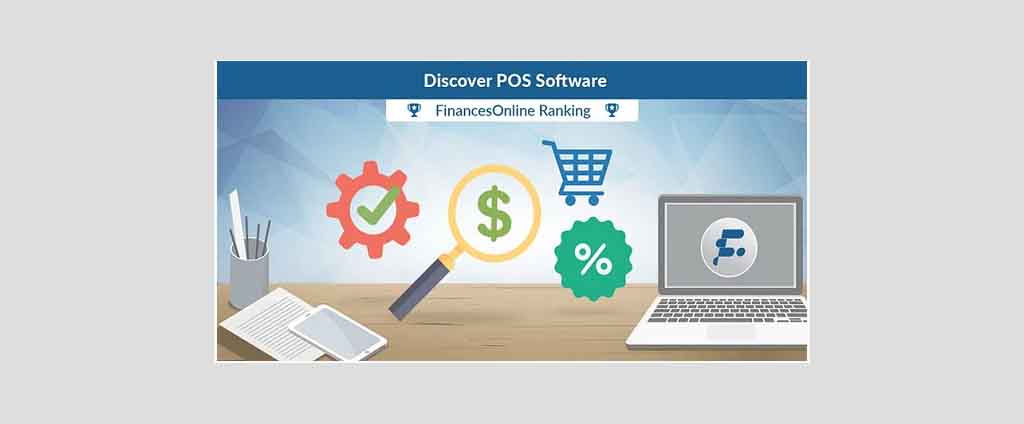 It is a modern and fully responsive business management system. it is developed by using .NET 4.5 framework. It is user-friendly and simple to customize. It can be used for all kind of businesses whether you are a small business or large corporate organization, this system is perfect for you. It has amazing modules like user, role permission, role, company, user wise dynamic menu, category, product, supplier, customer, employee, system information, purchase order, advanced purchase order, purchase return, sales order, sales return, credit sales on installment, stock, installment collection, investment, cash collection, stock details, income, income head, salary process, employee attendance. It also helps you to generate reports like daily/monthly/yearly sales reports, stock ledger, customer ledger, supplier ledger, balance sheet, customer due report, supplier due report, upcoming installment collection report etc.
ERP – Business Resource Planning Management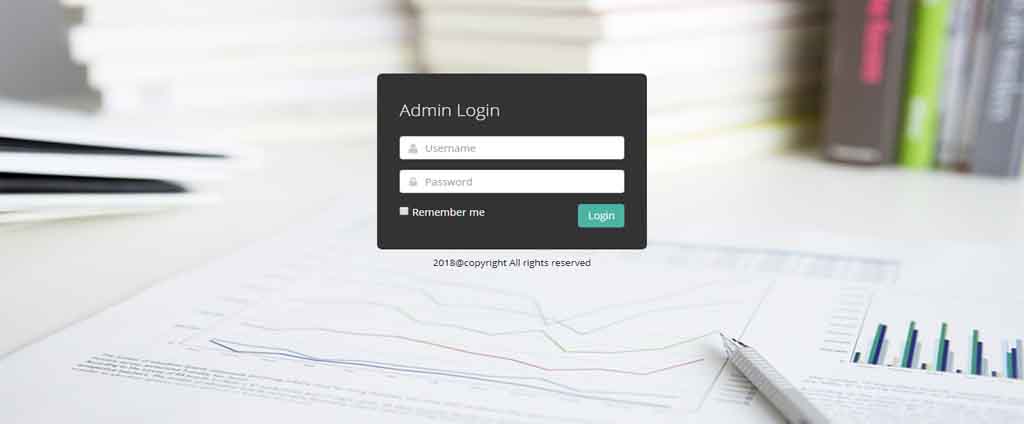 ERP is one of the best and modern business management systems. It is highly responsive and easy to customize. It is developed by using PHP and Laravel framework. It is designed especially for small & large business e.g. company, shop or any other type of business. you can also use it for your personal financial control. it helps you to know the total income of a given time in a given category simultaneously. Using its amazing features, you are up to date and know how much you spend. It has amazing features like award management, employee payroll, office departments, task management, notice management, holiday management, office accounts, income/expense, transaction purpose, accounts chart, meal package, food delivery, catering due history, product category, product management, product stock, sale management, sold history, bank account, manage suppliers, supply management, reports, customer management, generate invoice, bank management, general management etc.
ERP 2 Full Project & Source Code C#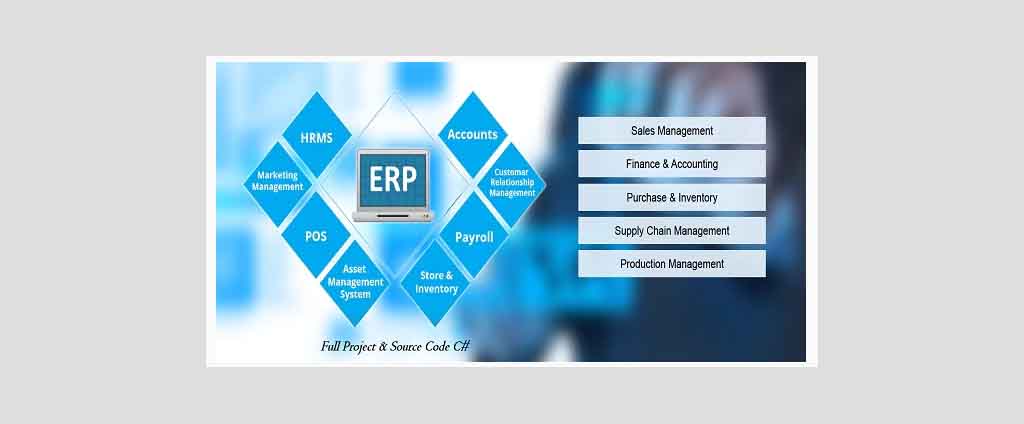 It is a complete and fully responsive Enterprise resource planning software that fulfils all the needs of your business processes such as purchasing, accounting, sales, human resource, customer management or inventory. It is an integrated system rather than an individual software designed especially for business process. Its feature list includes many amazing features like easy installation, clean code, fully responsive design for any device, multi-language support, day book, POS, voucher register, ledger report, bill wise ledger, group summary, outstanding payables, vendor outstanding, trial balance, profit & loss A/c. check printing, payment date calculation, purchase order, invoice creation, sales management etc.
Learn How to Develop ERP (Source Code)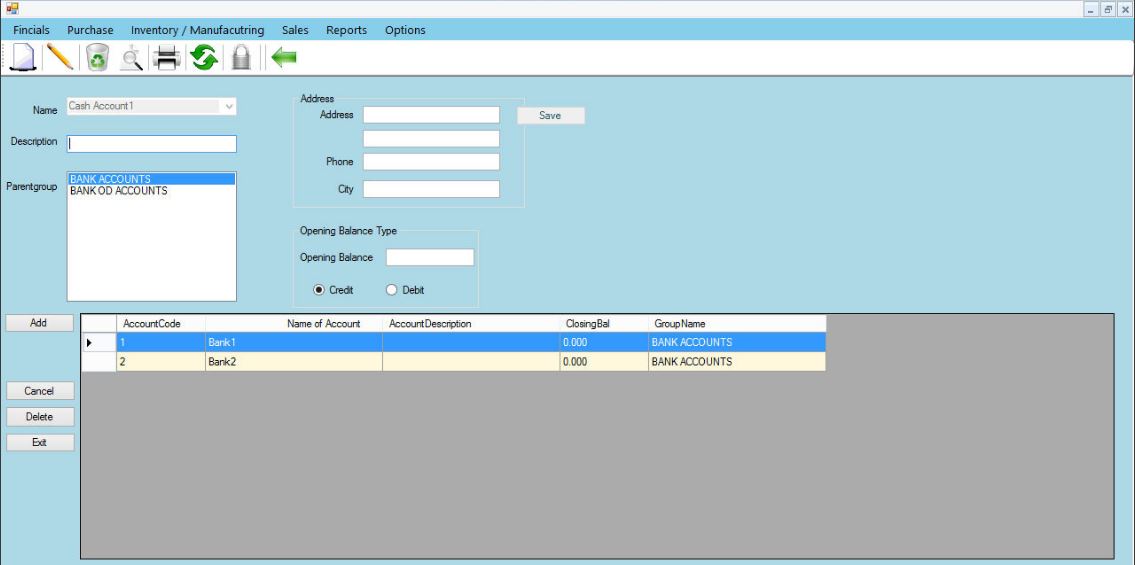 It is a complete project with all modules. It is especially designed for those who want to develop an enterprise resource planning or ERP software by using .NET framework with VB.NET. its code is clean and easy to understand. As you know that the ERP system is very vast so, a user can develop it according to his requirements by modifying the code. In this project you'll learn about architecture, design, validation rules, that are required to build ERP software. With the help of this project, you'll design many modules like sales, purchasing, easy configurable source code, general ledger, inventory management, bill of material, manufacturing module, work order process, material receipt note, material issue notes etc.
ERP System with HR Admin Management and Accounting Software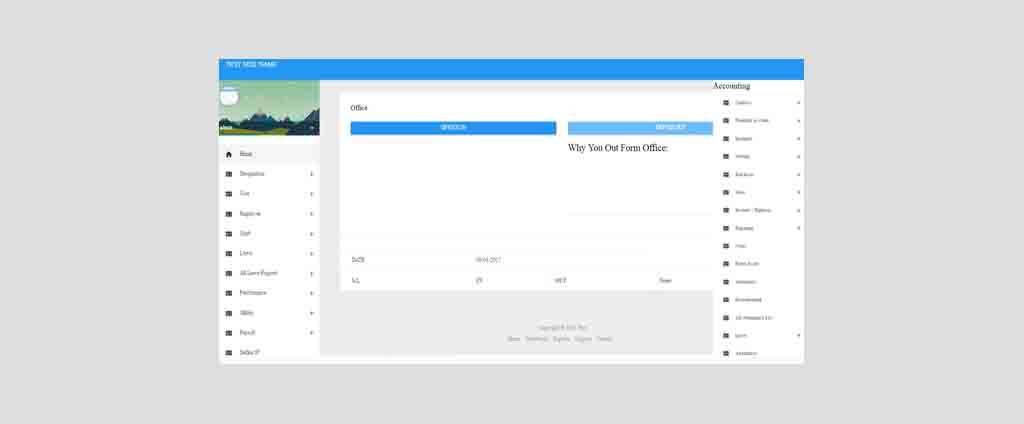 It is a web-based online ERP system that includes Human resource and accounting software. It is developed by using Laravel framework. It helps you to manage all employees' accounts, role base authentication, attendance, payrolls, all fixed assets etc. this software has two parts one is HUMAN RESOURCE and the other is ACCOUNTING. You can also use this software for business management system, shop management system, NGO management system, corporate management system, corporate company management system, factory management system, retail shop management system, stuff management system, empowering personnel, firm management system, online office management system, employee database management system, online leave application system, payroll management system, online attendance management, online stationary management system, online housekeeping management system, online fixed assets management system etc.
Maxer ERP System – HR, Finance, Sales, Purchase, CRM, Email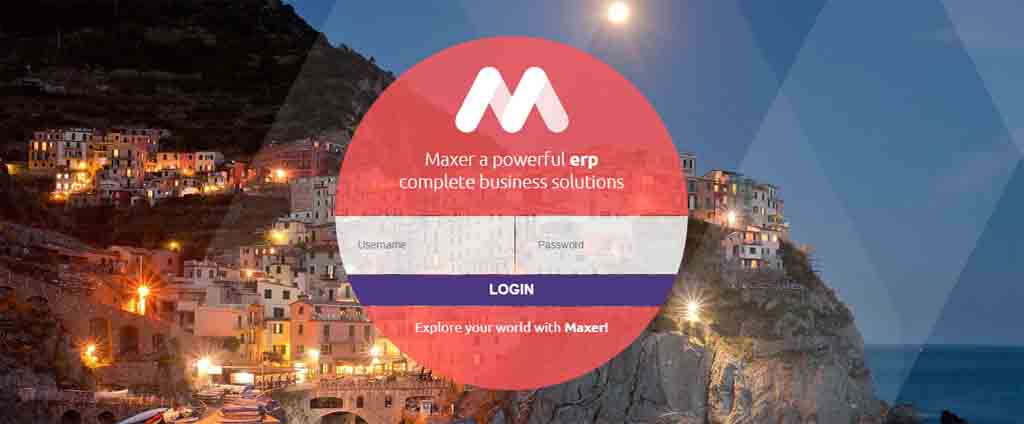 Notifications Maxer ERP is the best human resource management system. If you are worried about accounting problems, It provides simple and perfect accounting solution. You can also check employee profile in a beautiful user interface. Maxer has amazing modules like HR-Payroll, finance, CRM, Sales, Purchase, Notifications and many more which help you to manage everything effortlessly. It has more functionalities like employee loan & ledger, employee leave applications, notification & announcement, employee payroll system, HRM reports and many more.
Business ERP – Inventory & Accounting Software with Full Project & Source Code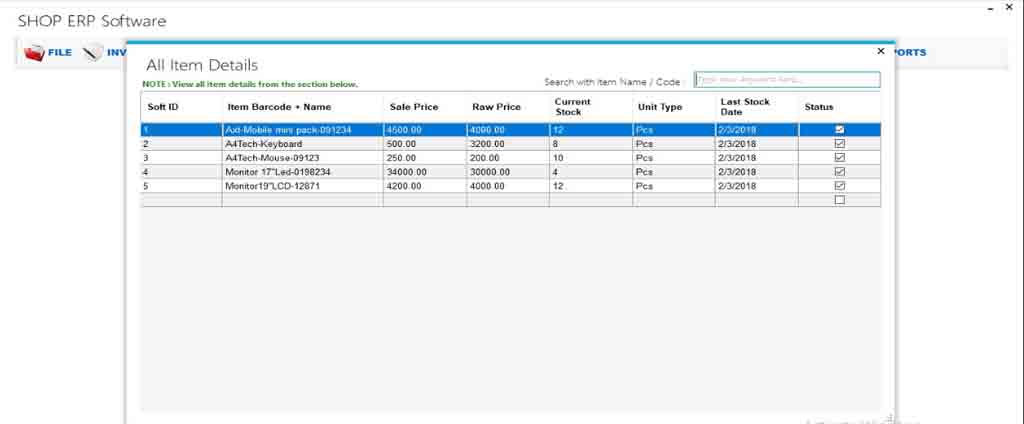 It is a modern and fully responsive business management system. It is designed to be used for thinking shop, small business, company, and any type of business. with the help of this ERP system, you easily manage accounting, invoice, income, users, reports and many more. It main features are payment type, item/product, customer, invoice/bill, stock manage, purchase, supplier, team/employee, expense/voucher, income statement, sales reports and many more.
All in One business Management Application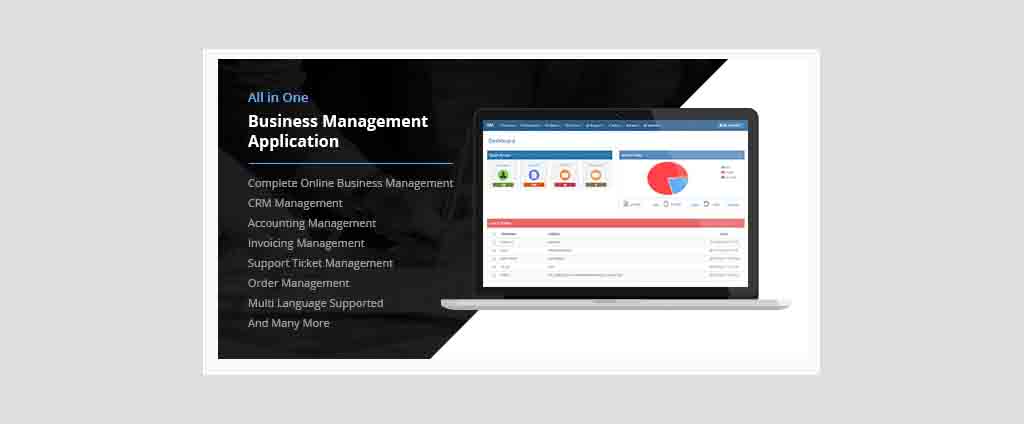 It is a complete online business management system which includes CRM management. If you are tired of testing different system which has specific functionalities for specific tasks, then this system is especially designed for you. It provides all in one features which help you to manage everything effortlessly. Its accounting management made things easier for you. It has multi-language supported feature which lets you choose the language of your own choice. It also support ticket management and many more features which help you in every aspect of your business.
Wholesale – Inventory Control and Inventory Management System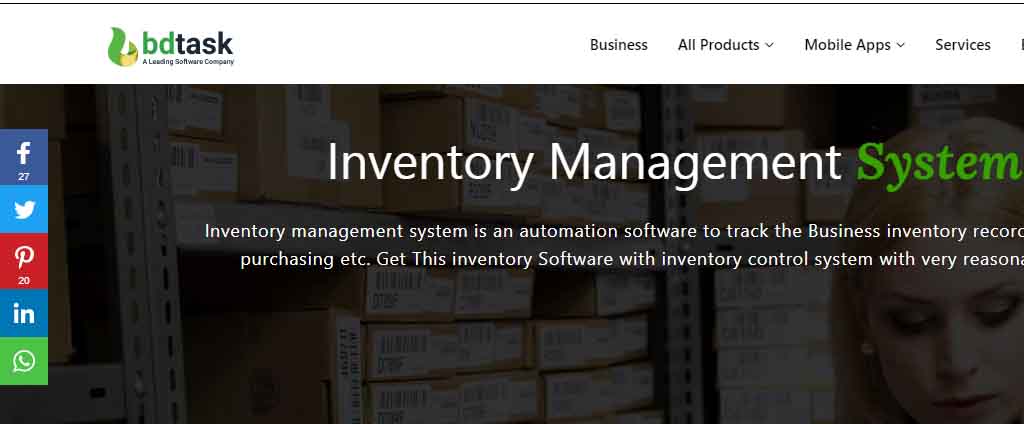 Inventory management is an essential part of workflow in company. A company needs to keep the records of everyday transactions, purchases, sales, and reports. Inventory management system will help you to keep all the data precisely. It has many modules which help you to manage your data perfectly as customer management, supply & purchase module, inventory module, carton-based sales & purchase, inventory module, product management module which help you to keep all the data in front of your eyes.
Odoo – management software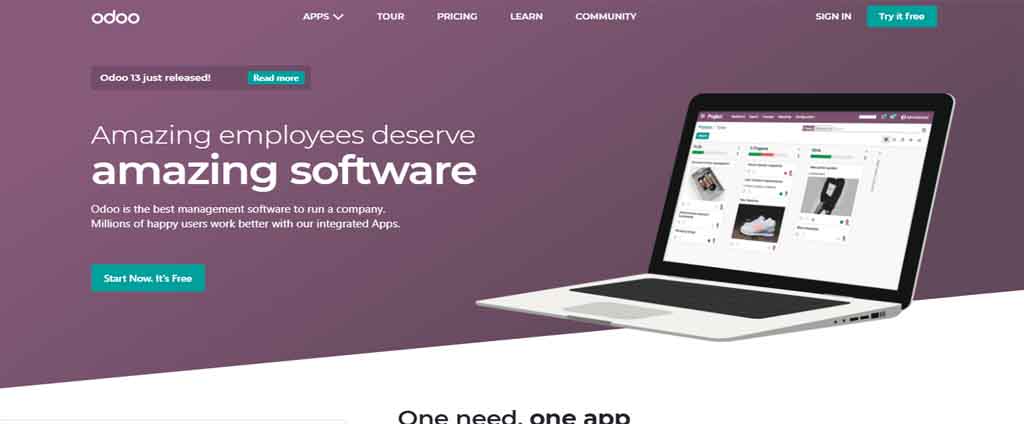 Odoo is the best and modern management software to run a company. you don't need any painful integrations. Odoo covers all your business necessities in a one solution. You don't need different software required for your task to be done. Odoo apps are perfectly aligned and integrated with each other. With the help of these apps, you can fully automate your business processes. You can boost your sales with CRM, POS and sales. You can also integrate your service with the help of project, timesheet and helpdesk. It offers perfect solution to all your needs.
ERPNext – Open source ERP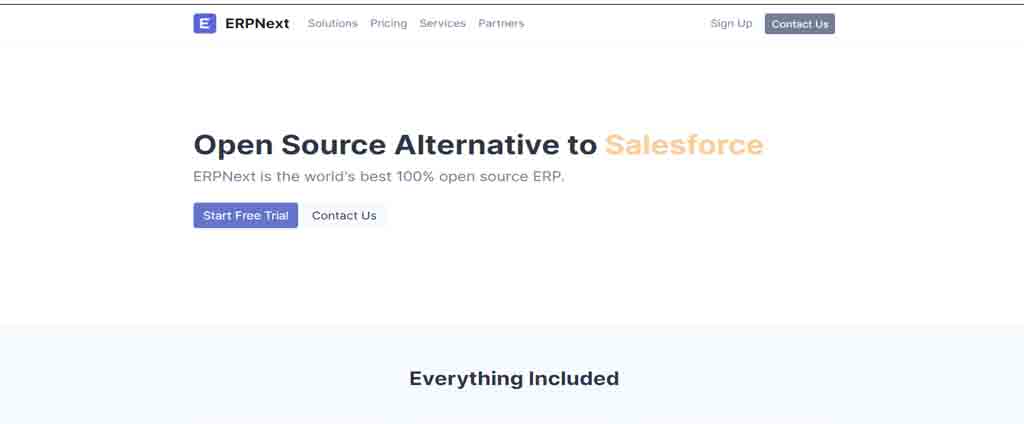 ERPNext is the word's best and 100% open source ERP. It provides perfect and full-fledge accounting module which covers every aspect of book keeping from which you can get a real time view of your cash flow. It has the perfect HR & Payroll module that gives you the ability to manage full employee life cycle right from onboarding, payroll, attendance, expense claims, assets to separation. It manufacturing module enables you to effectively maintain & manage multi-level bill of materials, production planning, job cards & inventory. It has many amazing modules that help you to manage everything perfectly.
Dolibarr – Open Source ERP & CRM for Business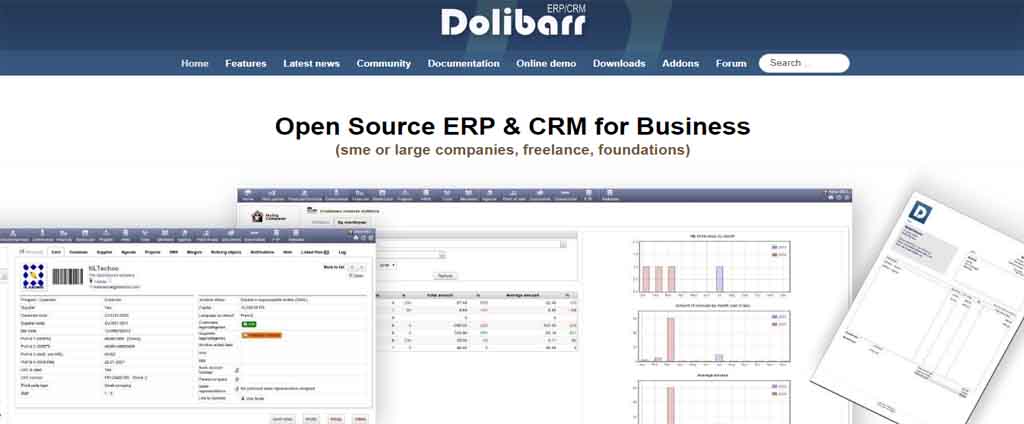 Dolibarr is a powerful and simple to use suite to manage your business. it is all in one suit for all your business needs. It has all the features that you expect whether your business management needs sales, human resources, logistic, stock, invoicing or marketing, it offers you all according to your needs. It is an extensile application with your growth. This open source model allows you to have a wide variety of end users base, so you can perfectly enhance the user interface according to the feedback and contributions of a lot of real end users. This is the main reason behind the Dolibarr becoming so user-friendly.
Adempiere business suit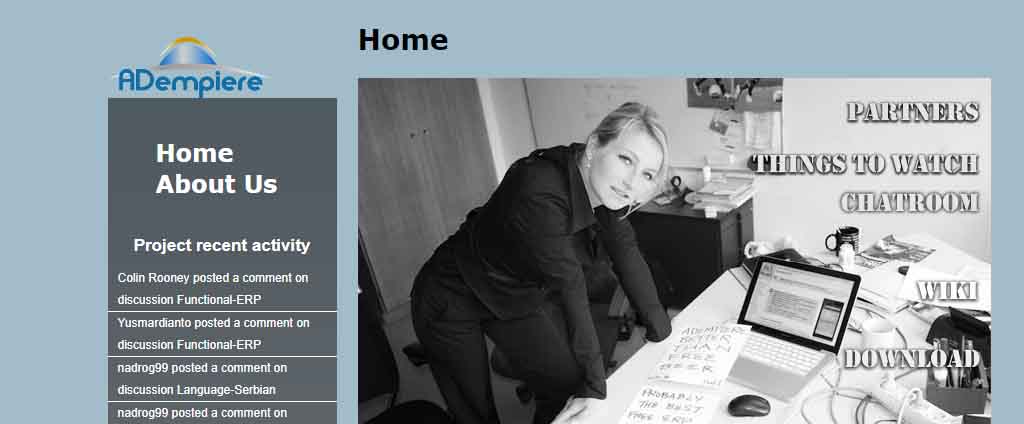 ADempiere business suit is an open source software solution that include ERP, CRM and SCM support for business management. It provides a perfect framework for extending and customizing to fulfill you business needs.
Compiere – ERP Solution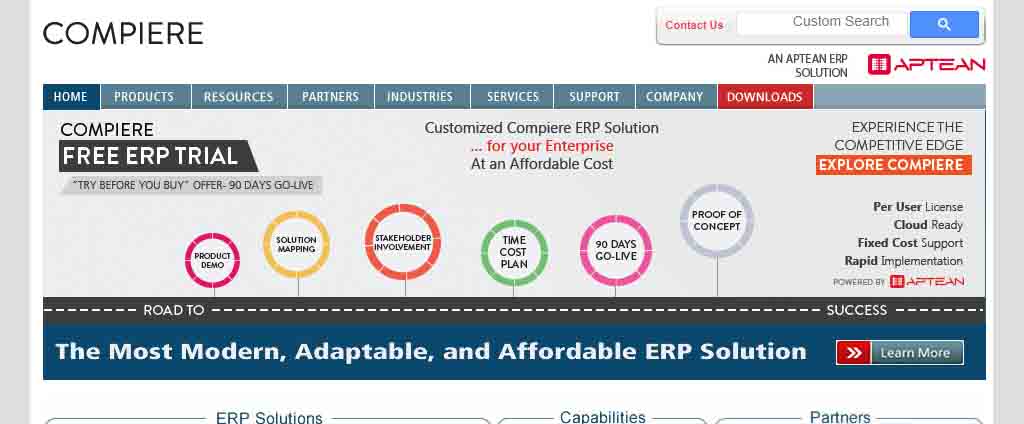 Compiere is the most modern, affordable and adaptable ERP solution. It is the leading cloud-based ERP software system which also includes CRM system. unlike other ERP solutions, Compiere enables you to easily extend its core features to fir your specific business processes without letting you go on a difficult and upgrade path. It provides solutions for government agencies, businesses, and non-profit organizations with flexible, easy and low-cost access. With the help of Compiere, customers can easily customize it to fit their business needs without prior knowledge of programming.
iDempiere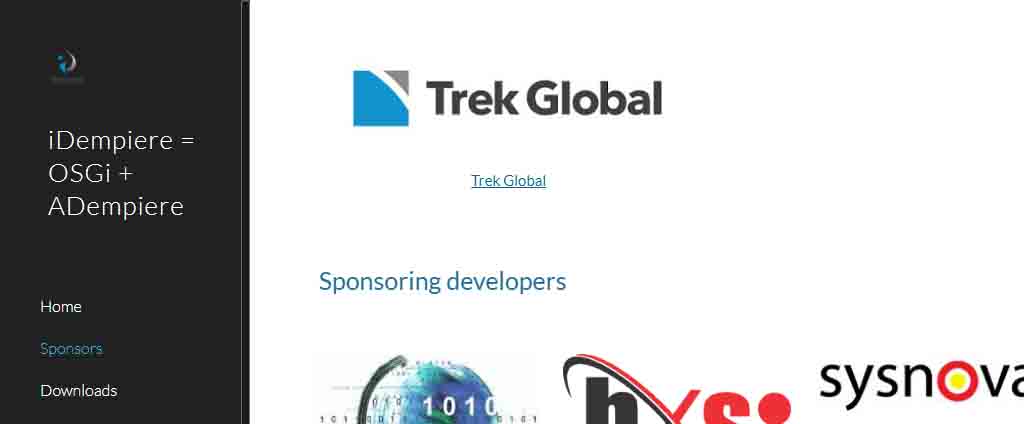 iDempiere is the best business suit that includes ERP/CRM/SCM systems. iDempiere is originally based on Compiere/Adempiere. Moreover, it has a new architecture to use state of the art technologies like jetty, zk, maven and OSGi.
webERP – Open source ERP System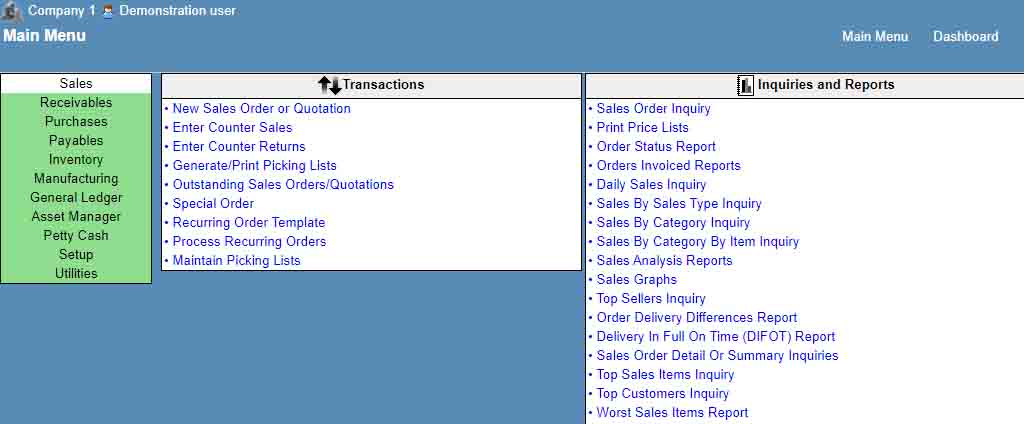 it is a complete web-bases business management system which requires only a web-browser and pdf reader to use. It is a mature open-source ERP system that provides multi-user business administration, best practice, and accounting tools over the web. It has a wide variety of features that are suitable for various types of businesses particularly businesses in wholesale, manufacturing and distribution.
FrontAccounting – ERP System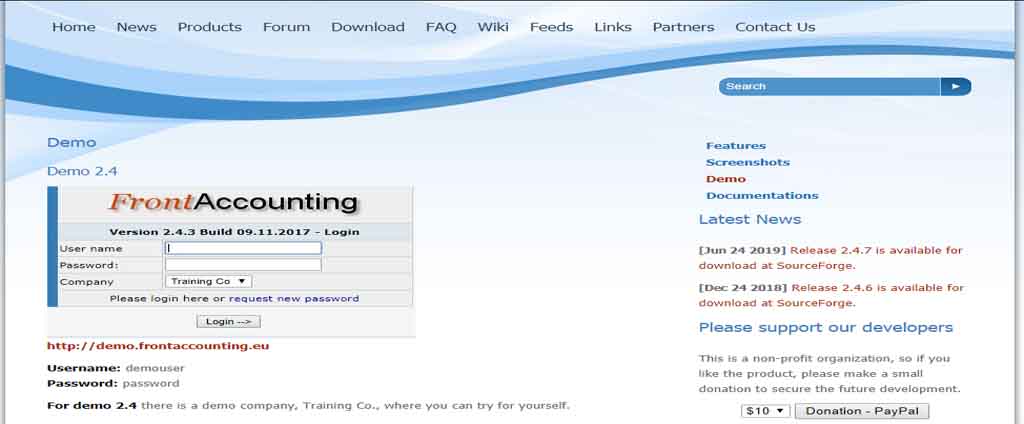 FrontAccounting is perfect ERP system for small companies. It is simple to use, but powerful system for the entire ERP chain. It covers goods receivable notes, supplier invoices/credit notes, purchase orders, payments, allocations, accounts payable, items and inventory, stock, manufacturing, fixed asset, sales orders, customer invoices/credit notes, deposits, allocations, accounts receivable, dimensions, general ledger with budget, languages, currencies, several companies and many more. You can place the database anywhere in the work can use from everywhere.
LedgerSMB – Open Source ERP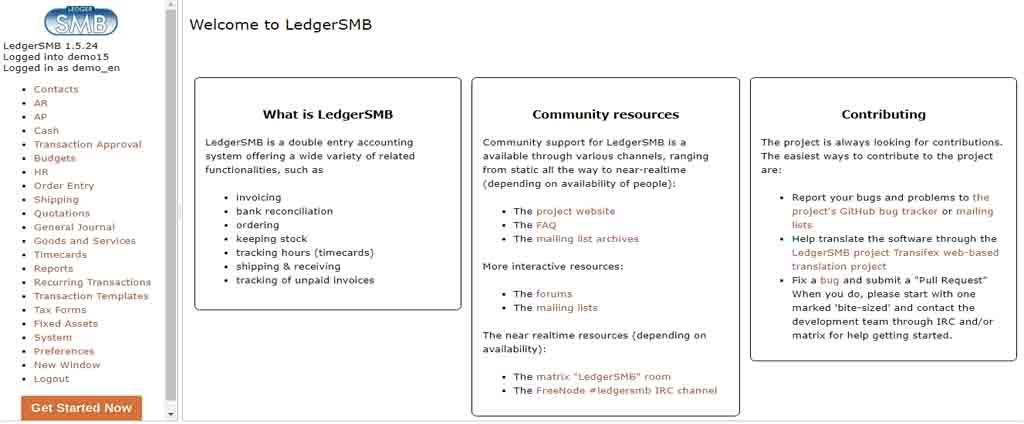 LedgerSMB is a fully responsive and open source ERP system. it aims to prevent small and medium businesses from getting locked in by their accounting software vendor. It provides free and open source accounting software which integrate invoicing, quotations, order processing, and many more. It provides a strong accounting basis so that you could take your business to an unprecedented level. It has amazing features like sales, receivables & payables, general ledger, fixed asst accounting & depreciation, inventory management, output documents in PDF, HTML, CSV, office formats, mail documents and many more.
SAP – ERP and Digital Core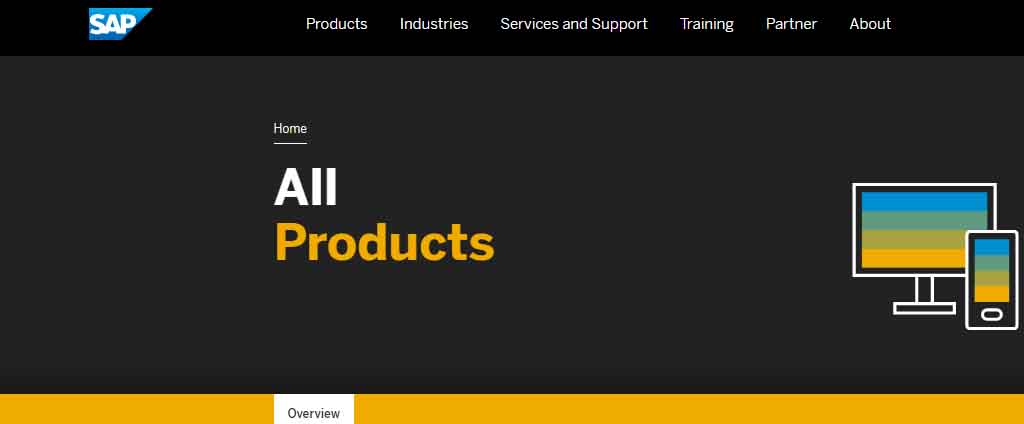 Sap's intelligent ERP solutions are perfect for businesses. it provides one of the best ERP for small and midsize companies. It is an integrated solution for SME. You can get real-time analytics. It is also fast in the matter of deployment. With the help of Digital UX, you can get instant insight and value by conversational user interfaces.
Oracle – ERP-Enterprise Resource planning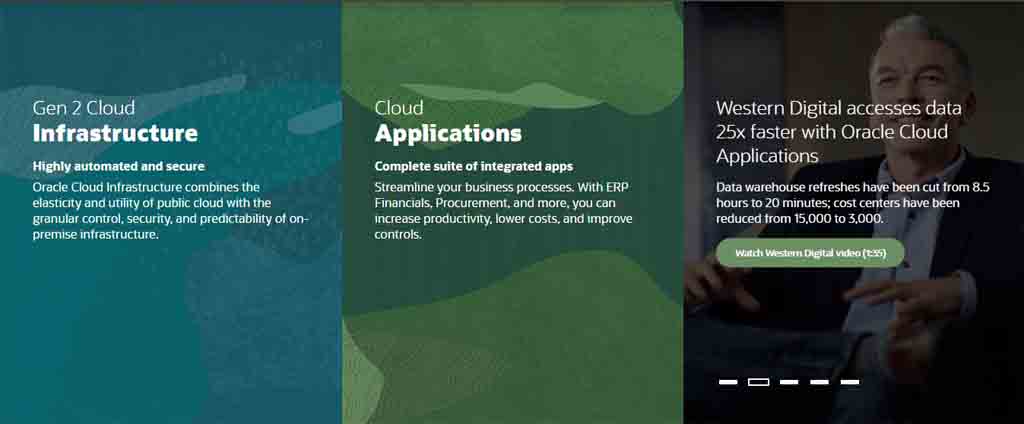 In today's competitive business environments, you must have a perfect ERP solution which can help you to improve business performance. The right ERP solution move your business forward. Oracle ERP is the best enterprise resource planning for your business. its financials, procurement, project management, risk management and enterprise performance management products help you to manage everything very smoothly and effortlessly. Oracle ERP solution is one of the best choices.
Microsoft Dynamics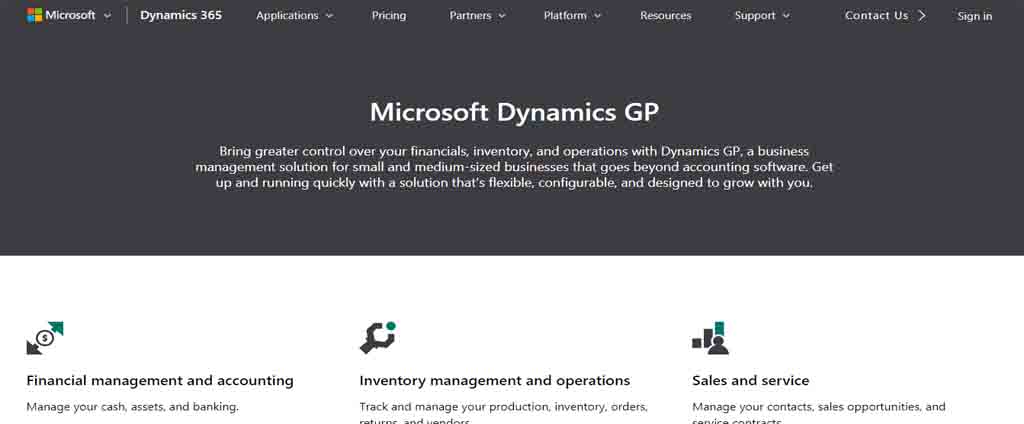 If you want to bring greater control over your inventory and financials, then Dynamics GP is a perfect business management solution for a small and midsize business. it helps you to manage the various aspects of your business like financial management and accounting, inventory management and operations, sales and service, human resources and payroll, business intelligence and reporting etc.
Please follow and like us: