The ReFormer – a perfect WordPress plugin for Elementor to obtain a multichannel contact form. The plugin provides receiving a form message to Email, Telegram, Slack, Discord and allows to save the message in the site admin. The simple and fast tool to get in touch with your customers and visitors through a convenient one or several channels. It is a really important opportunity for those who want to speed up feedback and improve provided services and the trust of your clients.
The Reformer has a wide variety of field types for creating any form you wish. In addition to text, email, checkbox, radio, and other regular inputs you will find a range, date, time, month, hidden, URL fields. Thanks to this, you can use it not only for a regular text message but also for simple quizzes, reviews, booking, or similar. Add fields in a few clicks, edit the submit button, and channels to get the ready contact form without any coding knowledge. Each of the available channels has separate settings for the type and style of the message that you will receive. Moreover, the widget includes customization of the text and style of Success and Error messages.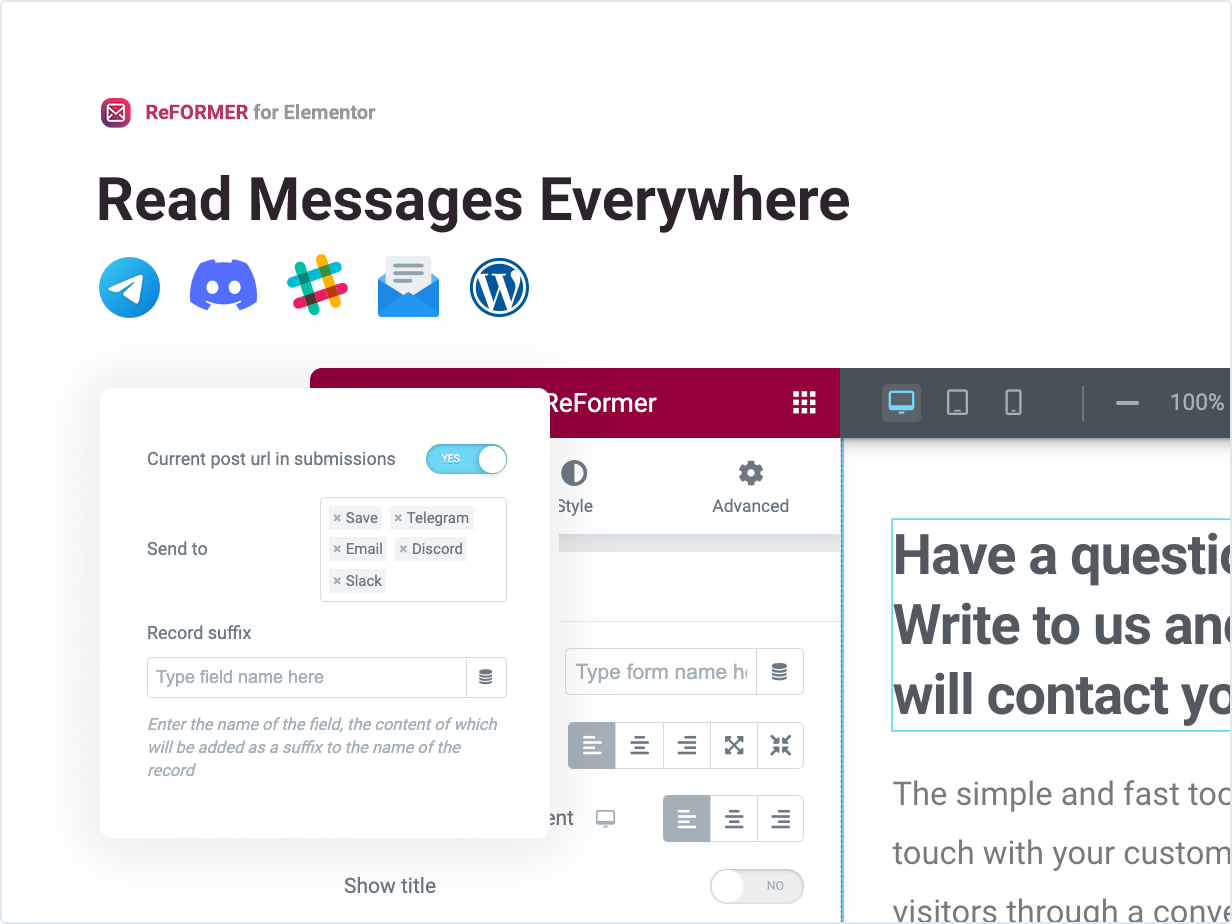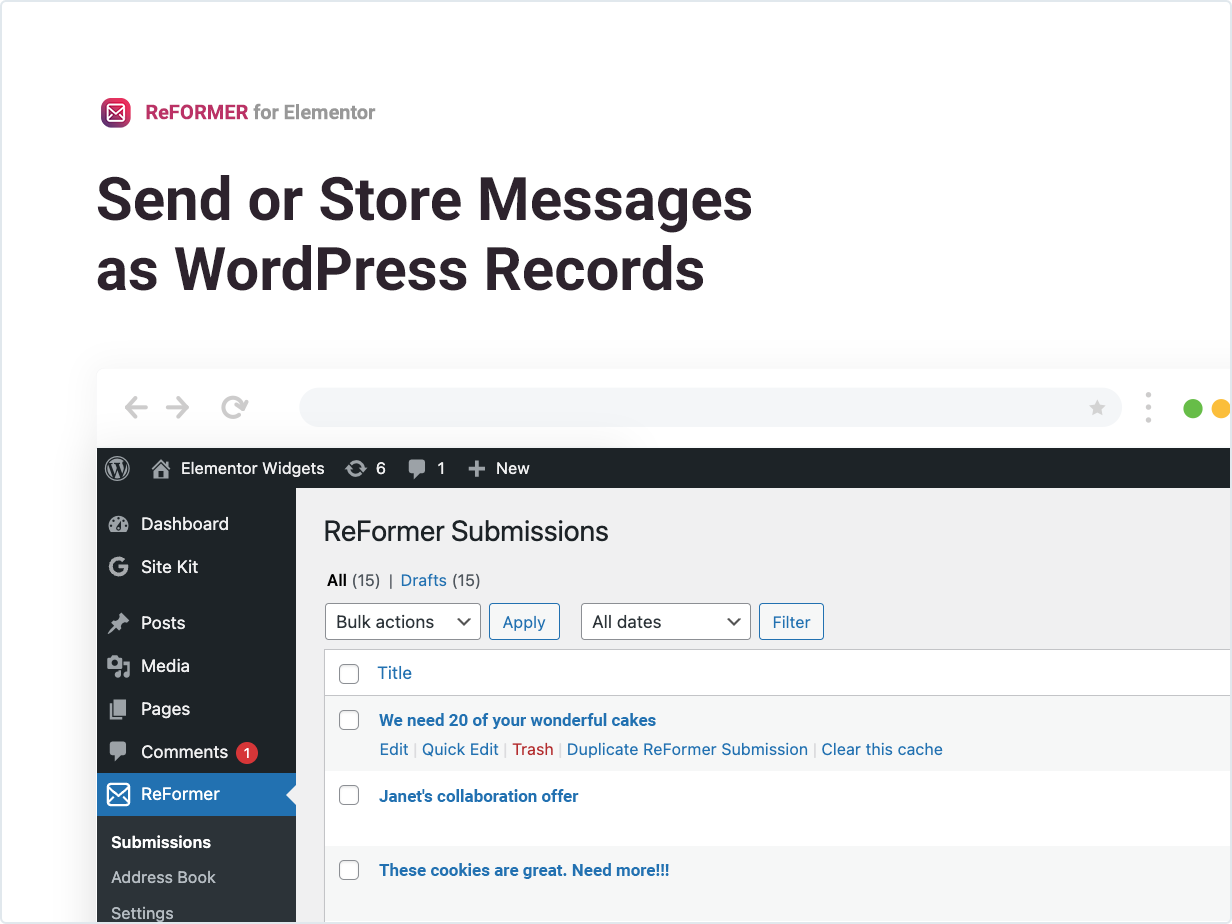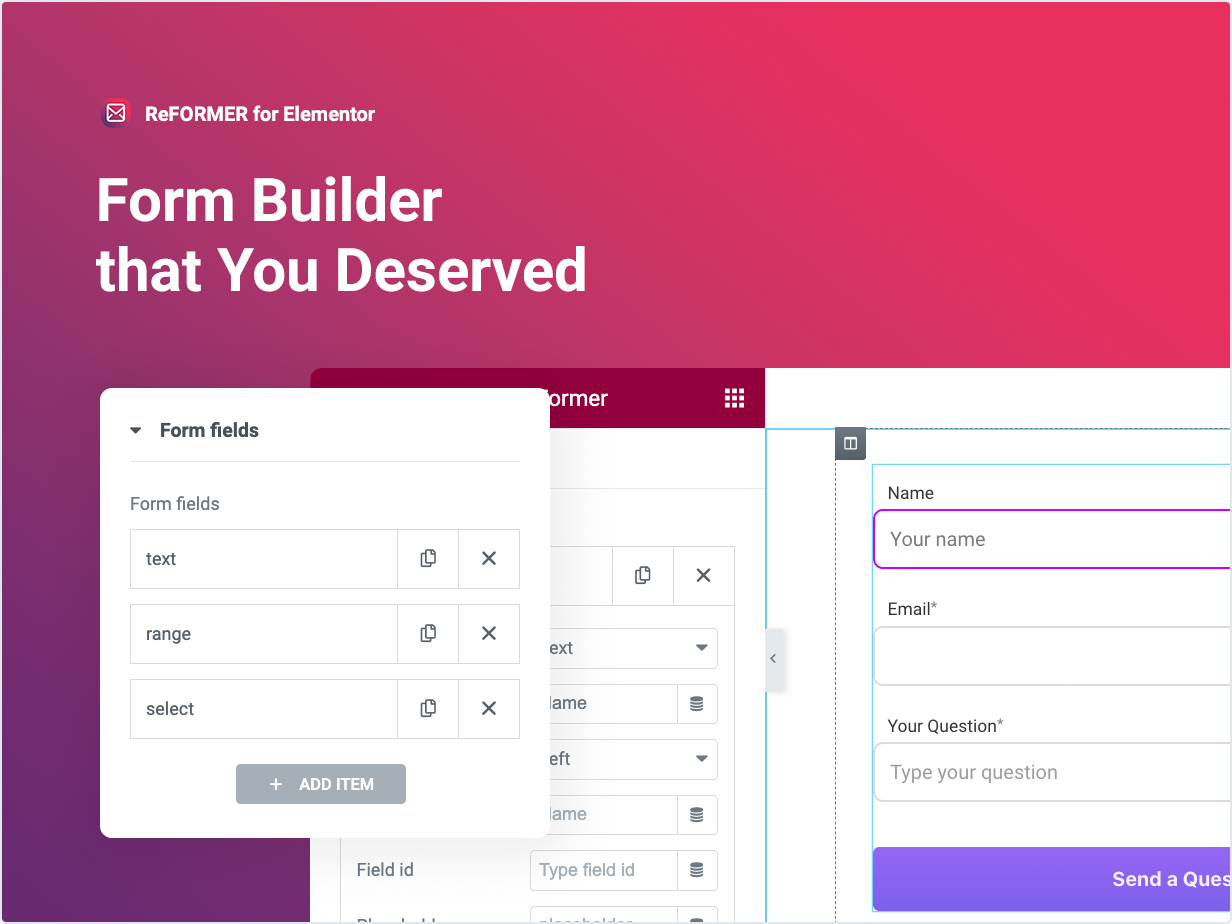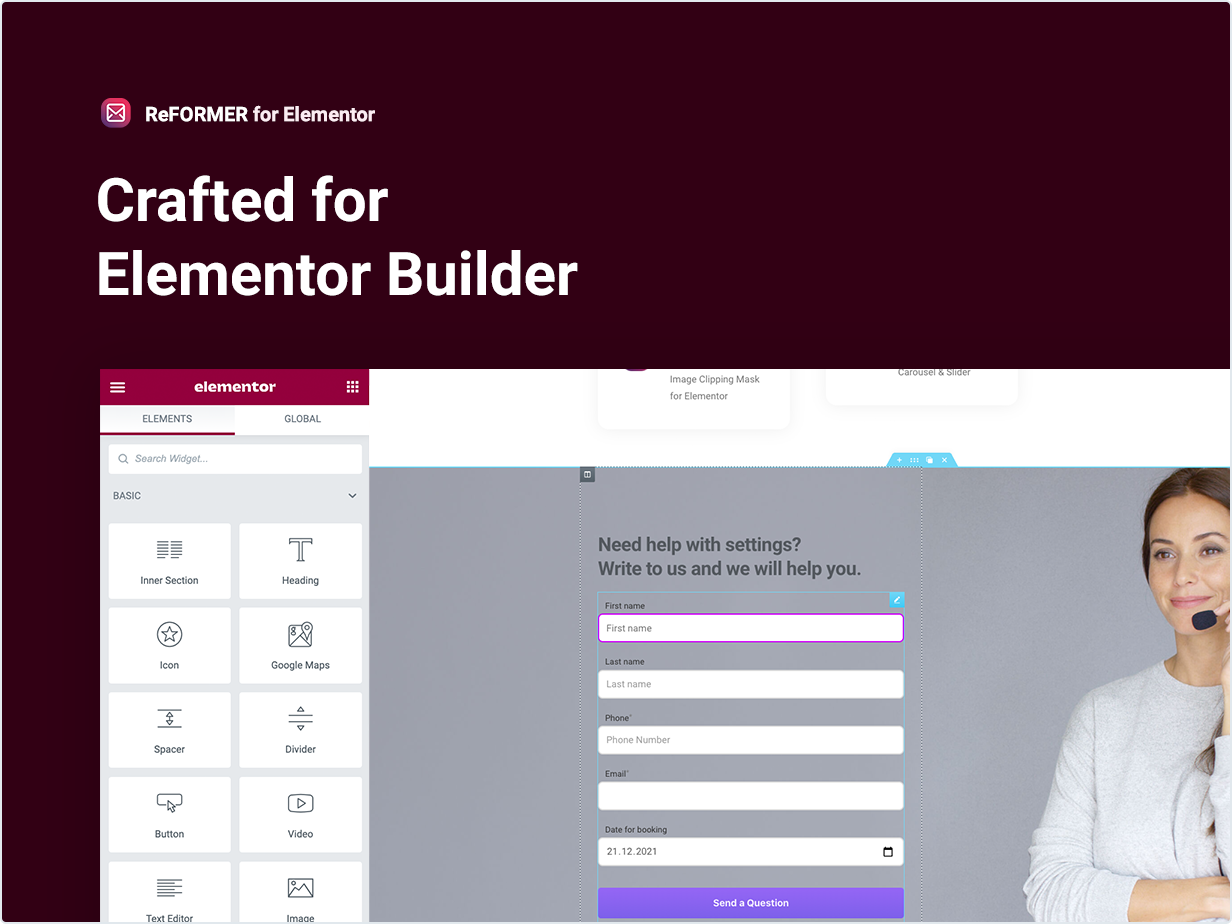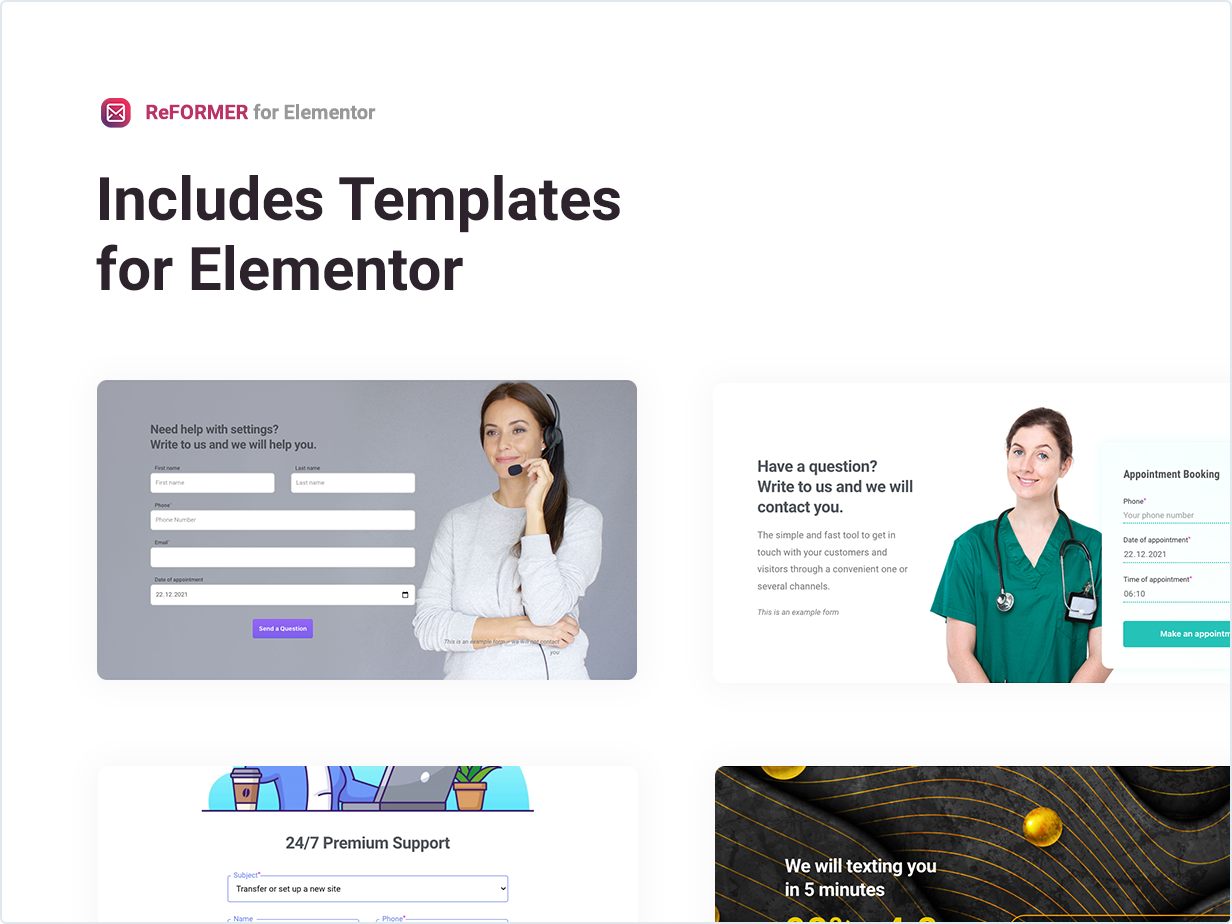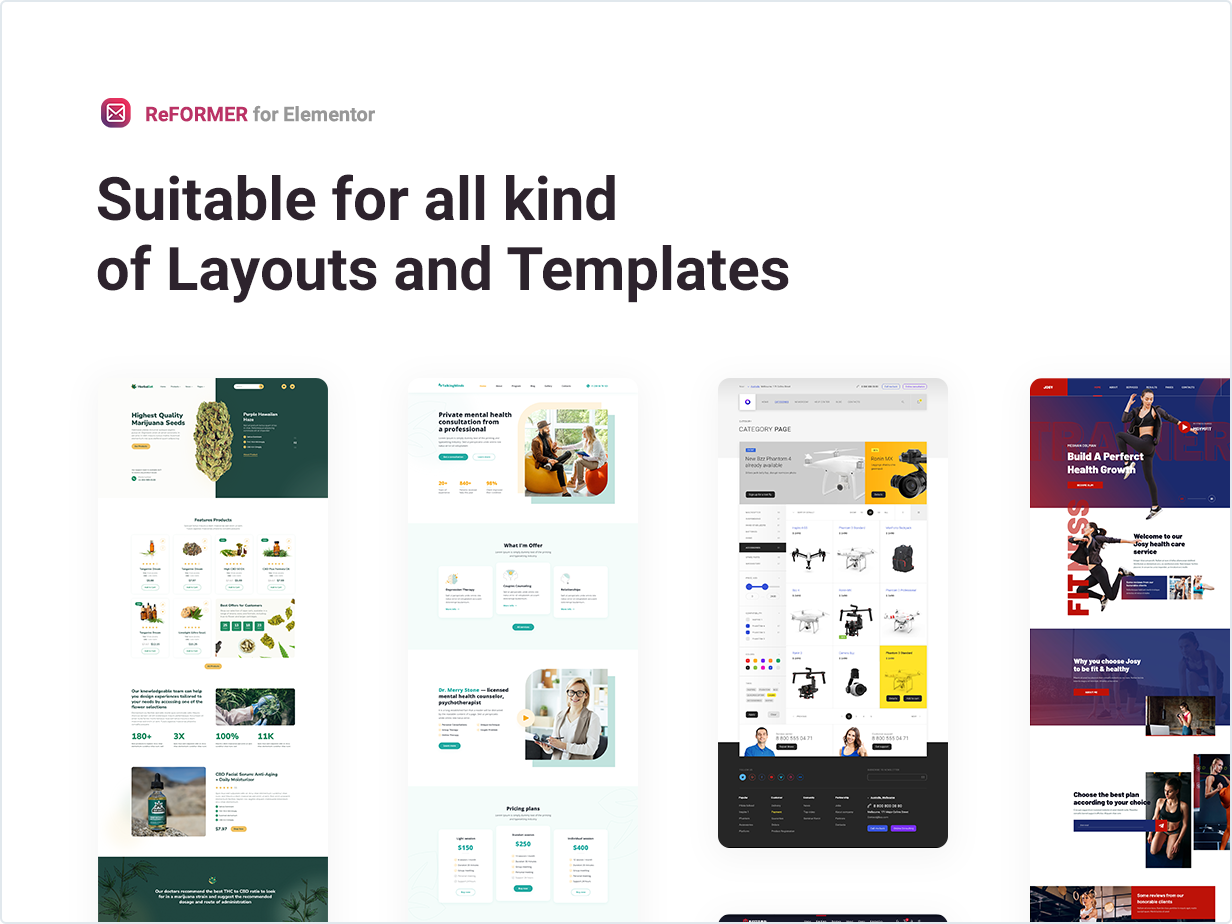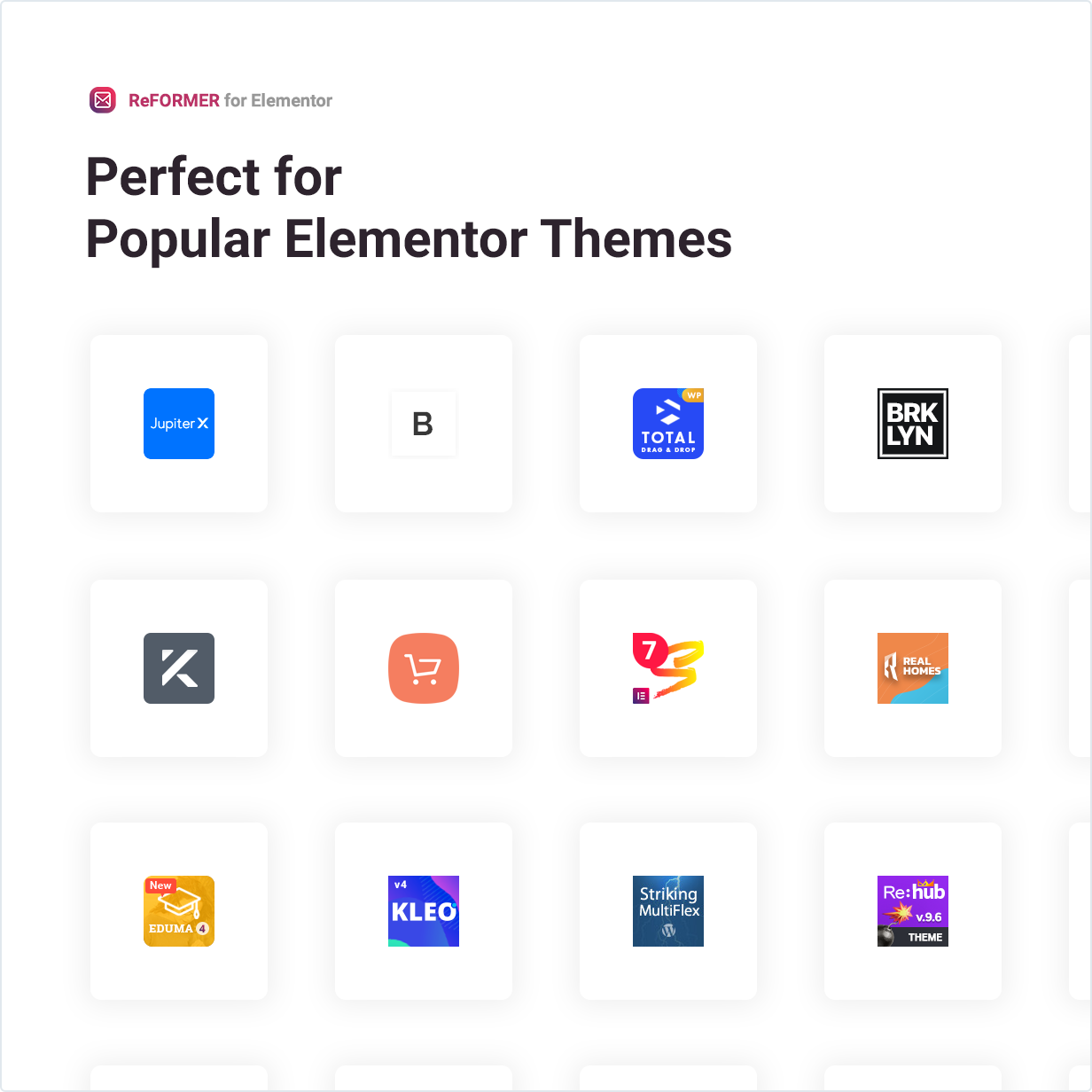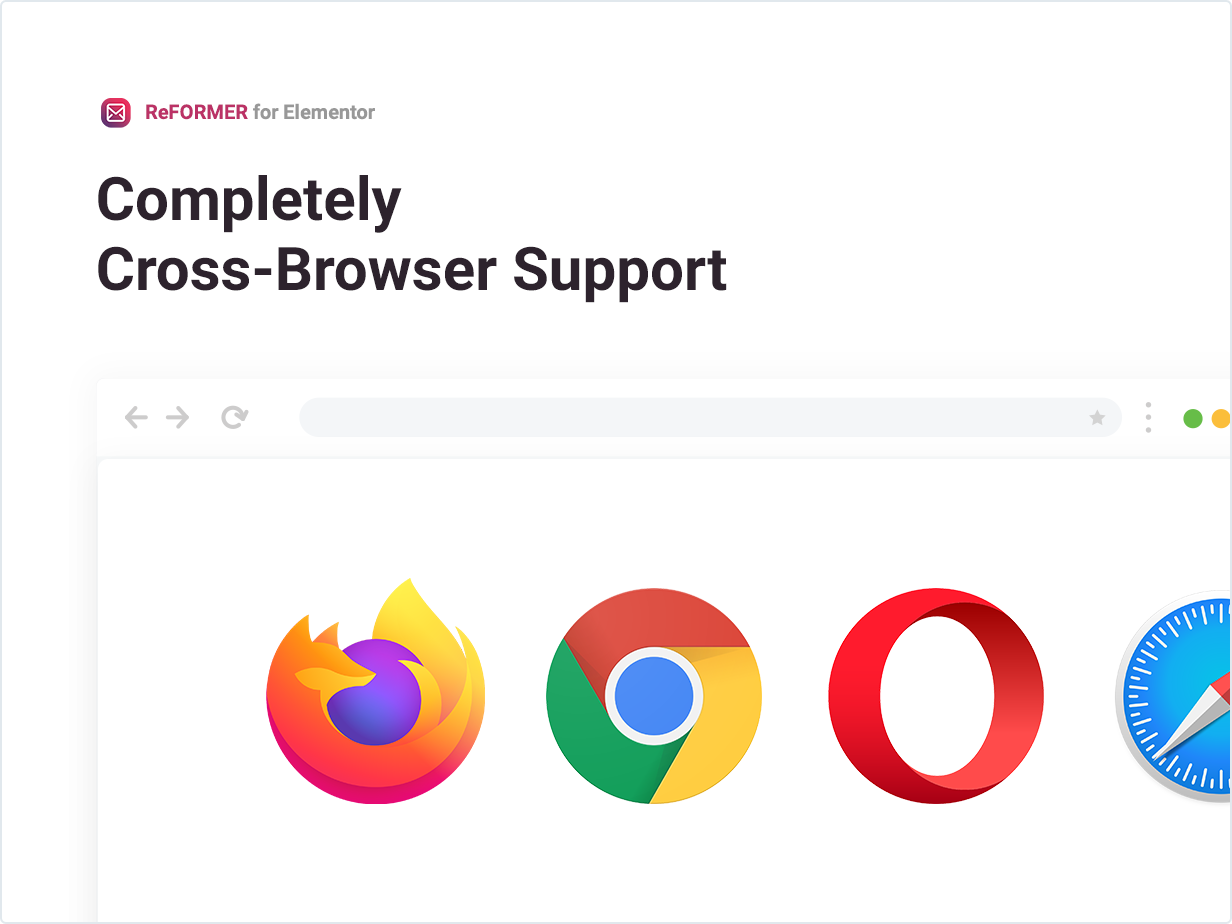 This responsive omnichannel contact form is an irreplaceable element for almost any site, regardless of the type and direction to keep in touch with users. With the widget, you will make it unique and attractive really fast, with minimal effort. Feel free to manage each type of field customizing size, typography, colors, background, border, and other things for different elements according to your needs.
We made sure that it was easy for you to get started with Reformer. With the plugin, you get 5 unique stylized and go-to-use templates. These are just some examples that can inspire you to create your style. It provides you with a quick start in a few clicks.
Reformer for Elementor is exceptionally compatible with all modern browsers. It does not matter which browser users view your site: Chrome, Firefox, Opera, Safari, or Edge. Everything will look great on all devices and in all browsers.
Supports 5 submitting channels
Includes 15 form field types
Сustomizable Success and Error messages
Saving messages in the admin panel
Different recipients for different forms
Extended settings for each channel
Responsive and friendly to any devices
Customizable fonts, colors, borders, backgrounds, etc.
Responsiveness settings
Works well with all WordPress themes built on Elementor
Totally SEO Friendly
Included .pot file for quick translation on any language
Perfect for RTL direction
Fast and smooth installing
Tested and compatible up to WordPress 5+
Lightweight and Fast
All major browsers supported Chrome, Firefox, Safari, Opera, and Edge
Easy to use and customize with modern User Interface
Installation Guide and detailed Users Manual
Six months Included Support for CodeCanyon buyers
Nulled version not available. If you want to use null version of it. You must first aware of the bug. Although null version available but this is not best for use it. We suggest you to buy it online product from below link for 100% better user experience and great SEO.