In this article, we will learn some very important as well as some useful methods of mobile phones. Individuals from Bangladesh can read this article and hopefully, it will help them in many ways.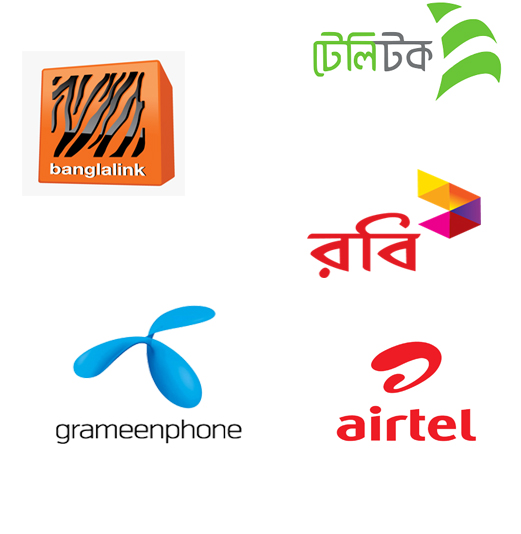 Basically, this article is about the procedure of how to take the Emergency balance in several mobile service operators which are operational in Bangladesh. Most of the people from Bangladesh already know that, there are only five operators' work in Bangladesh. And, these five operators are respectively – Grameenphone Alias GP, Banglalink, Robi, Airtel and Teletalk. According to BTRC or Bangladesh Telecommunication Regulatory Commission, there are approximately 147 million users available of those mobile operators. A big number considering the population of Bangladesh! Within the total users approximately more than half use prepaid SIM subscription. For your kind information, SIM is the abbreviation of Subscriber Identification Module which is an integrated circuit that is intended to securely store the international mobile subscriber identity number and its related key, which are used to identify and authenticate subscribers on mobile telephony devices. And, the user of these SIM can get Emergency Balance scheme from their mobile operators and it varies from operator to operator.
Actually, you can say, this emergency balance service is a kind of a way for borrowing balance from their operators. From this service, the users or customers can still continue their communication if their regular balance became zero or they just run out of their talk time. Then, requesting emergency balance from their respective operators, customers can borrow some balance from the operators. The mobile operator will credit the emergency balance on their account. When the customers recharge balance next time the emergency balance will be deducted from their main balance. That means, you must have to repay the emergency balance via recharging your account balance. And, the amount of emergency balance varies on mobile operators. It's up to the operators' how much emergency balance you will get but generally, customers get tk 10 to tk 100 as emergency balance.
Here, we aimed to focus on the methods or dialing procedures of those mobile operators from Bangladesh to get the emergency balance and to know the remaining emergency balance is on the mobile phone. As you are already aware of that, most mobile operators have a wide range of packages and have some different named SIMs available in the market. But, for most of the operators to avail emergency balance you need not to pay any subscription fee or charges. That means, availing the emergency balance is entirely free for most of the operators. We will see more in details later about this policy of the mobile operators.
Possibly, there are many ways to check GP, Banglalink, Robi, Airtel, Teletalk Emergency Balance and also a few options available to get the emergency balance from those mobile operators. Either by sending a SMS or by dialing USSD code through your phone you can get the balance or you can also check the available emergency balance in your SIM.
USSD is the abbreviation of Unstructured Supplementary Service Data which is a protocol used for GSM or Global System for Mobile communications. For more information about USSD code you can search over the internet via Google or any search engine of your preference. And, you will get a lot of information about it, but in this article, I'm embedding a reference link for readers so you can easily understand how USSD code actually work.
Though, in this article we aren't talking about USSD code or any other technical issues, let's focus on the things we want to learn today which is the Emergency balance to get from GP, Banglalink, Robi, Airtel, Teletalk SIM and in which way, we can check the remaining Emergency balance.
Without further delay, let's know how any user can get Emergency Balance and check the balance from GP, Banglalink, Robi, Airtel and Teletalk.
Grameenphone(GP) Emergency Balance
Well, any GP prepaid SIM users except the Skitto SIM can avail maximum tk 200 as emergency balance. And, availing Emergency balance is completely free of charges. Users or customers of GP need to dial *121*1*3# from their mobile keypad. The emergency balance will be automatically added to their phone. They can use this Emergency balance for voice calls or for any SMS. Mostly, the validity for this Emergency balance will be 30 days including the date when the user gets the balance.
Also, customers of GP can dial *1010*1# to get Emergency balance and the limit of the getting amount is relying on the wish of GP. The Emergency balance can be used at any time to any number except roaming or international calls. All the tariffs and packages of the SIM remain unchanged. And, keep in mind, customers can only avail further Emergency Balance after clearing the old borrowed amount via recharging their main account balance. Also, SD & VAT will be applicable for all charges.
GP Emergency Balance Check
Customers of Grameenphone can check their remaining Emergency Balance amount by dialing *121*1*2# which is a Free of charge. Also, they can dial *566*28# . In both ways, customers of GP can check their Emergency balance amount as well as the validity of that amount.
Banglalink Emergency Balance
As like as GP, any Banglalink user can get maximum tk 200 as an emergency balance. According to Banglalink, they call this emergency balance – Banglalink Emergency Main Balance because they have also an emergency scheme for the internet. We will not focus on the emergency internet here.
So, Emergency Main Balance of Banglalink can be used for any purpose with limitless validity. And, the after next recharge, the borrowed amount will be adjusted from your regular account balance. Generally, users avail of emergency balance when their main balance became zero. But, for Banglalink users, they have an option, if their main balance is tk 20 or less, they are eligible to avail the emergency service. New users of Banglalink can avail this service after 30 days of activation
As already told, Banglalink users can get maximum tk 200 as emergency balance but generally getting amount is entirely based on the usage criteria of the users. Simply, the more usage then the more emergency balance you will get.
Banglalink charge tk 2 for SMS notification for availing a loan or emergency balance of tk 15 and above.
Dial *874*10# for tk 10 to avail in Banglalink. Also, by dialing *874# users can get advanced balance.
To check the eligibility for the emergency balance Dial *874*9#. And, for checking the Banglalink Emergency Main Balance or status, just Dial *874*0#.
Robi Emergency Balance
Robi is one of the top mobile operator in Bangladesh. Like, other operators in Bangladesh, Robi also provide emergency balance service for their huge number of prepaid customers and the service of emergency balance in Robi known as Jhotpot Emergency Balance. Through, Jhotpot Emergency Balance of Robi all users or customers can avail up to tk 100. This Jhotpot Balance can be used for any voice calls as well as for any SMS. This balance can be used at any time as the users want to use but they will charge the users tk 2 as a SMS notification fee for availing a loan of tk 12 or above. Product tariff and pulse will be applicable in Jhotpot Emergency Balance and if you purchase minutes or have some free bonuses then that things will be get preferred before you use any Jhotpot Balance.
To check the eligibility for Jhotpot Emergency Balance in Robi you need to dial *8#.
For availing the Jhotpot Balance just dial *123*007# which is completely free of charge. Also, from Robi, users can dial *1# or *222# to check the available balance in Jhotpot Balance. Balance which is not paid after taking Jhotpot Balance is called outstanding balance and by dialing *8# and then go to Account menu and Press 1 users can check Outstanding Balance. That's all the known procedures of emergency balance, users of Robi prepaid SIMs must know.
Airtel Emergency Balance
Airtel has a different Emergency Balance bundle for its customers. Airtel segmented this bundle in three ways.
One, Emergency Balance Amount.
Two, Voice Minutes Loan.
Three, Data Loan.
For all prepaid users can avail Emergency Balance Amount, Voice Minutes & Data Loan by dialing *141# in their mobile phones. Users can avail tk 12 to tk 100 from any Airtel SIM and for that purpose, the operator will charge the user tk 2.67 as a service fee. And, they also provide some short yet useful packages for Voice Minutes Loan and Data Loan with a very little price which can be considered as Emergency service from Airtel. Users may dial *141*10# or 20141 for more advance balance. But keep in mind that, on your next recharge you may be charged extra.
Teletalk Emergency Balance
Teletalk Emergency Balance service allows its all users to avail the loan who have zero balance or low balance in their main account. The Emergency Balance service uses the scoring feature to decide whether to give a loan to the user or subscriber who requests it or not. The user may demand the most amount of credit accessible or can demand a particular advance amount by requesting an order from Teletalk. Though a service fee will be charged for using the Emergency Balance service.
The user can request the service by using USSD code or just by sending SMS. Users or the customers of Teletalk, need to dial *1122# or SMS YES to 1122 to avail the Emergency Balance. To get tk 10, Dial *1122*10# Or SMS "10" and send it to 1122 and for that service users need not to pay any service fee at all. But, for more balance, tk 12 to tk 50(highest amount of loan users can get from Teletalk) users have to pay service fee from tk 1.60 to tk 6.66 including SC, SD and VAT. Customers of Teletalk can only avail further emergency balance after paying the due or used amount in full and on their next recharge the main balance will deduct for the borrowed amount. To check for the customers current debt, the customer may Dial *1122*0# or just send a SMS by typing "Loan info" and send to 1122.
Here, we only discuss some necessary points of GP, Banglalink, Robi, Airtel, Teletalk Emergency Balance. Also, we mention some options & ways to get the emergency balance as well as how a customer can check their remaining emergency balance and remaining date of validity from those operators in Bangladesh. Hopefully, this large article gives you a better understanding of the emergency balance procedures and policies of mobile operators in Bangladesh. And, if you think, any information isn't correct or misleading, then you can contact us at any time, we'll resolve the issue as soon as possible. Thank you for your patience and stay with us for more informative and interesting article.
For your ease of understanding, here I'm adding a table with all USSD codes of GP, Banglalink, Robi, Airtel, Teletalk Emergency Balance.
Please follow and like us: