Inventory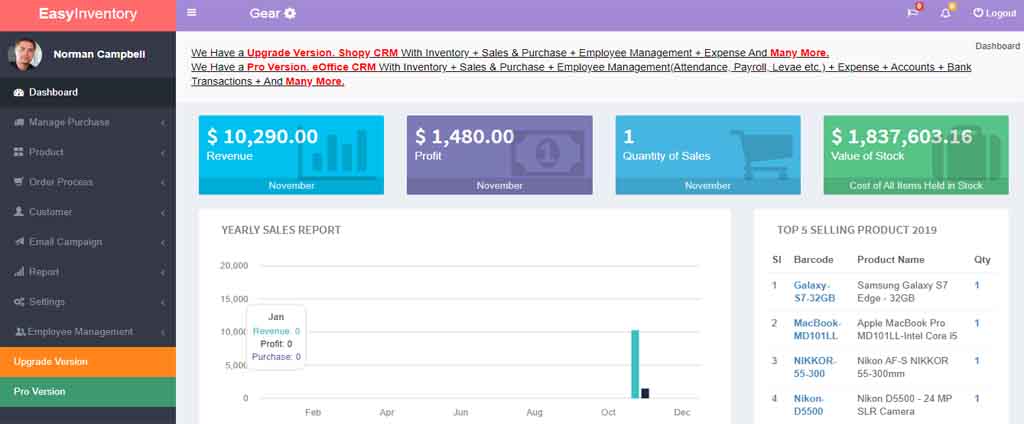 Today, Inventory management system is the regular process of workflow in any kind of company. every company wants to keep records of transactions, sales and purchases. A good inventory management system helps you to keep all the data accurately. The era of computer and internet has made the life easier. The technology has lessened the workload of human. We can do the job using computer instead of manual paperwork. Inventory management system is one of these modern softwares. It is designed to reduces the paperwork which is needed to keep the record of products, suppliers, reports etc. there are a plenty of inventory management software which are used for faster performance and business growth.
The Inventory
the inventory is a user-friendly and simple software which is used for maintaining a warehouse of goods. it is a Laravel inventory management system. you can manage all the transactions that are based on categories, contacts, items and much more. It is a powerful product that allows you to pull limitless data from server. It also supports multiple language feature.
Easy Inventory
It is web-based point of sale solution that you can access from anywhere or anytime. It is one of the best point of sales for retailer. It helps retailers to manage inventory, sales, customers, transactions and dig deep into their store's analytics. It has a powerful dashboard that reflects current scenario of your business. with the help of supplier manager, you can manage all vendor, purchase product from vendor generate invoice. You can easily add or manage the product with inventory manager. It is the best php inventory management system.
Wholesale – Inventory Control and Inventory Management System
Wholesale is a wonderful php inventory management system with barcode. You can easily see customer ledger and all the information. You can add or manage the customers effortlessly. It offers many amazing features like invoice system, QR code invoice system, stock management system etc. it includes easy software settings system that let you to customize with any prior knowledge of coding. It has almost everything that your system requires.  
Intelle POS with Inventory System
Intelle is an elegant post inventory system that provides you everything that you need to run your business smoothly. it has many functionalities ranging from a powerful inventory to barcode printing. It is an advanced, flexible and complete software. It has an intuitive dashboard which helps you to get instant visibility into your business at a glance by knowing sell, transaction, expense & profit for the day. Graphs and charts always help you to provide information instantly rather than lengthy figures. Its interface is fully interactive and user-friendly that includes integrated payment feature and real-time search with the help of barcode scanner or manual.
You can keep inventory organized with details of products like its category, sub-category, cost price, minimum selling price etc. you can also create new sell/purchase update inventory levels automatically. This software helps you to generate reports with various parameters. You can improve stock and inventory tracking with the help of automatically updated stock levels whenever sales and purchases are made. It has many amazing features that let you to take you business at an unprecedented level.
FlexiblePOS with Inventory Management System
If you are looking for a POS solution for your company then FlexiblePOS is one of the best solutions for your business. with the help of this software, you can get a lot of features that help you to maintain your business. it is a proper management system that provides you sales management, customer management, account management and inventory management system. it has many amazing features.
Invento – simple Inventory System
It is a perfect inventory system that allows you to keep track of the quantity and price of items that you warehouse contain. When you'll create a new item, you'll get to set a quantity and then everything will be controlled by check in-out feature. It also keeps the record of every movement. It has fully responsive design. you can check the statistics about your warehouse without any extra effort. It provides you four types of user roles – admin, general supervisor, supervisor and employee. It has amazing features.
Inventario – Inventory & Billing Management Application
It is a single page application that helps you to manage products & inventories in effortless way. it is designed especially for stock managers to maintain inventories in a simple way at different locations. It also supports barcode feature. It is not much difficult to install. Installation wizard made it simple. It also has an auto update functionality and many more features.
MC Inventory Manager
MC Inventory is one of the best inventory mangers on inventory codecanyon. It has a fully responsive dashboard that is eye catching. It helps you to manage orders and sales effortlessly. Its item management system provides you the ability to keep the record of items accurately. It also has many features like customers management, supplier management and many more.
Inventory Management Software
As you know that Inventory management system has become the essential need of every business. it is a free php inventory management system that comes with a lot of amazing features. It provides you customer and supplier management system. it has an easy reporting system. it also supports all devices like desktop, laptop, mobile etc. admin can easily manage all the functionalities regarding supplier, customer, employee, product, category, sub-category, warehouse, sale and purchase etc. it has many more features that are essential for your business.
Zero Inventory Management System
It is a complete solution for inventory system which can be used for business organizations that have warehouse, showrooms, wholesalers, suppliers, warehouse managers etc. this system supports multiple language system so that anyone can set up their own language. It provides you five types of access – admin, showroom manager, warehouse manager, wholesaler, showroom salesman. The admin doesn't need prior knowledge of coding. He can also see all the reports that includes daily sales, daily income, daily profiles, return product items and much more.
Elegant POS inventory Management System
Elegant POS inventory management system is an open source php inventory management system. it helps you to manage your stock. With the help of this software, you can update stock item, sales and get reports form anyplace around the globe.  Whether you are in Office, home, shop or outside, you only need a good internet connection to access it. It provides you free support and free updates. It has many amazing features that are necessary to maintain your business.
ITNOW – Warranty & Inventory Tracking System
It is a clean and perfect web application that can be used to track IT product warranty and inventory. It as eye-catching design which reduces the complexity and makes the process very simple. It has a fully responsive layout. This PHP warranty tracking script provides you many facilities like management of warranty & inventory, management of computer, management of device & accessories, IP address management, bulk import & add system, multi-user & user role etc.
LIMS – Inventory Management System with POS, Accounting, HRM
It is the most user-friendly and feature rich stock management system. it helps you to manage you inventory sales, customers, purchases, invoices, payments and much more. With the help of LIMS, you can update your stock information, view sales information from anywhere and anytime. It doesn't matter if you are running a small business or a big enterprise, it is the perfect solution you need for the management of your business. it also has an easily tutorial. This php inventory system tutorial guide you to install in less than two minutes. it has awesome features related to dashboard, products, sales, quotation, purchases, transfers, pos, people, reports, settings, other – you can export table contents to PDF, CSV or print form etc.
Inventory Tracking, Product, Warehouse, and user management
It is an inventory management as well as shelf management system. with the help of this, you can create barcodes and these codes can be printed out. This script can keep track of your inventory list. It has several features like inventory tracking, product barcode, log records, warehouse management etc.
Storekeeper v1 – Inventory Management System
It is a complete inventory management system that helps you to manage your whole business. it has a lot of features that provides you all the necessary functions which your business needs. Have you ever wondered that what your optimal stock levels are? You don't need to make guesses. You can empower yourself with this perfect system that manage all your sales, stock, purchases, accounting and customers etc.
Simple Sales – Inventory System & POS
This is one of the simplest POS and inventory systems. You can use this software for any type of retail shop where your sale and purchase process exist. It is easy to use and can handle multiple bills simultaneously. You can also export reports in PDF format. It is easy to setup application. It provides you effortless role management. It is also a 100% responsive and dynamic application which has many features.
Please follow and like us: