Cryptocurrency is a digital currency which is trusted and safe. Nowadays people prefer it very much. In a world where there are many unsafe ways of trading, we all need to trade in the safest ways. Cryptocurrencies give us assurance which makes them important and also the safest platforms are very crucial for the exchange of cryptocurrency.
Ultimate P2P Cryptocurrency Exchange platform (with self-hosted wallets)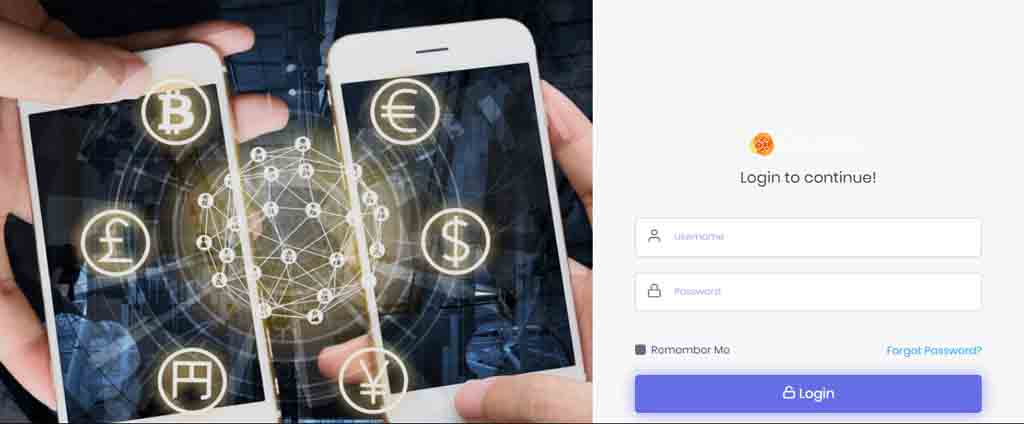 It is a peer to peer cryptocurrency exchange platform. If you are familiar with popular exchange platforms like paxful or localbitcoin, this product is not strange to you. It is developed by using Laravel framework. It is not a php script only but an investment. It comes with a self-hosted cryptocurrency wallet. It also has an interactive design which is beautiful and responsive. Current supported cryptocurrencies are Bitcoin, Dash, Litecoin.
Peer to peer exchanges match buyers with bitcoin sellers. Particularly, the sellers set their own price and types of payments they accept. Many of them accept PayPal, Bank transfers, credit cards and even cold, hard cash. This exchange functions more like a dating site, matching people interested in trading cryptocurrency. They take a small fee for these matchmaking services. It has many unique features like Crypto wallets, Live chats, 5-star rating, 2FA Auth., Email & SMS Notification, User Contacts, Multi-currency support, Multi-coin support, Diverse Payment method, Secure Escrow, Trade Dispute System, Elegant Profile system, send wallet, real time presence, Buy & Sell offers, File Drag & Drop Upload, real time coin Price and many more.
TokenLite – ICO / STO Token Sale Mangement Dashboard – ICO Admin Script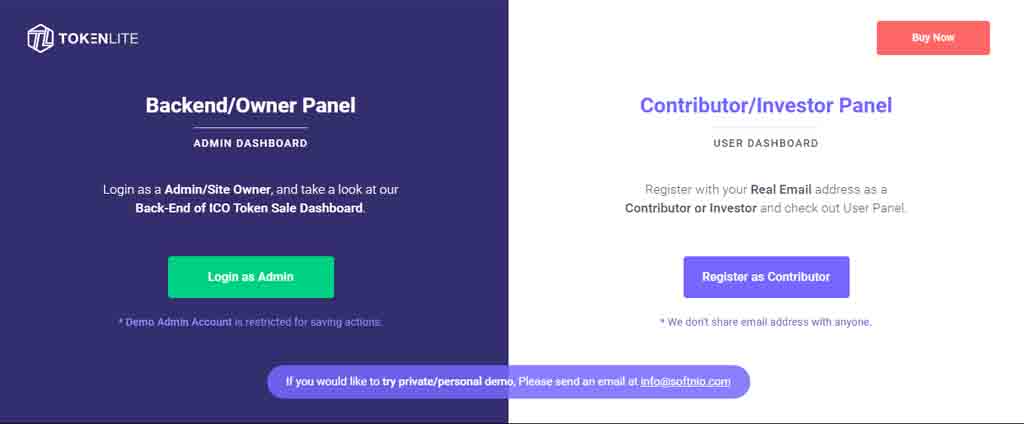 TokenLite – ICO has all kind of components, functional features which are designed to help cryptocurrency agencies / Startup to Lunching their ICO, sale their token, and get contribution from investor. It is developed by using Laravel v5.7 framework – the most popular and amazing PHP web framework. It uses jQuery, Bootstrap v4 and Back-end UI of TokenWiz. If you are going to start a new business with crypto/blockchain, then you need to run ICO/STO/IEO to sale your token/coin, raising funds or get investment and make your product success.
Its ICO admin script helps your contributor to buy your token easily. You can easily manage your token amount, soft-cap/hard-cap, token price, bonus through each stage. You can also set payment wallet address that will automatically apply on purchase process. It supports many popular cryptocurrencies (ETC, LTC, BTC, BNB, TRX, XLM, USDT, USDC, DASH) with fiat currencies (USD, GBP, EUR, CAD, AUD, TRY, NGN, INR, RUB). It helps you to sale your token in any currency. It also has a built-in referral bonus management system which helps the investor/contributor to invite more people to your platform. It gives you the option to specify the amount of bonus for both users.
Its security mechanism is also a great feature. It includes 2-layer security option as Two-Factor Authentication (2FA) for all users so that they can protect their account in a better way.
Crypto Currency Converter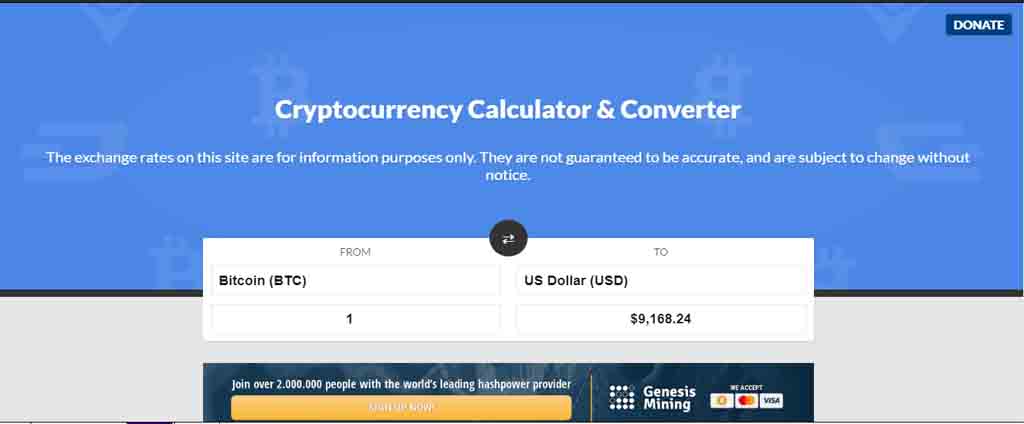 It is an amazing Crypto currency converter. With the help of this script, you can see the live Bitcoin to US dollar exchange rate. You can also convert amounts from USD to other currencies with this simple bitcoin calculator.  This script enables you to convert 1400 plus crypto currencies. It is so easy to install that it may take only 5 minutes. It contains a lot of feature like 1500+ currencies (BTC, LTC, ETH, USD, EUR, CLP, COP, BCC, BTCD, CNY, ZEC and many more), no database required, friendly URL, SEO Ready, Server Performance, Responsive Design, Advertising Ready, 300KB Code (light code), donation ready (BTC, LTC, ETH..) customizable, real time prices, CSRF Protection, HTTPS support and many more.
LBC – P2P Crypto Exchange Platform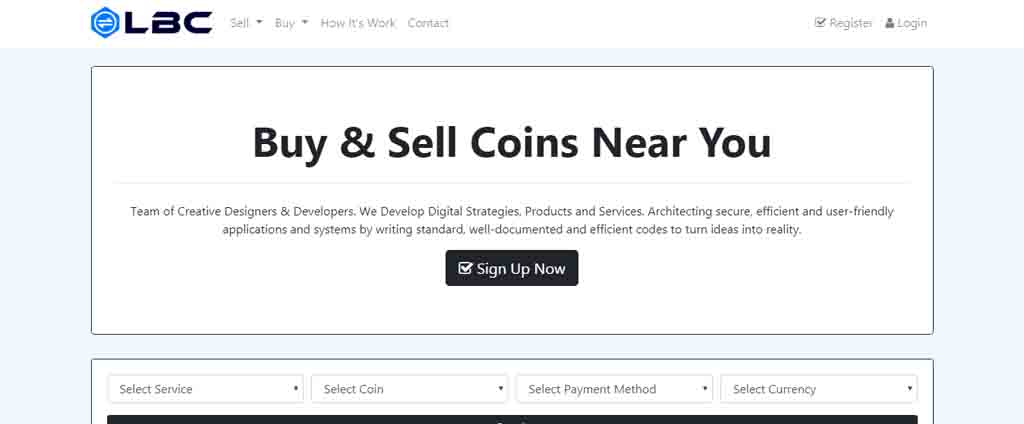 LBC is a perfect peer-to-peer Crypto Currency exchanger. It is developed by using Laravel framework which has amazing features. It is user-friendly, easy to install and use. It is a marketplace where users could buy and sell currency to one another. The users can also create advertisements with price and payment methods which they want to offer. It is secure, trusted and anti-fraud platform. Its unique features include Fully peer to peer, Fully secure transaction, buy & sell cryptocurrency, login & registration, sell & buy related topic, unique user dashboard, create sell / buy advertisement, advertise history, deposit facility, transaction logs, peer to peer chatting facility, profile management, support ticket facility, anti-fraud, 2FA security, email notification, SMS notification, SEO optimized, cross browser optimization, automated deposit facility, category based exchange facility and many more.
HighLow – Crypto Prediction Trading Platform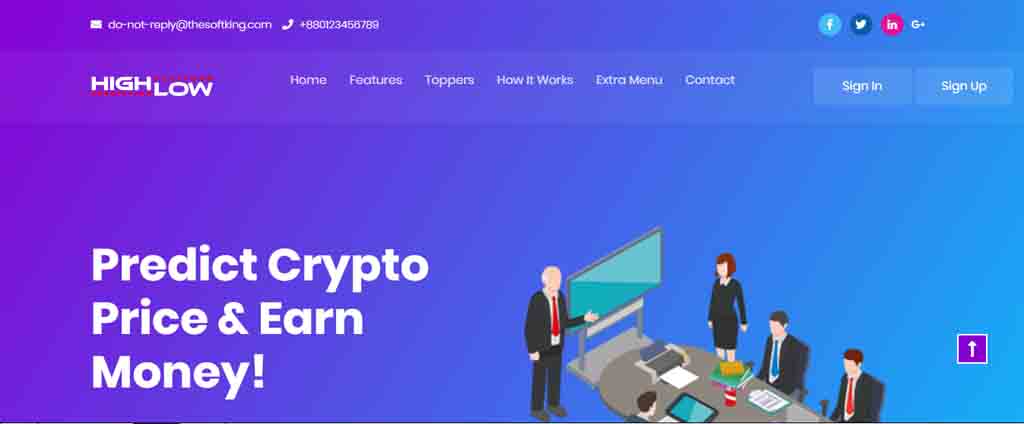 HighLow is a high-low guess crypto price prediction web platform which is developed by using PHP Laravel. This script helps you to create your own HighLow website in a few minutes without any prior knowledge of programming. It includes wonderful and user-friendly interface for everyone whether you are customer or from administrative staff. Its admin pane is very simple to use. It is also a cross browser optimized, SEO friendly, responsive, and error free script for trading solution. It has many features like Cross Browser Optimized Platform, Informative Frontend, Easy to signup & SigninSecure & Responsive, User Dashboard, On Demand Crypto Coin Choose, Instant High-Low Play, Live Win-Loss, Time Count Facility, Automatic Deposit Method, Deposit Logs, Easy Withdrawal System, live currency graph, Withdrawal Logs, Transaction Logs, Profile Management.
Crypto Trading Competitions – Fantasy Trading Laravel Web App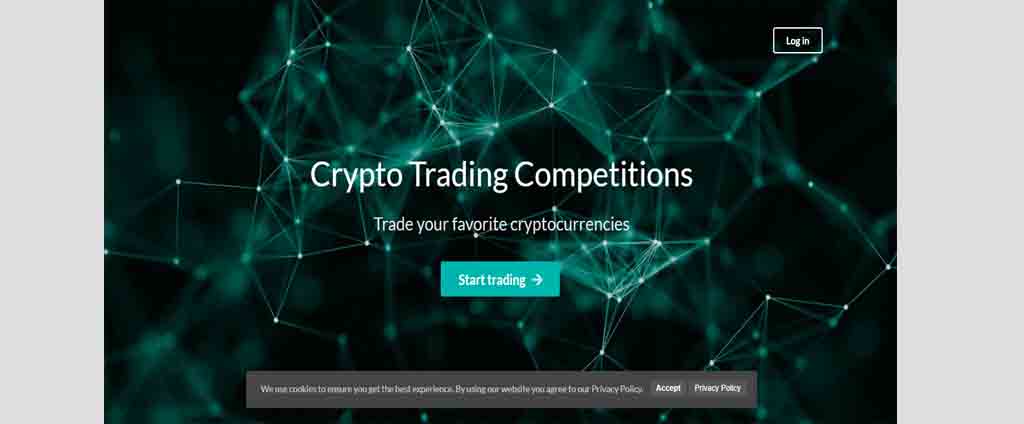 It is a web application that enables the website owner to run virtual trading contests and let the visitors to compete with each other in trading cryptocurrencies without putting the money at risk. It is developed by using Laravel framework. It has 14 color variations i.e. light and dark. Its design is very responsive including several amazing features. The application can be run on auto pilot mode with the help of such features as recurring contests and trading bots.
Users that can trade on their own without the intervention are called bots. Admin can create any number of bots to any competition. The app wakes up the participating bots in a competition after every 5 minutes. The application can be installed on a shared server, but first you must ensure that you have enough system resources available with your hosting account. It is not a WordPress plugin or theme so, it cannot be integrated with WordPress.
Crypto Cap – Cryptocurrencies Realtime Prices, Charts, Market Caps and more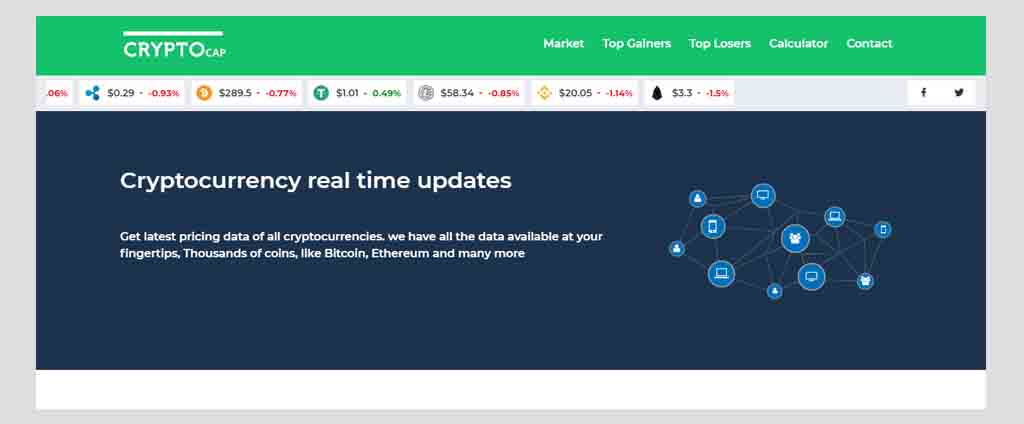 Crypto cap is a script which is fully automated and enables you to keep track of the prices of 1600+ crypto currencies like Bitcoin, Ehtereum, Litecoin, Ripple etc. its design is clean, user-friendly, contemporary, responsive, awesome features, continuous updates. You can also create your own crypto website in a few minutes with all the features. It contains various unique features like responsive & clean design, fully automated, new coins every day, currency converter, real time price updates, graphical representation, beautiful top coins ticker, powerful admin pane, calculator, ads pages, coin detail page, market stats, top gainers, highest market caps, donation management and many more.
Crypto Chart Widget – Premium Cryptocurrency charts – PHP Plugin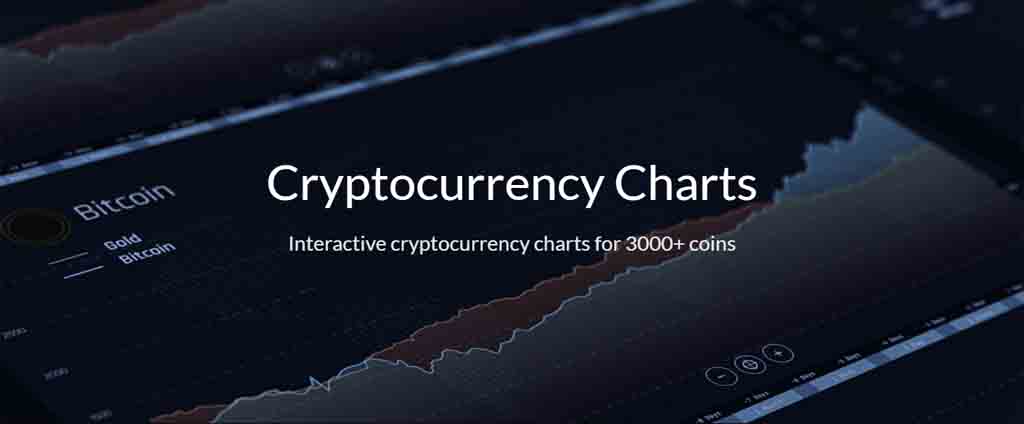 Cryptocurrency charts is a JS/PHP plugin that enables you to easily integrate customizable interactive cryptocurrency charts into a website. This plugin has many features – More than 2000 cryptocurrencies, including but not limited to Bitcoin, Ethereum, Litecoin, Monero, Ripple, Dogecoin, Dash, Zcash, Waves and many others. Historical cryptocurrency quotes can be converted and shown in almost any major fiat currency, including EUR, GBP, HKD CHF, AUD, CAD, CNY, JPY, SEK, RUB and others. Charts help you to view intraday data with 15 minutes intervals. The comparison can be made about the historical performance of all coins. Chart's display settings can easily customize. Background logo images are provided for each cryptocurrency. Trading volume is additionally displayed for each coin. Unlimited number of charts on a single page.
Crypto Compare – Coin Market Cap, Chart, Widget, Watchlist, News – All in One Cryptocurrency app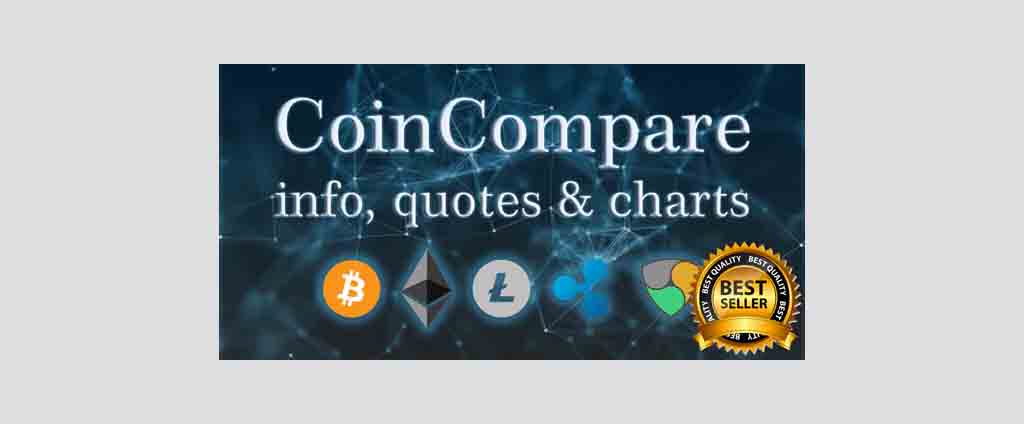 CoinCompare is one of the best-selling and top-rated web applications that shows real time cryptocurrency quotes, market capitalizations, key information, historical charts for more than 2000 coins. It is especially designed to enable you to quickly get a website like coinmarketap.com up and running. You can identify promising and trending coins, gainers and losers, compare historical performance of coins with the help of CoinCompare. This application has several features like multi-color, multi-currency, multi-language, news ticker, configurable rankings table, real time coins quotes, real time trades feed, sparkline charts, historical charts, coin comparison, detailed coins information, coin page URL customization, risers & fallers, cryptocurrency calculator, private watchlists, embeddable coin widgets, google adSense, Custom blocks, affiliate links, donation button, mobile friendly, SEO enabled, custom pages, sitemap, GDPR compliant, easy installation, easy updates and many more features.
Nishue – CryptoCurrency Buy Sell Exchange and Lending with MLM System – Live Crypto Compare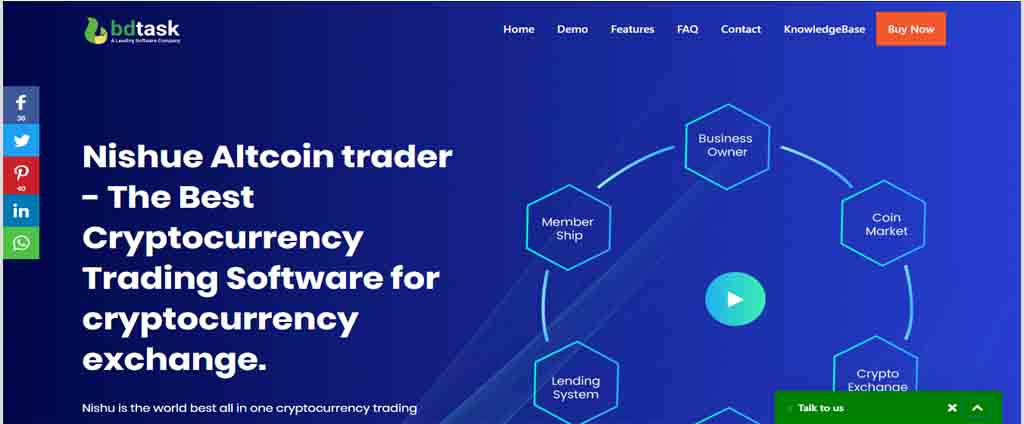 It is a complete cryptocurrency lending program software which have multi-level marketing. Every user having a level get the commission according to his level. It is developed by using CodeIgniter. it has a wonderful system which is used for analyzing live data compare of cryptocurrency. Nishue also has a very beautiful user-interface. It awesome features are crypto currency buy sell, crypto currency exchange, live crypto compare system, coin lending, multi-level marketing (MLM), coin based MLM, coin based affiliate, level wise commission, coin deposit, coin withdraw, money transfer, coin package, buy sell notification, sms notification, email notification and many more.
BitcoinLive – Realtime Bitcoin Prices & Info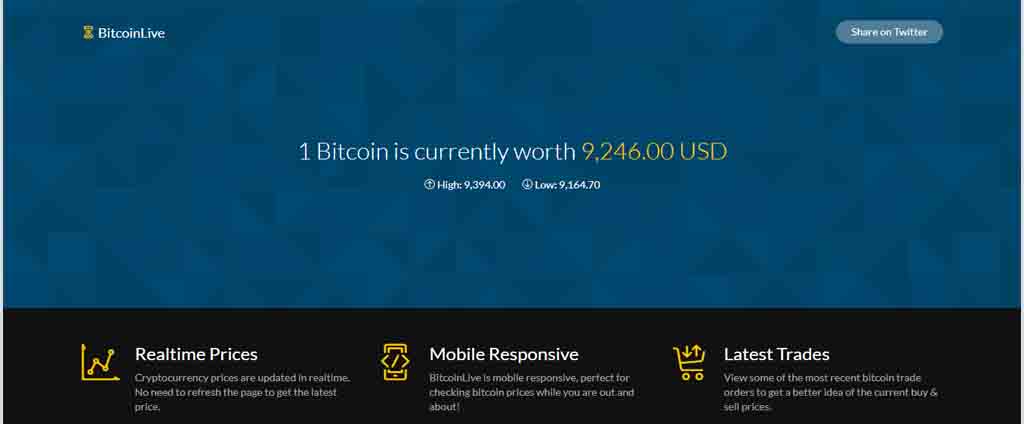 BitcoinLive is a perfect script that displays bitcoin price and trade information. It also updates all the information in real time. it provides real time bitcoin ticker and trade information feed. It has many unique features like real time bitcoin price ticker, real time bitcoin trade offers, configurable advertisements, configurable currencies (USD/EUR), configurable fetch rate, configurable tweet message, configurable bitcoin donations (wallet link), CSS3 animations, beautiful mobile responsive design, beautiful linear icons (worth $59).
CryptoConverter – PHP Script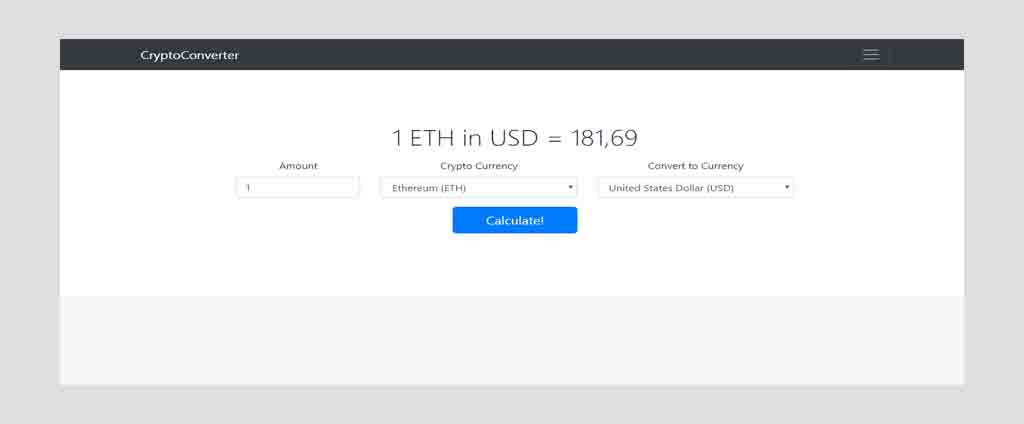 This script enables you to convert over 1300+ crypto currencies into almost any currency – issued by governments in the world. It is very simple to customize. You can change the design, standard values and languages by putting very little effort without any prior technical knowledge. It features include modern responsive design, Bootstrap v4 latest version, 1300+ crypto currencies, almost any standard currency is supported, Google AdSense for monetization, Google Analytics for trackers, donations to your bitcoin address and caches the JSON from the external API.
BitcoinRates – Historical Market Data + 163 Currencies in Realtime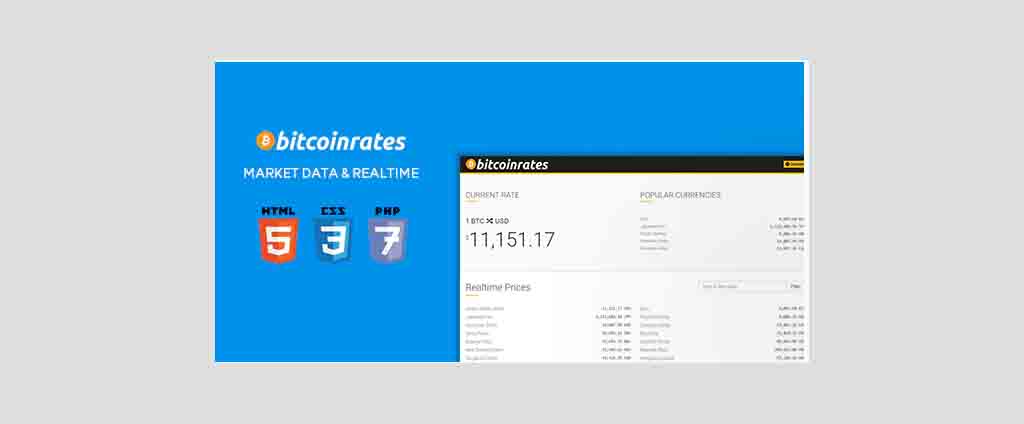 BitcoinRates gives you the opportunity to create your own Bitcoin Ticker which supports 163 currencies. It is developed by using Laravel framework. It also contains historical market data for currencies since 2010, which means that you can build fully operational website that is based on authentic statistics in a few minutes. It shows volumes, daily open and close prices and higher/lower prices. It offers you admin dashboard, fully functional, beautiful and simple to customize. Moreover, it has more than 40 features that make your life easier like Built with Laravel 5.5, 163+ Currencies Supported, Admin Dashboard with 40+ Features, Layout Customization via Dashboard, Responsive Layout, Bootstrap based, Extreme lightweight, Low resources usage, Ads-banners ready for easy monetization, Manage your site SEO from dashboard, Include your Bitcoin Wallet to receive donations in different positions, Dynamically display messages to your users, Show historical market data for all 163 currencies since 2010, Display historical charts for last 7, 14, 30, 60, 90, 180 or 365 days, Control homepage ticker time, Track and list all tasks performed by the script
Tokenbox – Best Security Token Offering Platform (STO)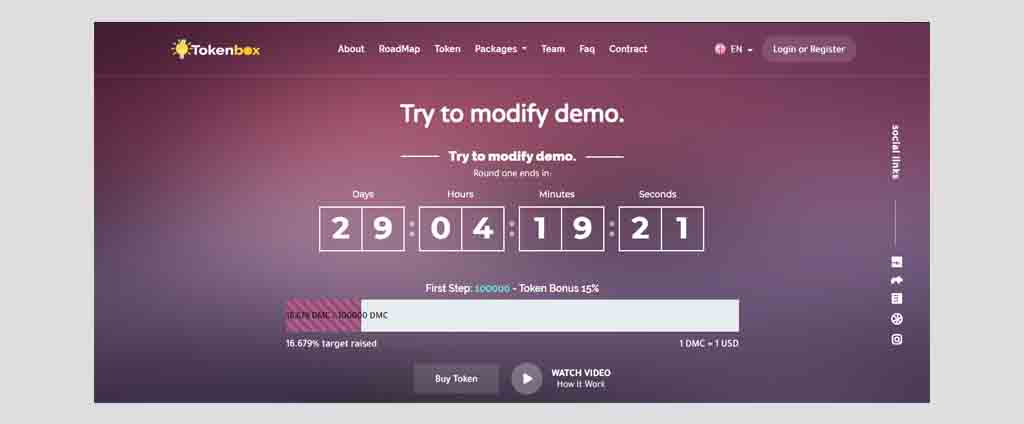 It is an online web application which is used for token trading. It is developed by using CodeIgniter. This system is especially developed to automate the token distribution & token sales. You can use this application for buying and selling of tokens form anywhere. This application also has a shareholder and admin panel which is very simple to use. You can easily control and monitor all activities.
EthereumLive – Realtime Ehtereum Prices & Info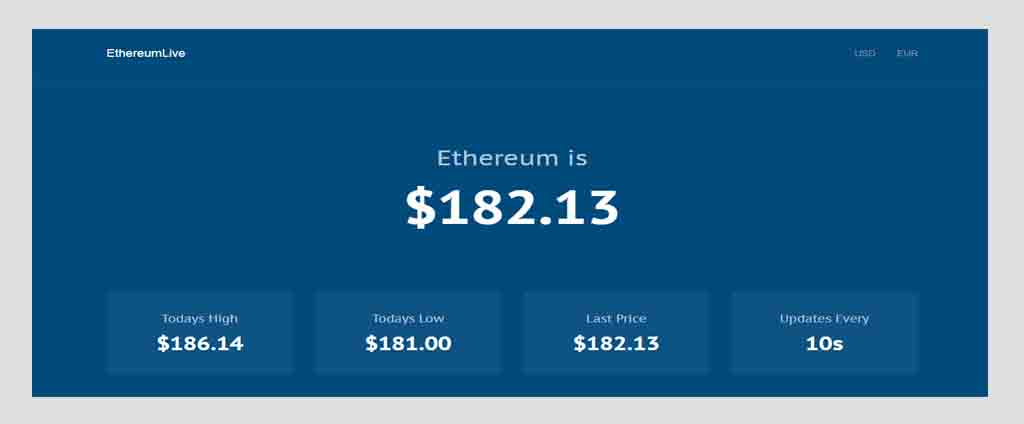 EthereumLive is an amazing script which is used for price and trade information. It updates information in real time. its unique features are Realtime Ethereum price ticker, real time Ethereum trade offer, configurable advertisements, configurable currencies (USD/EUR/RUR), configurable fetch rate, configurable Ethereum donations, beautiful mobile responsive design etc.
Bitcoin ROI Calculator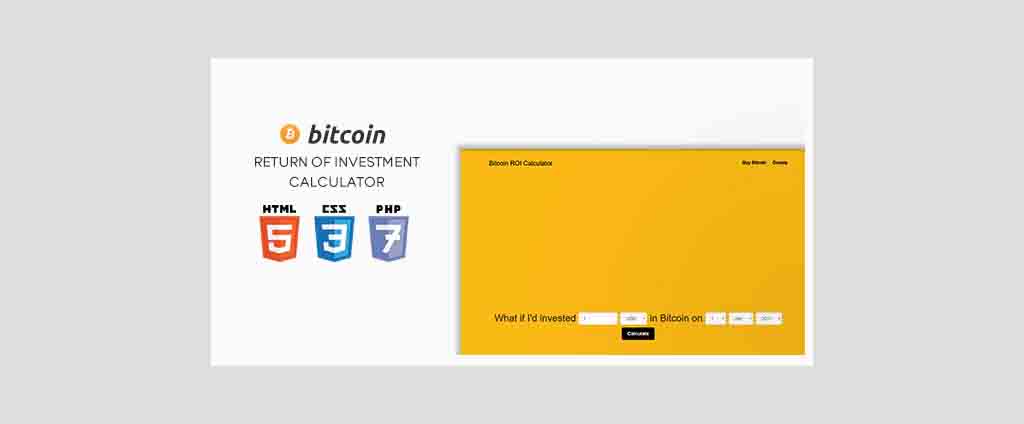 Bitcoin Roi Calculator is an amazing application that gives you the ability to precisely calculate your wealth. It is developed by using Laravel framework. You can choose between 163 currencies; it will give you precise calculation. It offers you a fully operational admin dashboard that allows you to customize, monetize and control your website anywhere. Its unique features are Built with Laravel 5.5, 163+ Currencies Supported, Admin Dashboard with 30+ Features, Layout Customization via Dashboard, Responsive Layout, Bootstrap based, Extreme lightweight, Low resources usage, Ads-banners ready for easy monetization, Manage your site SEO from dashboard, Include your Bitcoin Wallet to receive donations, Calculate gains in all 163 currencies since 2011, Track and list all tasks performed by the script, Auto get new historical market data, Auto get currency rates etc.
Dogecoin Tools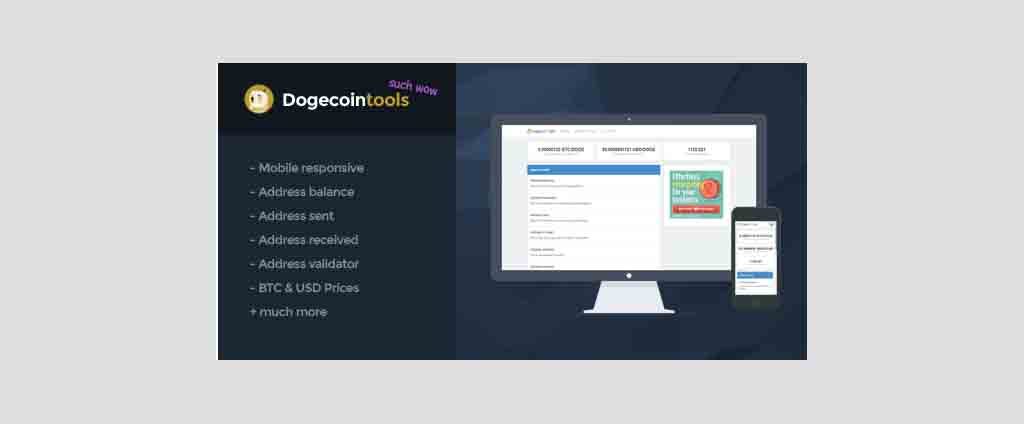 Dogecoin tools is one of the best scripts that helps you to create a dogecoin tools website in a few minutes. It offers a smooth and responsive design that has plenty of features. Its key features are Mobile Responsive, Dogecoin > Bitcoin prices, Dogecoin > USD prices, Blocks Mined, Address Balance Tool, Address Received Tool, Address Sent Tool, Address to Hash Tool, Validate Address Tool, Decode Address Tool, Bitcoin Donations, Dogecoin Donations, Advertisement ready etc.
Please follow and like us: